Reddicon
Reddicon Update: Q2 2017
We're pleased to announce another successful quarterly update is in the bag. Q2 2017 was arguably the biggest and best yet – with our intrepid team of heroes utilising their beast-battling skills to slay any foe that stood before them.
No, we're not talking about our rivals in the sector (alright, maybe we are a little), but rather the hordes of ravenous undead who flooded towards us at ZED Event's Zombie Experience in Reading. But more on that later.
The Update
The update itself was far more of a quiet affair than the excitement which was set to follow – albeit just as rewarding. With director Nick Redding at the helm, Reddico presented strategies for the future, discussing how we can improve performance and results for clients, as well as continuing to make the office a place people want to work.
We're ecstatic to announce targets are continuing to be met (and smashed) – a trend which has prevailed throughout every quarter to date.
Personal development days (PDDs) have also recently been introduced as a means of helping the Reddico staff develop on both a personal and professional level. Lewis Pugsley, Leona Storet Slythe, Kayleigh Cleaver and Olivia Martin all gave a short talk on their PDD, explaining the benefits of being given this time to progress independently. Who knew coding and puppies were so closely linked?
A revamped approach to press releases from our in-house PR Guru, Olivia, concluded the "serious chat", before the biggest announcement of the day – G of the Q.
The G of the Q is the person (or people) fellow members of staff have deemed to have had the biggest positive impact on the office, from both a work and personal perspective. This time around we had joint-winners, with Lewis Pugsley and Luke Kyte sharing the honours (and a couple of bottles of Moet). Well done, chaps.
Zombies
Standing outside the rain-sodden, dreary and derelict shopping centre in the heart of Reading, it was easy to see why this spot had been chosen to play host to an event which pitted you against creatures out of a nightmare.
With little more than a brick wall spluttered with graffiti and a large, ominous steel door looming over us, a nervous tension set in long before the ZED Events staff arrived to brief us on the day's schedule.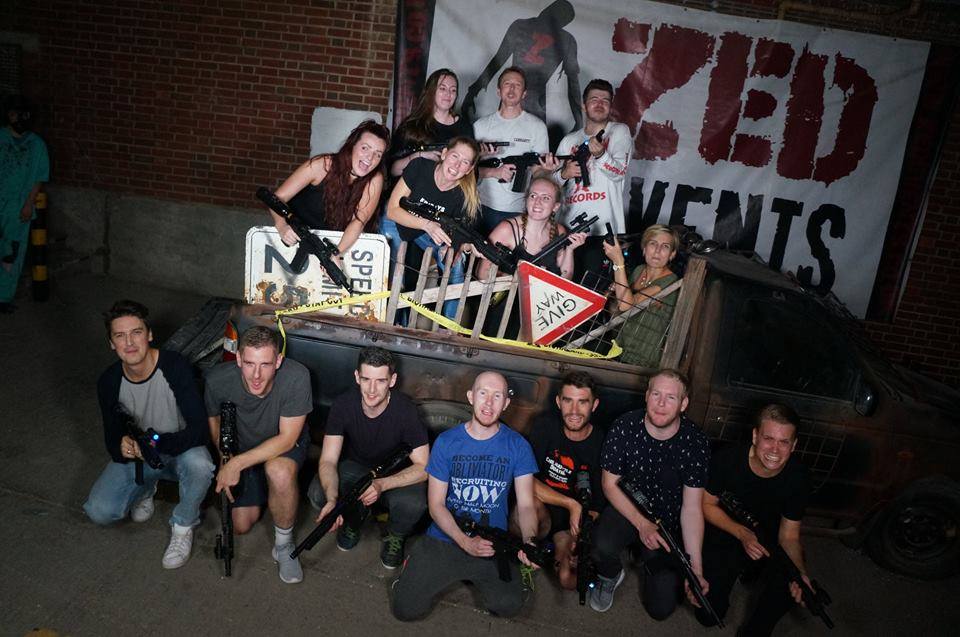 Throwing open the entrance, we stepped into the darkness, before quickly being lined up against a wall. In an orderly fashion, we marched into a holding bay, where a lucky few were drawn out of the crowd for testing. That's when the lights cut out, and a blood-curdling scream filled the room…
Sadly, we're not supposed to go into too much detail about what happened down in the bleak darkness of the mall – but suffice to say you'll be faced with blood-thirsty monsters, who sprint at you with animalistic ferocity. Keep your fingers on the trigger, or you might be left for dead… (Luckily, we all just about made it out alive – although it was touch and go at times.)
So, what's next for the Reddico crew? Only time will tell as we edge towards Q3 in a couple of months.