As in many countries, New Zealanders use the big global online marketplaces, but the way to reach the greatest number of Kiwis is through the domestic auction and classified advertising website – Trade Me. The site has more than three million active members and over one million listings. One of the key offerings is Trade Me Jobs, on which employers can advertise open positions and job seekers can find and apply for vacancies.
The technical issues impeding organic traffic for Trade Me Jobs were complex, but the Reddico team were able to expertly identify and unpick them.
Dean Napier, Head of Performance, MarTech & Analytics, Trade Me
The brief
While being a major player in New Zealand, Trade Me competes with dedicated recruitment sites and wanted to improve its rankings, share of voice and organic traffic in the jobs sector in order to attract more paid listings and revenue.
However, complex technical problems were preventing areas of the site from being discoverable by search engines, making it hard to make gains, so the client asked Reddico to help.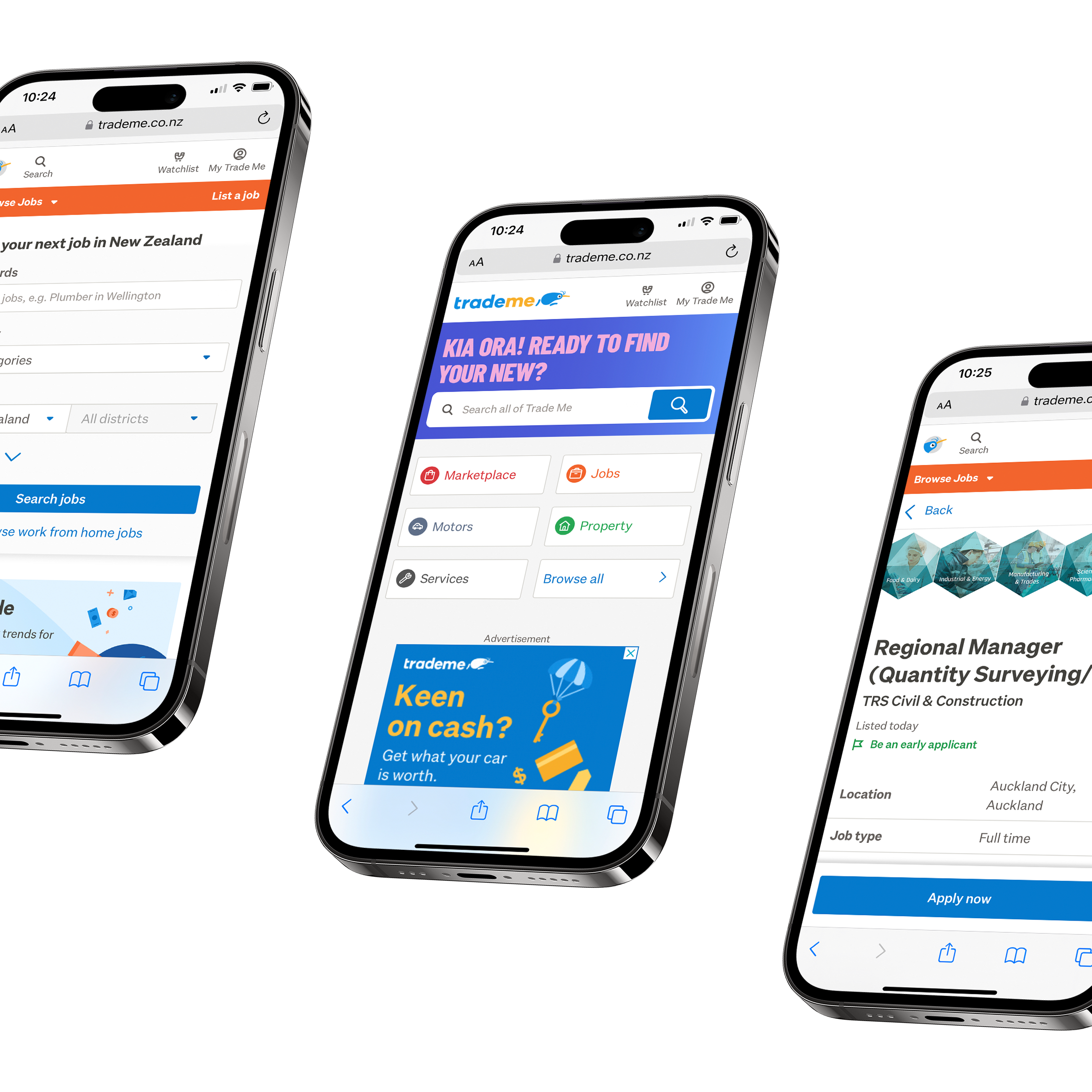 We started out with an audit of the website:
We reviewed the historical performance impact of key Google Updates

Audited the site to understand technical issues

Identified cannibalisation issues

Reviewed on-page performance vs. competitors

Carried out a keyword gap analysis vs. competitors

Gained an understanding of Google's crawling behaviour and required optimisations to improve efficiency

Reviewed robots.txt rules to ensure that Google was able to reach content
While addressing each of the issues in turn, there were two areas of special focus:
Dynamic page pilot
Search engines can only index category-level pages. As a result, Trade Me could not capitalise on user search demand to increase its organic visibility, market share and traffic. To counter this, the company had historically needed to spend additional budget on paid media to compensate.
We initiated an innovative pilot project to dynamically create search engine-friendly pages at a scale to compete for relevant search queries and increase traffic.
The pilot launched in mid-July 2023 with 250 pages to address keyword gaps and early results indicate that the pages are ranking in traffic-driving positions and delivering additional traffic.
Improving crawl efficiencies and bypassing/working with a restrictive robots file
With the enormity of the Trade Me website, combined with legacy URLs that were still accessible and hadn't been correctly migrated and URL fragments/parameters that could generate an infinite number of variations, we were presented with a situation whereby Trade Me was utilising robots.txt in a restrive way to combat such challenges.
We carried out an analysis of the crawling behaviour to highlight ways crawl efficiencies could be leveraged. This involved analysing server log files and utilising insights from Google's crawl stats reports.
When we launched new directories and pages, we implemented rules in the robots.txt that were tactical and helped us to unlock pages to search engines, in a way that wouldn't compound crawl inefficiency.
The results
The project is a great example of how the Reddico team's expertise, especially in the Technical SEO arena, addressed complex issues that a client was struggling to overcome.
The team at Trade Me has been delighted with the results:
Monthly organic non-branded traffic has grown by 55%

Year-on-year page-one search rankings have grown by 54%

Non-branded keyword coverage has grown by 25%
Learnings garnered from the Dynamic page pilot, can now also be applied to have a significant impact on the wider Trade Me business.
Our work for Trade Me also won the prize Best Use of Search B2C SEO at the UK Search Awards 2023.

The technical issues impeding organic traffic for Trade Me Jobs were complex, but the Reddico team were able to expertly identify and unpick them. They were also able
to highlight significant growth opportunities and work with our teams to see these through. As a result, our traffic and share of voice in the recruitment space have grown
significantly. Dean Napier, Head of Performance, MarTech & Analytics, Trade Me