BlackRock is the world's largest asset manager, with $8.4 trillion in assets under management. The company guides individuals, financial professionals and institutions in building better financial futures. We have been working with BlackRock since 2017 serving as their global partner for SEO strategy and consulting.
The brief
With the average cost of college education in the USA now standing at $10,200 - $26,290 per annum, parents need to start saving for their children's education as soon as they can. This is where 529 College Savings Plans come in, allowing clients' investments to grow tax-free until they need to be drawn down.
BlackRock only ranked on page one for three of the top ten keywords for this type of savings plan, so asked us to help improve visibility.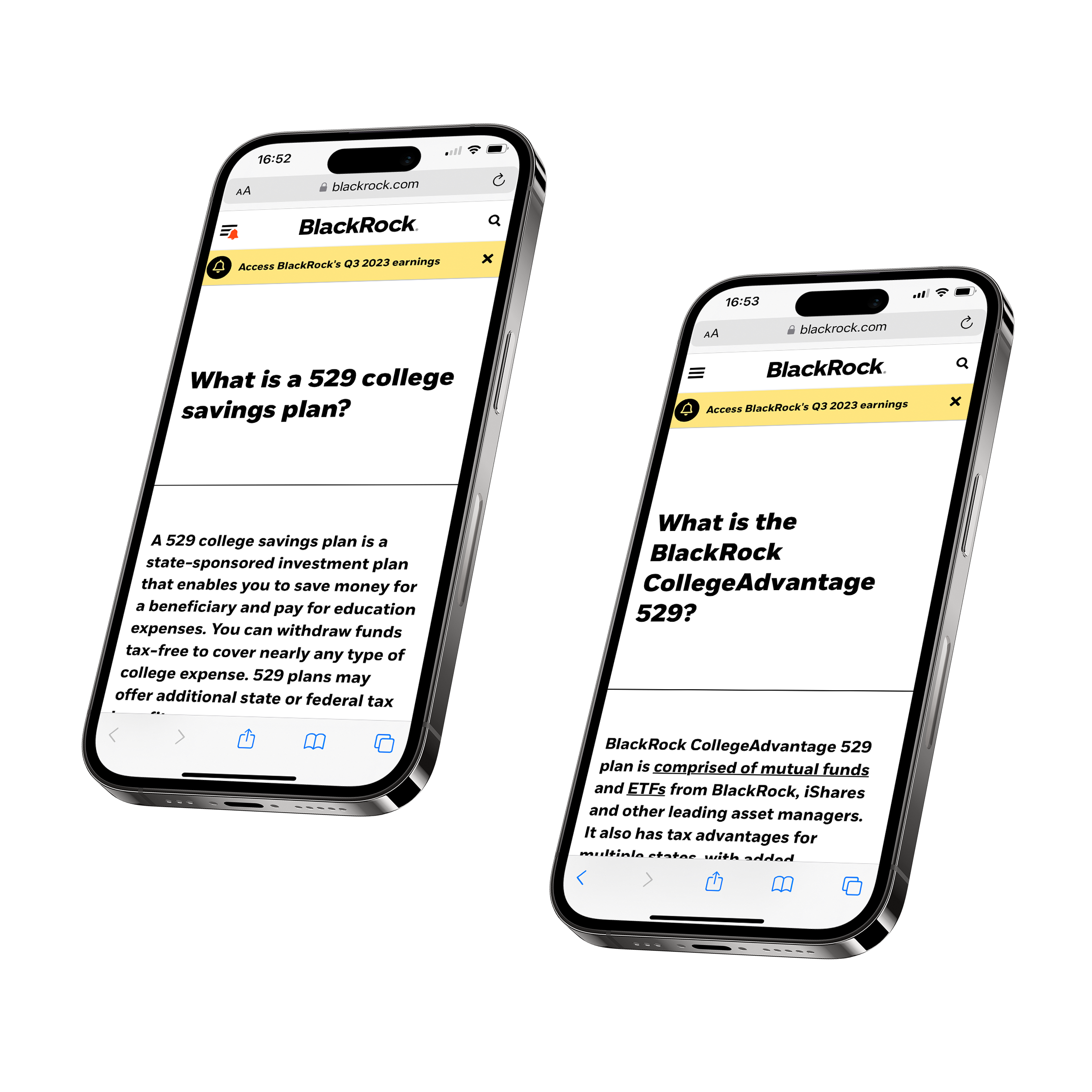 Optimising the content and featured snippet
First, we expanded the content that sits at the top of the page, underneath the H1 to include key insights from our competitor content analysis. We also restructured the introduction paragraph to provide a direct answer to the question "what is a college saving plan" to enable Google to pull this directly into the featured snippet (position 0).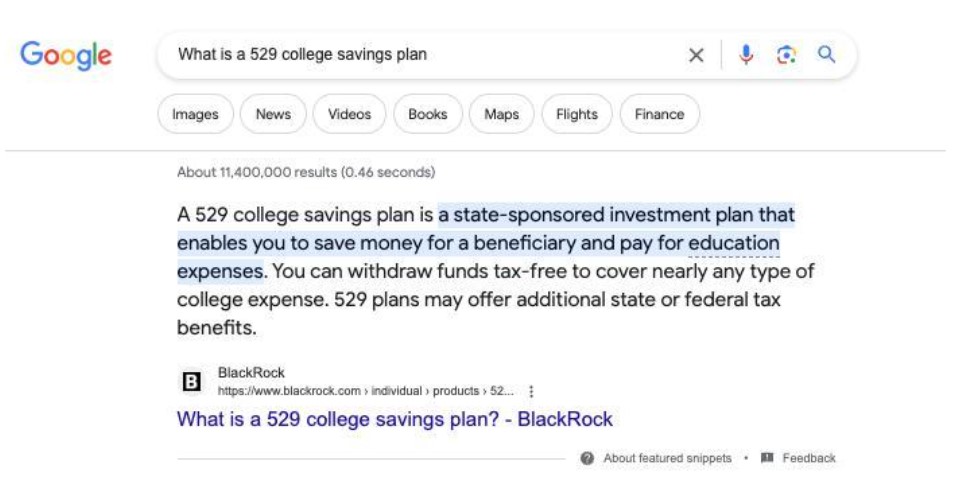 Internal linking
As part of our assessment, we discovered that 99% of all internal links pointed to the page using the same anchor text due to the internal navigation. We varied the internal linking signals to the page to improve relevancy signals for other key terms.
Heading optimisation
The key headings on the page focused too heavily on the main target keyword. Using the keyword insights we revised the headings on the page to target a wider range of the top 10 target keywords.
FAQ improvements
We also gave more prominence to the FAQs on the page by marking the questions up as headings in order to increase the likelihood of Google attaching the purpose of the content to relevant searches. We also de-optimised them for the main term and provided a greater level of keyword variation. All the FAQs were then wrapped in FAQ schema to increase the likelihood of these FAQs being pulled into the search results.
User experience
Finally, we improved the user experience by creating secondary navigation to direct the user to the question/information with deep links.
The results
At the start of the campaign BlackRock ranked on page 1 for just 3/10 of the high-volume terms in this space and none of these were within the crucial top 3 positions.
Since starting work on the project in September 2021 we have:
Held #1 position for the main term "529 college savings plan" for 15 months (since April 2022).

Broken onto the first page for the highest search volume term [529 plan] and retained a first-page position for the last 12 months.
As of April 2023:
The page ranks #1 for 25% of the target terms and in the top 3 for 40% of the target terms.
The page also ranks on the first page of Google for 60% of the target terms.

The average keyword rank has improved by 50%.

Overall the page has seen a 1,245% increase in monthly site traffic over the last 2 years.*
*April 2021 vs. April 2023

+1,245%
Increase in monthly organic traffic*
#1 rank
For 25% of the target keywords
+50%
Increase in average keyword rank