Direct Line Group's goal has always been to put the customer first. This began with car insurance, cutting out the middleman, the forms and the jargon – revolutionary changes at the time. Now one of the UK's leading insurers, they also provide home, pet, travel, life, van, landlord and business insurance for millions of customers.
Reddico were instrumental in helping Direct Line Life Insurance brands appear on page one of Google.
Direct Line, Life Insurance Product Manager
The brief
Attracting new policyholders is especially tough in the insurance sector. Many competitors are vying directly for attention, including powerful price comparison websites and competitors with large budgets for paid advertising. This makes achieving strong organic search rankings extra important for Direct Line. For a number of years, we partnered with them to help across various product lines, including life, pet and business insurance.
As far back as 2013, Direct Line had been suffering from a manual penalty against the term Life Insurance, with their ranking languishing in 47th place, depressing their organic traffic and revenues. Direct Line had previously engaged a number of other agencies to solve the issue without success, so they asked us to help in 2016.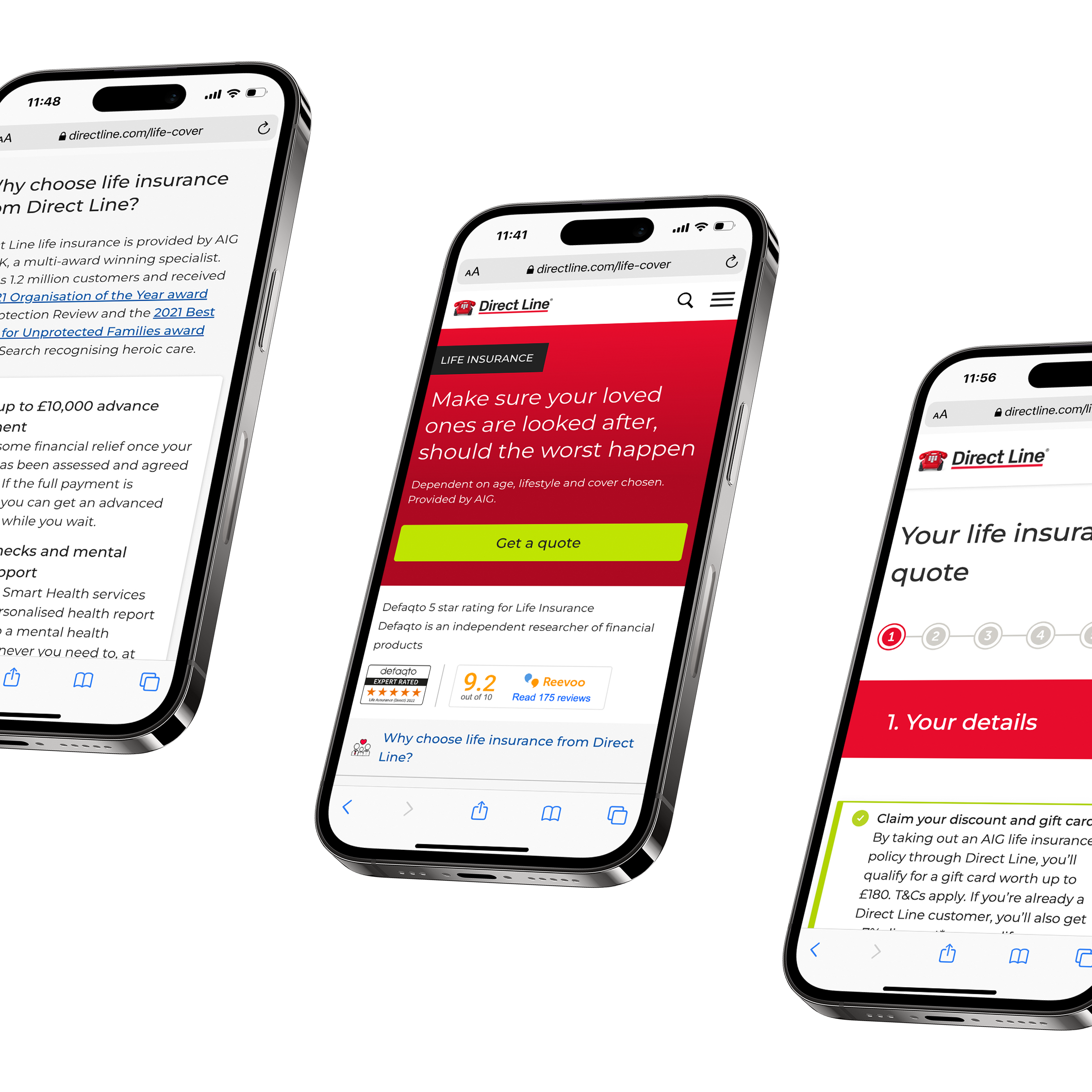 First, we carried out a historical analysis, reviewing keyword ranking data since 2012 and aligning it with key Google updates to draw a hypothesis around the issues impacting the Life Insurance page. We also worked with the client's development team to understand how the site had evolved and whether any technical issues were impacting performance.
As a key step in the project, we created a new, clean URL (/life-cover) to avoid legacy issues with the existing Life Insurance page.
A backlink review and cleanup of the Life Insurance folder was undertaken, followed by the rest of the site to ensure all legacy link-building issues had been addressed. We also addressed a number of technical issues including the problems Google was having in fully rendering the page in the same way that a user would.
There were a number of pages, both commercial and informational, that had thin content or were irrelevant to the product folder and by removing or consolidating these pages we strengthened the Life Insurance folder.
We carried out a UX review and content audit for the Life Insurance product with the aim of improving the value proposition of the page to users in order to create better engagement signals and help drive more people through to the quote process. The Life Insurance page was rebuilt to address the pain points and confusion caused by a lack of understanding around a complicated product.
In order to compete with the sites currently ranking on the first page, our in-house content team also created relevant content that other high-authority websites would link to – and the process secured 164 links.
The results
Given that other agencies had tried and failed to address Direct Line's issues without success – the results were stellar.
The brand's ranking for the term Life Insurance jumped from 48th place in 2013 to an all-time high of 4th place in 2017.
And, over a three-year period, organic traffic grew by 975% and organic policy sales by 300%, with the project delivering a 249% return on investment.
+300%
Growth in organic sales
4th
All-time high rank for Life Insurance
+975%
Growth in organic traffic
+249%
Return on investment
Reddico were instrumental in helping Direct Line Life Insurance brands appear on page one of Google, which benefited the business commercially. A pleasure to work with, pragmatic, with many ideas and willing to spend time to pass on knowledge.
Direct Line, Life Insurance Product Manager