Guides
A buyer's guide to SEO
Choosing an SEO agency or consultant to help you with your business is no easy task. But this guide will give you the tools you need to compare and choose the best SEO provider for your business.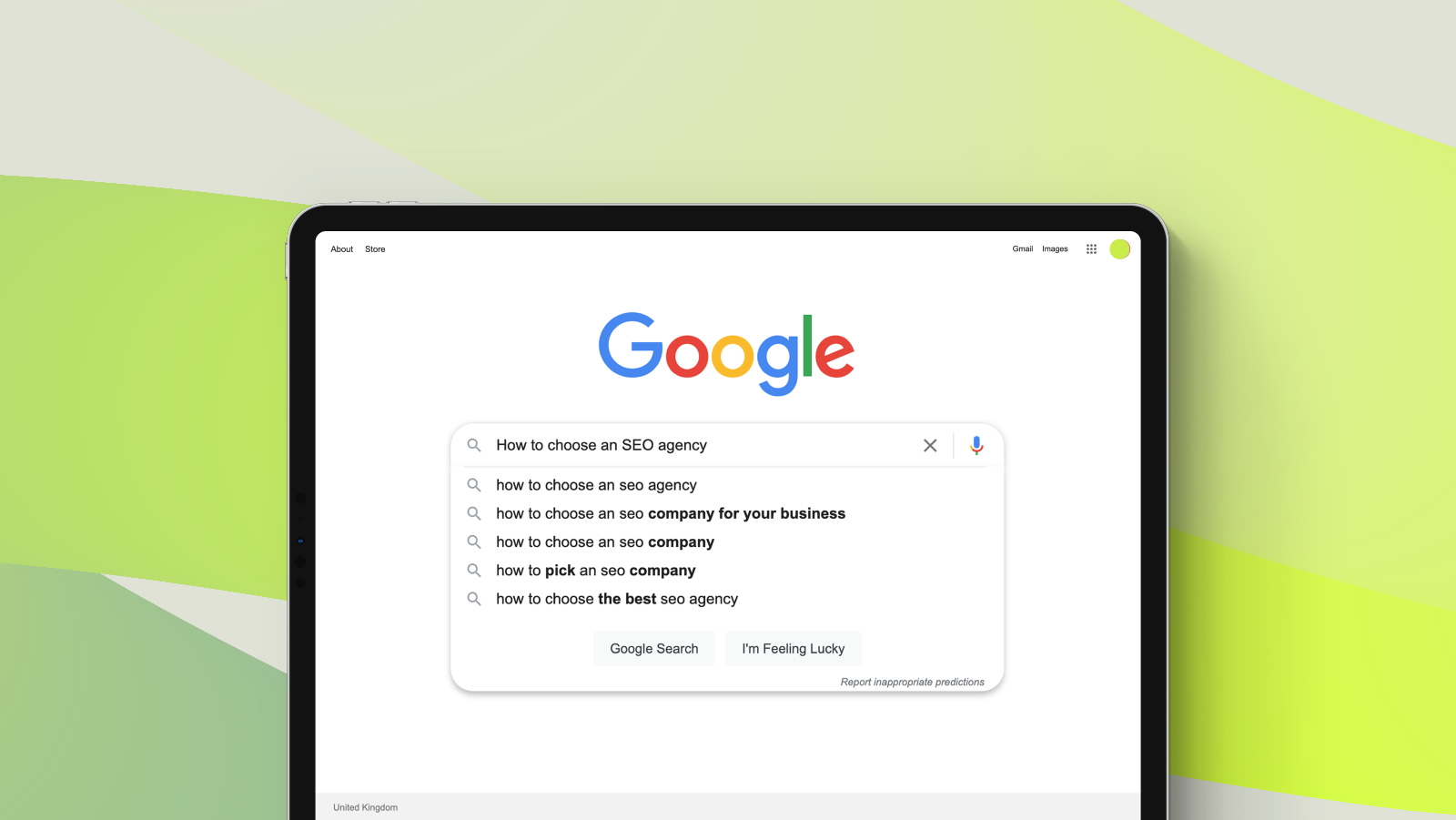 Three SEO disciplines
SEO can be split into three distinct disciplines:
Technical SEO – Fixing the code and structure of your website, to make it easier for search engines to understand, navigate and prioritise it (sometimes called on-page optimisation).
Keyword and content optimisation – Understanding what people are searching for, what terminology they use and making sure your content matches and satisfies their needs (sometimes called content marketing).
Link building – Increasing the number of websites that link to your pages, helping them to rank and appear more authoritative. This can be done through digital PR, viral/linkbait, outreach (asking others for links), guest posting (offering free content to other sites in exchange for a link) and writing high-quality content that naturally attracts links (sometimes called off-page optimisation).
Very few individuals are experts at all three disciplines, as they require very different knowledge, personalities and approaches. But there are SEO agencies such as Reddico that can provide a team spanning them all. What you actually need will depend on the current state of your website.
Common website scenarios
Good bones, but invisible – You have a strong CMS/Ecommerce platform (such as WordPress, Shopify or Magento), and addressed the common technical issues. But you're not ranking top for the important keywords in your market, or generating the amount of revenue that you'd like from SEO. No amount of code tweaking will change things. You need a content specialist who can identify gaps and weaknesses in your keyword targeting and content. They will then need to drive links into the new content, so it ranks higher in search results.
Strong brand that's underperforming – You have links from newspapers, industry publications, social mentions, and bloggers raving about you. But your competitors are still outranking you for all of the big commercial keywords. You probably have some technical issues on your website, stopping search engines from either seeing your content or passing your authority onto the correct pages. You need a technical SEO agency that can analyse your website like a search engine does and recommend (perhaps even implement) website changes.
Super competitive – You compete for keywords that even Amazon and Wikipedia struggle to rank for, such as [car insurance], [credit cards], [women's dresses], [flights to new york] and [laptops]. You could have an amazing website that's technically perfect, with loads of helpful information, but you're stuck on Page 2 of Google or worse. You probably need a link building agency, but it's also worth getting a Technical SEO audit, in case there's something holding you back.
New to the market – You haven't launched your website yet, or the website is only a few months old. You probably need help with all three SEO disciplines. Start with technical SEO, so that you know your website has good "bones" (code/structure). Then hire a content marketing agency to perform keyword research and suggest (or produce) content. Finally, hire a link building agency to drive authority and trust into your key content and landing pages.
Building an agency shortlist
There is no perfect way to build a list of people and agencies to invite into your RFP (Request For Proposals) process. The worst thing to do is to trust the unsolicited phone calls and emails that you most likely already get. A reliable and trustworthy SEO provider will have people queueing up to work with them, so will never need to cold call or email you. The exception is when you're a well-known brand or charity the agency would like on their client list. In these situations, only entertain approaches where they show a real passion and knowledge for your brand.
Here are our recommended sources for building your shortlist:
Recommendations from people that you trust – Be careful with who you trust though, as their judgement could be clouded by an agency offering referral fees. Check the agency website for client mentions and look at their client rankings in Google.
Industry experts – Look for people on Search Engine Land, Search Engine Watch and Econsultancy who are writing about your industry or issues that you're facing. Be wary of community websites such as Moz though, where almost anyone can post their opinions without peer review. If they work in-house or aren't taking on clients, ask them who they would hire in your situation.
Industry awards – Most awards are "pay to play", so some agencies refuse to take part. They can still be a good source of information on which agencies to include in your RFP process though. Look at all of the agencies that get shortlisted for an award in your sector e.g. "SEO for Travel". Read their award entries if they're public and check the rankings of their clients. The most popular SEO awards are UK Search Awards, European Search Awards, The Drum and Search Engine Land.
Creating an RFP
In order to receive quotes and proposals from your shortlist of agencies, you'll need to create an RFP (Request For Proposals). This is usually two to three pages of information, outlining your brand, tech stack, history, desires, expectations and budget.
Background – Who you are, what you sell, who you sell it to, how long you've been in business, what your turnover is and your business/product priorities.
The website – When your website was launched, who built it, who maintains it, what technology it uses (WordPress, Shopify etc), how easy/fast it is to make changes, and the process needed to add content or make fixes.
SEO history – What SEO (if any) has been conducted in the past, the successes/failures/progress made and any SEO activity currently being conducted.
Key performance indicators – What would be seen as a successful SEO campaign and how you will be measuring it. What your timelines are, and priorities in terms of rankings, traffic, market share, leads/revenue.
Service level – What you expect from the winning agency. Are there specific tasks, audits or research that you'd like them to carry out? How often? Do you expect weekly calls and monthly reviews, or just ad-hoc email support? Should they supply you with regular custom reporting? How many hours do you expect them to work on your account? Do you require a certain team size or prefer a single point of contact?
Budget – You should always specify a maximum budget or budget range. Failing to do so just wastes everybody's time. Agencies will put less effort into a proposal when the budget is unknown, as they will assume that you do not have any budget or aren't serious. You could tie your budget to an agency meeting certain milestones or offer bonuses based on exceeding KPI targets. No worthy agency will agree to do work for free though (unless for charity) and very few would agree to any kind of pure commission or "pay per lead" model.
The pitch process
Based on the responses to your RFP, you should line up agencies to pitch their offering remotely or in-person (if COVID-19 has passed). There is no golden rule about the location – you might even ask to meet at the agency's office so that you can gauge their atmosphere, happiness and working environment. Don't invite an agency to pitch if you already know that they're out of your budget range or they failed to address your RFP properly. Be particularly wary of generic RFP responses that aren't tailored to your requests – the agency will most likely provide a generic copy/paste service post-win as well.
Have a prewritten list of questions for all agencies that pitch, plus don't be afraid to interrupt and question any statements or arguments during the agency's presentation.
Example Questions
Do you have any clients in the same industry as us, or similar?

What have been your biggest client successes?

If Google were allowed to view your recommendations and techniques, what would they say?

How important are links for our website? Should we try to build more? How should we do that?

Why do you think our competitors are beating us?

How many years of SEO experience does our primary account contact have?

How many other client accounts will our SEO team work on? How much capacity do they have?

How proactive are you as an agency? How do you monitor our rankings and alert us to issues?

What assurances can you give, that our service level will be just as good on Day 360, as it is on Day 1?

What would you do differently, if you were our CEO?

What would you do differently, if we gave you an unlimited budget?

Why are you different to the hundreds of other SEO agencies out there?

Do you offer any guarantees around your results?

Do you think that the targets we set are achievable for our budget?

If we gave you access, would you be able to implement your technical recommendations on our website directly?
Choosing an SEO agency
After hearing all of the pitches and getting replies to any follow-up questions, it's time to make your decision. There are two ways of doing this – with your heart or with your head.
Trust your head – Create a scorecard in Excel with each requirement/request in the RFP as a separate scorable row item. Add any additional factors that are important to you as scorable items, such as likability, enthusiasm and value for money. Give every agency a score out of 10 for each line item. The agency with the highest score wins your business. This approach helps to justify your decision in your head and to other people in your organisation.
Trust your heart – Chemistry is vital to any agency-client relationship. You need your main agency contact to be responsive, knowledgeable and trustworthy. They also need to feel valued by you, especially in a crisis or for instances that fall outside of your contract scope. If you don't need to justify your choice to anyone, sometimes following your heart and instinct is more reliable than any scorecard.
Keeping momentum
Once you have chosen your agency, don't let the contract process lose momentum. Do everything in your power to complete the deal. Forgive any small discrepancies in negotiations, as they can muddy your relationship from the beginning. Try to get the project started as soon as possible – there's no guarantee the same agency team will be available to work with you in a few months time.
After the project starts, try to have weekly (or fortnightly at least) calls with your new agency team. You shouldn't have to micro-manage them, but you may need to keep them focussed and held to account. Emails can be easily avoided or fobbed off and ad-hoc calls can focus too much on individual issues and not enough on the campaign as a whole.
Don't be afraid to request a review meeting every quarter or six months, where you should expect the agency to tell you how the campaign is going, and if they're on track to meet their KPI targets.