Guides
Multi-domain strategy for China SEO success
Achieving SEO success in China is tricky. This is particularly true given that Google is all but blocked in China. You have to contend with search engines exclusively in the Chinese language, each with their own algorithmic nuances and toolsets also almost exclusively in Chinese.
This becomes even more of a headache for brands who don't have a business presence in China and are therefore unable to provide the necessary credentials to enable them to host websites and operate freely within China. This in turn allows them to benefit from improved page load speeds from Chinese servers, among other things.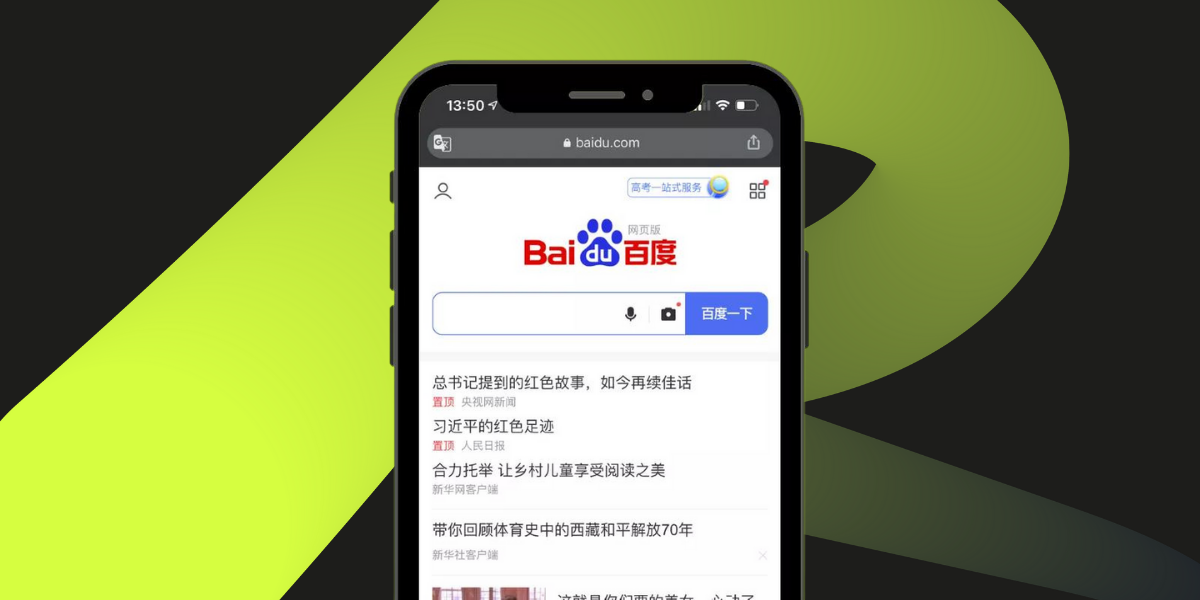 Even if you do have the option of Chinese hosting and have your Chinese business credentials in order, it's still a hoop-jumping process, and success can be a complicated and frustrating journey.
But don't let the bureaucracy put you off. There are still routes to Chinese SEO success through various means, and a nuanced-yet-agile strategy can reap its rewards. The sheer opportunity and huge search volumes in China speak for themselves.
In this guide, we're going to take you through one particular approach which can help you achieve SERP dominance in China, that being the use of a multi-domain SEO strategy. While China does have a few search engines worth considering (Sogou continues to be an emerging presence) we're going to look exclusively at Baidu here, which still maintains a solid search engine market share of over 75%.
Firstly, let's take a look at the typical make-up of a Baidu SERP for any given query and why the use of multi-domain strategy (including across Baidu's own products) can be a fruitful route to organic success.
The typical makeup of a Baidu SERP, and why this matters
Let's assume you're planning on entering China with a business in the trading industry. Aside from the obvious need to have a fully localised website in Simplified Chinese, there are several highly recommended setup facets that need to be considered, though more on that later.
Looking at what you're potentially dealing with in China on your journey up the Baidu rankings, here's a snapshot of the Baidu SERP for the Chinese language branded search term of a well-known trading broker established within the region: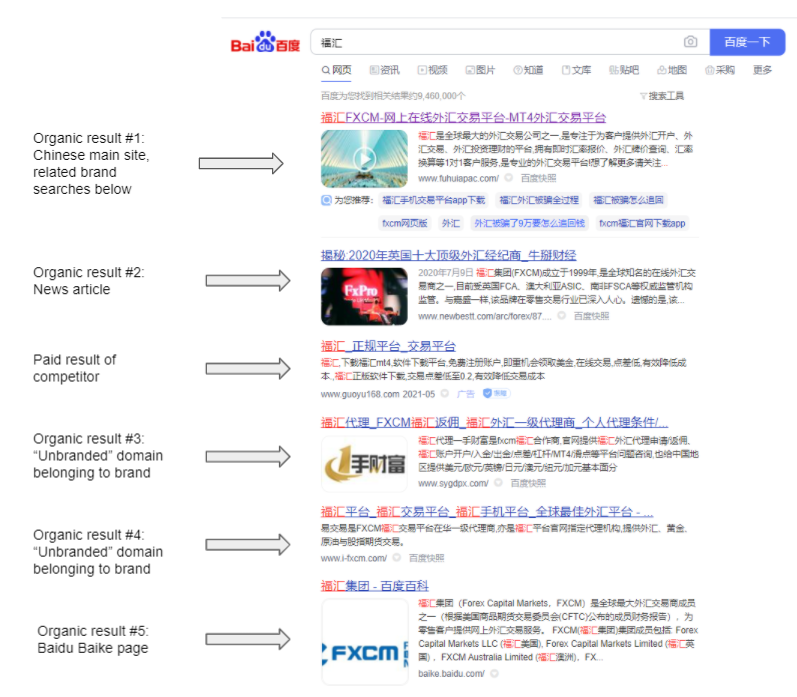 While we're only seeing five organic results here, this is all that's typically shown above the fold for Baidu, which makes that SERP real estate in the top half of page one so vital. Speaking of real estate and harking back to the topic of multi-domain strategy, we can see here that the brand in question occupies three unique organic positions in Baidu, with three separate domains of the same brand.
The two "unbranded" sites are examples of the brand employing a multi-domain strategy, using separate domains that are variants of their brand name (in this case http://www.sygdpx.com/ and http://www.i-fxcm.com/) to represent different aspects of their brand and services. All three domains perform well for branded terms. The two "unbranded" domains serve different purposes and target keyword demand in forex trading news and education respectively.
While this may appear a tiny bit grey hat, it is a common tactic employed by brands aiming to maximise their SERP real estate across Baidu using independent sites and microsites targeting certain keyword and content buckets. There is also an element of spreading risk across their website assets in China, which we'll address in more detail shortly.
In addition to this, it's important to flag the role that Baidu's own products have in its SERP and this can play a huge role in your organic visibility in China. It's estimated that around 30% of all Baidu queries land within Baidu's own products. This is no surprise given their prevalence in the SERP for any given query.
In the above example, we have Baidu Baike showing up in organic position five. Baidu Baike is Baidu's own version of Wikipedia and is one of many Baidu SERP products that offer opportunity if you're able to directly influence and manage the content. Uploading content to Baidu Baike, be it creating an article or editing a brand article, will require a Baidu account and proof of company credentials.
Aside from Baidu Baike, it's also worth having a look at these other Baidu products to optimise your SERP real estate further alongside your multi-domain strategy.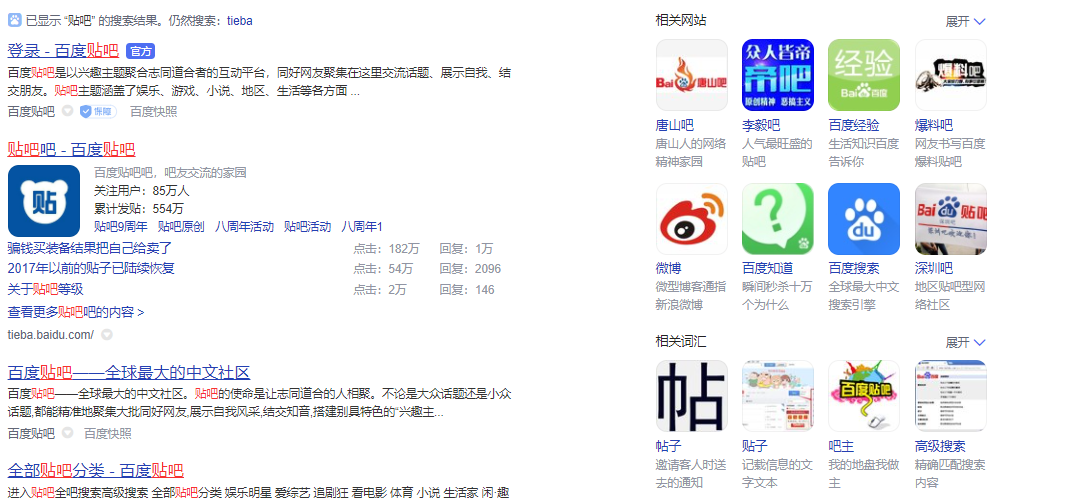 Baidu Tieba: a Reddit-esque platform where users with Baidu accounts can create and join "bars" that are assigned to any given topic. Bars can be anything from a celebrity, TV show, hobby topic or brand name. Like Reddit, users will discuss hot topics on individual threads. From a brand perspective, it offers a great opportunity for PR and reputation management via answering user questions and getting involved in the discussion. From an SEO standpoint, Baidu Tieba posts often occupy SERP positions for any number of long-tail branded terms.
Baidu Zhidao: an all-encompassing Q&A platform where Baidu users pose questions across a plethora of day to day and contemporary topics. It is similar in some ways to Baidu Tieba, though it serves as a more centralised Q&A platform split by topics. For brands, there is an opportunity to get involved with questions posed by users directly about the brand and build up relationships. While heavily censored and monitored by the Chinese internet authorities, Baidu rich snippet results are often pulled from Baidu Zhidao so the organic opportunity is well worth considering.
Baidu Wenku: a platform for submitting articles and research papers in more study and research-based niches. While not immediately relevant for most brands wanting to build an organic footprint in Baidu, there is potential content marketing opportunity for those in the medical and science industries. Wenku results will often appear in the SERP for relevant queries in these industries.
Requirements for China SEO set-up
Now that we've got an understanding of the makeup of the typical Baidu SERP and the role your multi-domain strategy could play, let's take a look at some requirements.

We've alluded to this earlier and while it will certainly put you in a better position in terms of having access to Mainland China hosting, a Chinese business licence is not a requirement for SEO success in China, despite what you may be told!
Even if you do have Chinese business credentials and wish to host in China, there is still additional hoop jumping in the form of acquiring ICP licencing to legally operate a site within Mainland China and this can be costly and lengthy.
There are plenty of options to consider for brands looking to enter China via the Baidu channel and who don't have in-China operations. Let's take a look at these.
Baidu Webmaster Tools: a must-have for all site operators wishing to even get their website indexed in Baidu. As expected, it operates like Google Search Console, albeit in a relatively stripped-down manner. It allows submissions of sitemaps, indexation and crawling analysis, robots.txt file management, change of address submission and more. It also flags straightforward technical SEO errors and offers optimisation tips. It's only Chinese and you'll need a Baidu account to set it up, which in turn requires a Chinese mobile number to create.
Near-China CDN: this is crucial in getting the best you can in terms of server and page load speed for your Chinese users if you're not going down the China hosting route. Most popular CDNs, such as CloudFlare, provide the option of content delivery based in Hong Kong, which is often seen as the next best thing for China hosting. If your budget allows, however, we'd recommend going one better and getting a "near-China" hosting solution like Chinafy, which allows you access to Mainland China-based CDNs without having to actually host your site in China.
Accurate SEO Tools for China: most of our familiar third-party SEO tools won't provide accurate data for China, if at all. This is crucial in your set-up stage when you're looking for reliable keyword and competitor analysis data to inform your site and on-page optimisation strategy. The Baidu keyword API has been relatively closed, though there are some tools that offer accurate measurement of Baidu search volumes within China for your research and content strategy. Dragon Metrics offers a reliable suite in this department. Despite being blocked in China, Google Analytics products will still fire and gather data from Chinese users so you can stick with your preferred GA/GTM execution. Marrying this up with Baidu Analytics for some cross-sectional analysis is worthwhile, however, despite the interface being purely in Chinese.

SERP domination aside, why is multi-domain strategy for China worth considering?

The final point to address in this section is the slightly less fun one that, unfortunately, is a frequent headache marketers encounter during their China SEO ventures – the element of risk.
It's well known that in China, internet censorship is rife. While this may not seem a danger to most marketers and website operators (unless they're trying to promote a political cause), the Chinese government and its state-owned ISPs can tighten and change what it deems unacceptable content with little logic and, crucially, no notice. This intensifies around the time of certain political anniversaries in China, though can happen at any given time.
For example, back in 2014 all websites, videos and content related to the harmless (and hugely popular in China) sitcom The Big Bang Theory were pulled, and even thousand-year-old traditional topics like fireworks have seen the wrath of censors of late.
Harking back to our trading example earlier on, there are of course more industries at risk of being blocked than others, and trading and financial services is certainly one of them. This doesn't rule out safety for all verticals, however, and entering the Baidu space with a Western or non-Chinese brand puts you more on the radar for sure.
It's important to account for risk when marketing in China and this is why having a multi-domain strategy to spread your risk can help. But what if one (or all) of your sites get blocked overnight? How do we back this up and restore our Chinese website so it operates despite this and minimal organic revenue is lost? Let's take a look.
Readying a back-up domain strategy to mitigate risk

Regardless of whether you're embarking on a multi-domain strategy in China or not, it's important to become prepared for the worst in case you are suddenly taken offline. As outlined in this guide, China SEO success depends on ascertaining visibility across various areas of the Baidu SERP, and this will at times require some aggressive execution, be it through content marketing or backlink acquisition.
The process here is quite structured. Let's look at this from a step-by-step point of view so you know what you're dealing with:
Purchase a few back-up domains for any given site. Set them up on your hosting platform as you usually would. Domain names that are variants of your primary domain are recommended.

Duplicate your existing site content onto these back-ups domains. If you're using WordPress, there are plugins for this.

Push these back-up sites live (optional). A contentious one as you're dealing with potential duplicate content, though this can be mitigated by canonicalising the backup sites to the main ones. Pushing these live is recommended. It's worth setting them up on Baidu Webmaster Tools to have them crawled and indexed alongside your main site to shorten your SERP recovery if your main site gets blocked and deindexed.

Develop an automated redirect service. This is the heavy lifting part of the process. You'll need a solution that automatically redirects all URLs, internal links and other marketing journeys from site A to site B in the event site A gets blocked. Otherwise, it's a slow manual process at the server level. One option is to host this on a separate domain using a bit.ly solution, which can automatically replace the domain string within the URL to update all your journeys to site B if site A goes down.

Setup analytics cross-domain maintenance. In the same way you'll need to test whether your automated redirect service works on your website journeys, CRM efforts and social media (if you're running any), you'll need to factor in analytics set-up in this process so no reporting is lost. From a GA point of view, ensure that the same tagging infrastructure is featured when you duplicate your sites in step 2, and then simply ensure the backup domains are listed as part of your cross-domain tracking setup in either GA4 or UA. In the event of your site going down, you'll be able to filter and view data on these domains by source/medium to ensure reporting consistency throughout the process.
Other considerations throughout this process include developing a script that automates any changes pushed live to your primary site to your respective back-up sites in the CMS, so you're not having to do this manually. It's also worth factoring in a monitoring tool as part of your hosting set-up, so that any instances of site down time in China can be investigated and escalated where necessary. Most hosting companies have this built in. There are also tools out there to test if any given site is blocked in China in real time.
While this may seem a lot to think about, and the idea of redirecting domains poses a number of potential SEO headaches, don't let this be a deterrent for your China SEO efforts. Ultimately, being blocked in China is still unlikely unless you're operating in a heavily regulated or sensitive niche. It's simply best to be prepared for the worst.
General tips for multi-domain success in China
So you've done your research into what domains you intend to deploy and what target keywords they're shooting for. You've also identified opportunities within Baidu's products and have a backup failsafe ready.
What next? Let's revert back to our earlier example of the trading brand which employed the use of a main branded website, plus two smaller domains or microsites that captured more long-tail generic keyword demand. In this situation, we can perhaps assume that the main branded site is the main website asset of the brand and the "unbranded" sites are used for long-tail lead generation.
Looking back at the risk element of this, it's probably safe to say that of the three domains, the main branded site is the one we want to get blocked the least. With that in mind, it's worth weighing up the spread of your SEO efforts across your various domains. If your situation is the same as the aforementioned trading brand, and taking link building as a particular area of focus, perhaps we can look at a 60/40 spread of efforts in favour of the smaller unbranded sites.
In tune with the above example, the smaller sites, targeted at particular topics and generic keyword buckets for lead gen purposes, for example, may cause less of a shockwave across the business if they were to be blocked (and then stood up again), and thus can be tackled somewhat more adventurously.
Link building in China has suffered from the same spammy practices that Google did years ago and Baidu has made efforts to clamp down on this, with a particular focus on age-old directory submission tactics and links within forum comments.
While there are still grey areas present within the world of Chinese link building, you'll do well to employ the same practices you employ when building links for Google. That being the creation of quality, unique content, which resonates with Chinese audiences and can be prospected to relevant influencers and websites within your niche.
There are many link building agencies in China that can take care of the outreach process for you, but if you want to take it in-house, ensure you're researching Chinese domains with strong organic signals in your prospecting list. Look at what your competitors are doing. Again, leverage reliable Chinese SEO tools for your discovery research. Be aware, however, that email is seldom used in China, so you'll need to get savvy with using Chinese instant messaging platforms like WeChat and QQ to build relationships with link prospects.
Summary
In this guide, we've tackled one particular route you can use to penetrate the Chinese SEO landscape. While the application of multi-domains can be complex and resource-heavy, a careful and considered execution with the right fail-safes and testing in place can offer huge rewards if your brand has a smattering of SERP real estate across the first page of Baidu for certain target keywords.
There are an estimated over 1.5 billion daily searches on Baidu and much like Google (and in many ways much faster), the search giant is innovating all the time by releasing new features and opportunities for brands to make their mark. This certainly makes the various considerations and trials and errors along the way all the more worthwhile.