Culture
Our culture revolution. Part 12: Making a real and meaningful charity impact
We're just a normal agency. You may own one. You may work for one. We're ticking along nicely, picking up new business and growing at a good pace. The team size has upped from 1 to 20 in five years, with plans of reaching 50 by 2021. Everyone seems happy. But we want more.
Day Zero was the launch of our manifesto. Its aim? To revolutionise our culture, attract amazing talent, and be recognised nationally as a great place to work.
Over the course of the next few months we'll be taking you to the heart of Reddico, sharing our highs, our lows, and our eureka moments. We'll be honest and open about everything. What works. What doesn't. Whether you're here for inspiration, to watch us fail, or out of sheer curiosity, welcome along.
No hours. No managers. Rules set by the team. Let's see what happens next.
We've spent plenty of time talking about our culture and the huge strides taken over the last few months. Everything is aimed towards handing more responsibility to the team and creating an environment of real trust and ownership.
But our manifesto doesn't end here. We want to make a real and meaningful impact on our team, our clients, and the community we work in. It's this community impact we're turning our attention to this week.
In the past, let's just say our charity efforts haven't quite been what they should. We've always supported charitable causes, but there hasn't been a structure or consistency to this over the years. It's all been a little hit and miss.
We wanted to change this. Not only would we commit to donating 2% of profit to charitable causes, but focus on using the team's skills to improve the online presence of charities.
When the manifesto was first announced to the team, it wasn't the self-regulated holiday or flexible working that appealed to Simon. It was the opportunity to help those less fortunate and make a lasting impact on others' lives.
Simon came forward within a few hours with an intention to lead these charity efforts. Over to him.
Defining our goals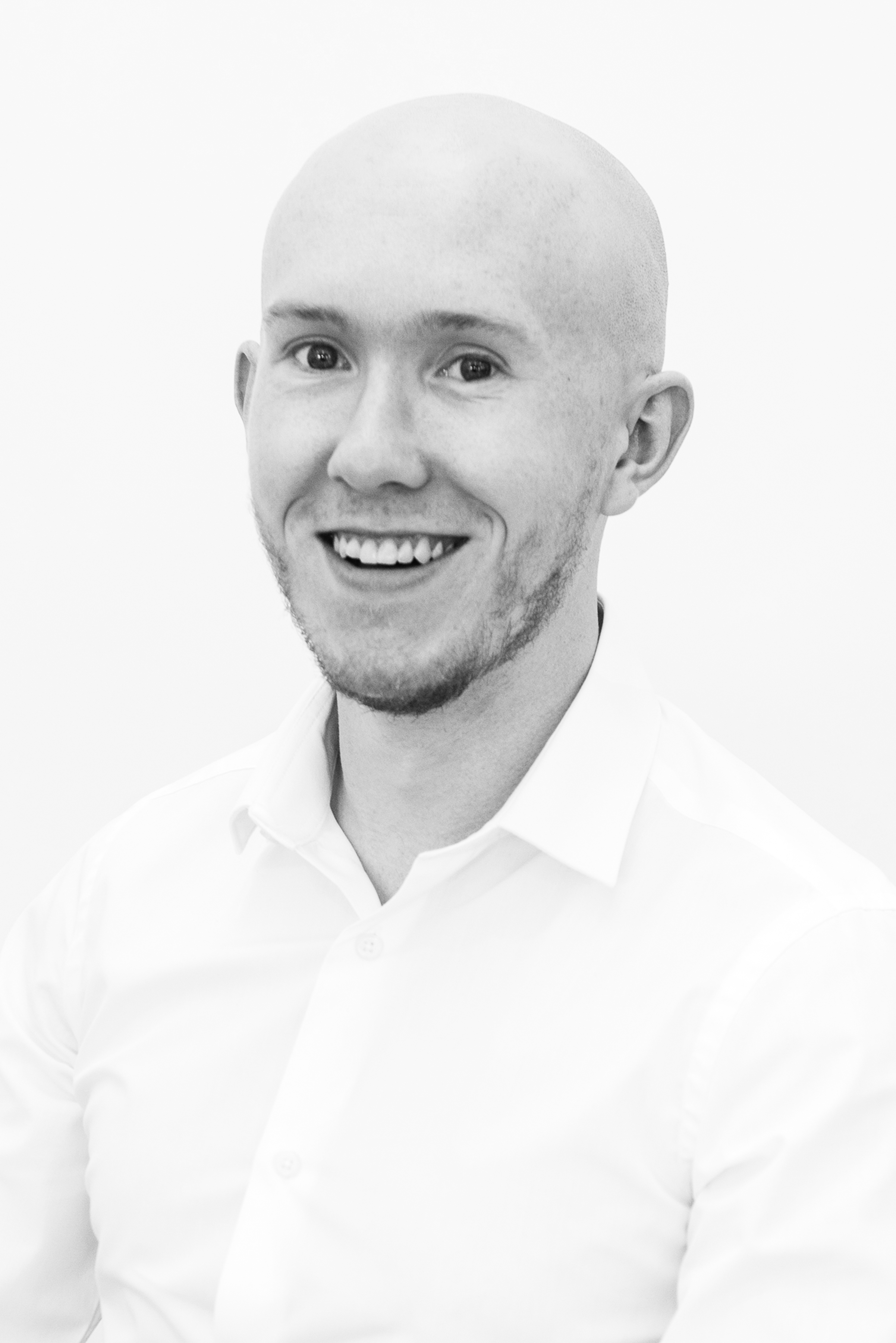 We wanted to make an impact, but didn't know how. That sounds a bit odd. After all, how hard could it be to donate to a charity? The thing is, we didn't just want to "throw money" at organisations without a real goal in mind. Sure, everyone would be grateful for support, but would it really make a real and meaningful impact?
We decided early on there were a few factors which would apply to our approach. We sat down and asked ourselves key questions.
Is what we're doing going to make an impact? – Some charities are a lot more privileged than others from a financial perspective. We wanted to make sure any donations we made would have an immediate and substantial impact on those we were helping.

Are there tangible results? – Less immediate, but still something we were keen on, was the desire to help charities complete a project or fundraising goal. Smaller organisations will often set themselves targets, which can take months (if not years) to hit. We wanted to speed things along for charities who might find themselves in that boat.

Does it just have to be money? – While handing over a cheque is nice, we also wanted to go that step beyond by offering our services. We're a digital marketing agency, focusing on helping our clients to get the best possible exposure online. Why not put our SEO and PPC knowledge to use when helping charities too?
With this in mind, we were ready to begin in earnest.
Forming a committee
I had already been trying to drive progress. But one man can't do it all.
The call went out to every corner of the Reddico office. From the sweeping plains of PPC, to the untamed lands of SEO. Four heroes would step up and join the motion.
Katie (PPC Account Manager), Si (Senior SEO Consultant), Laura (Office Admin) and Beth (Junior Content Writer) have played a crucial role in helping to push charity efforts forwards.
Meetings are held every Tuesday to discuss the latest news, and where we are with every charity we've spoken to. Any good work which is being done at the moment is thanks to the tireless work of this quintet.
Finding charities
Let's face it, all charities are worth our time and effort. These organisations are dedicating themselves to helping others, and that's fantastic. But, sadly, we don't have the resources to help everyone.
Choosing the select few we want to connect with is a tough process. When finding groups to work with, there's another three questions to ask:
Are they local? – We know it sounds like something you'd hear in a League of Gentleman sketch, but helping out the local community is important to us. The closer to us and our community, the better.

What will our impact be? – As we already mentioned, we want to know we're making a significant difference to those we're helping. Having a genuine impact is important to us. We want to actually help, not just pat ourselves on the back for making a token donation.

Does anyone at Reddico have a link to them? – If a charity has a close connection with someone at Reddico, we'll do our best to help. Our team is important and if they have a cause they feel passionately about, we'll do what we can.
Once we have an organisation in mind, it's case of reaching out and seeing how we'll best be able to support them.
After first contact, we'll sit down (either face-to-face or on the phone) and find out what a charity wants from us. This is one of the most important aspects of our outreach process, as it provides us with a clear roadmap heading forwards.
Whether it's a financial donation or professional services or consultancy, we want to know as soon as possible what's required, before exacting a plan of action.
What we've achieved so far
Once we have that plan, it's a case of handing off a charity account to a member of the team. They'll be responsible for scheduling work internally, reporting back to a charity and keeping the team informed of what's going on.
We're still in our infancy regarding our charity outreach, but we're already having a positive impact on local communities.
Sandown Outdoors
Sandown use the natural world around them to teach kids the importance of the environment. At a time when climate change and depleting resources are poignant issues, this Folkestone-based organisation are doing what they can to teach the adults of tomorrow just how important it is to preserve what we have left. Kirk, one of our senior SEOs, pointed us towards the group owing to his family ties to one of the founders.
In this instance, both parties agreed it would be best to donate a flat donation of £1,600 to help fund the construction of a polytunnel. Since Reddico got involved, Kathryn – our point of contact with Sandown – has been keeping us posted. We're pleased to say the money we donated helped them to finish the project well ahead of when was initially scheduled.
"I just wanted to thank you again, on behalf of myself & the rest of the team, for what Reddico's donation has helped us achieve already."

-- Kathryn Joly
Societi
Societi were created with the intention of raising awareness of Kawasaki Disease. The condition affects young children, causing heart defects which can persist for life. In severe cases, Kawasaki Disease can even be fatal.
Vicki, our Finance and HR manager, suggested we reach out to this charity after a personal brush with the condition in the past. Rachael McCormack is our primary contact at Societi. We discussed a potential partnership with her, and came to the conclusion that they'd be best served through our consultancy services.
Since then, we've created a social media guide for use across all online platforms, with a blog schedule and a page quality assessment also tasked in to be completed in the coming months.
Rachael sent over a fantastic image which we've proudly strewn across several of our own social media accounts.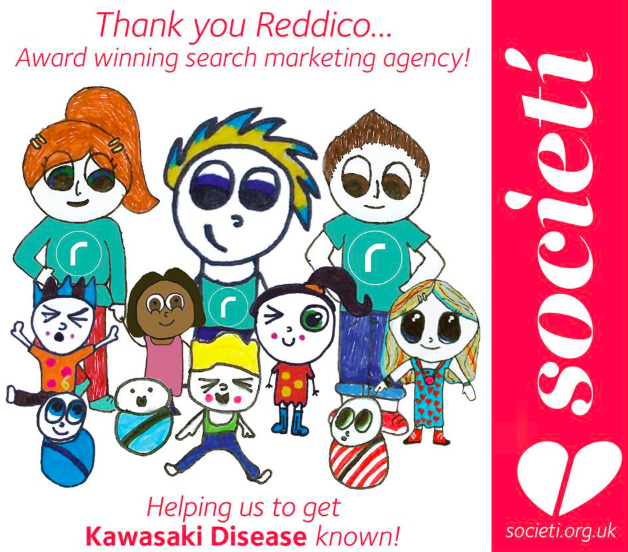 "We'd like to post this with a note of thanks for your firms fabulous professional help, as a valued partner for Societi. We'd like to make all our supporters aware of this wonderful level of help, I know they will be just as grateful as I am to know that you're helping us tell more people about Kawasaki Disease. It really does mean a great deal!"

-- Rachael McCormack
Dandelion Time
Dandelion Time are the latest charity we've teamed up with. They operate in Maidstone, and work to help children who've experienced a trauma, battle back to find comfort in the world again. We went to speak with Caroline Jessel and her team at their headquarters.
They decided creating a blog strategy would be best for them, with additional consultancy being provided by the team as the months progress.
"Thank you very much to you and Laura for coming to visit at Dandelion Time. You have definitely raised our awareness of the value of SEO and the importance of writing a regular blog. Very much hoping that we can work together using your expertise to help us to achieve our strategic objectives."

-- Caroline Jessel
We're so pleased to have had a positive impact on these charities, and can't wait to see what we can do further for them and other organisations in the future.
What's next?
You haven't heard the last of our charity efforts.
Next week we take a look at some of the internal events we ran over the summer to raise even more for the charity pot, whilst giving insight to bigger ideas planned in the future.
Not everything goes smoothly either. We've learned loads over the last few weeks and months and will detail some of the bigger things that have reared their head.