Culture
Our culture revolution. Part 13: Looking towards a charitable future
We're just a normal agency. You may own one. You may work for one. We're ticking along nicely, picking up new business and growing at a good pace. The team size has upped from 1 to 20 in five years, with plans of reaching 50 by 2021. Everyone seems happy. But we want more.
Day Zero was the launch of our manifesto. Its aim? To revolutionise our culture, attract amazing talent, and be recognised nationally as a great place to work.
Over the course of the next few months we'll be taking you to the heart of Reddico, sharing our highs, our lows, and our eureka moments. We'll be honest and open about everything. What works. What doesn't. Whether you're here for inspiration, to watch us fail, or out of sheer curiosity, welcome along.
No hours. No managers. Rules set by the team. Let's see what happens next.
Last week, Simon talked through our charity efforts and some of the early success we've had in helping local charities and community projects. He's back for a second week in a row, wrapping up with our plans for the future and sharing lessons learned since we embarked on a clear charity mission.
Once again, I'll hand over to Simon to go through the details.
Where our donations come from
We're fortunate to have a leadership team that really cares about the community. Because of that, 2% of our annual profit is instantly assigned to the Reddico charity pot.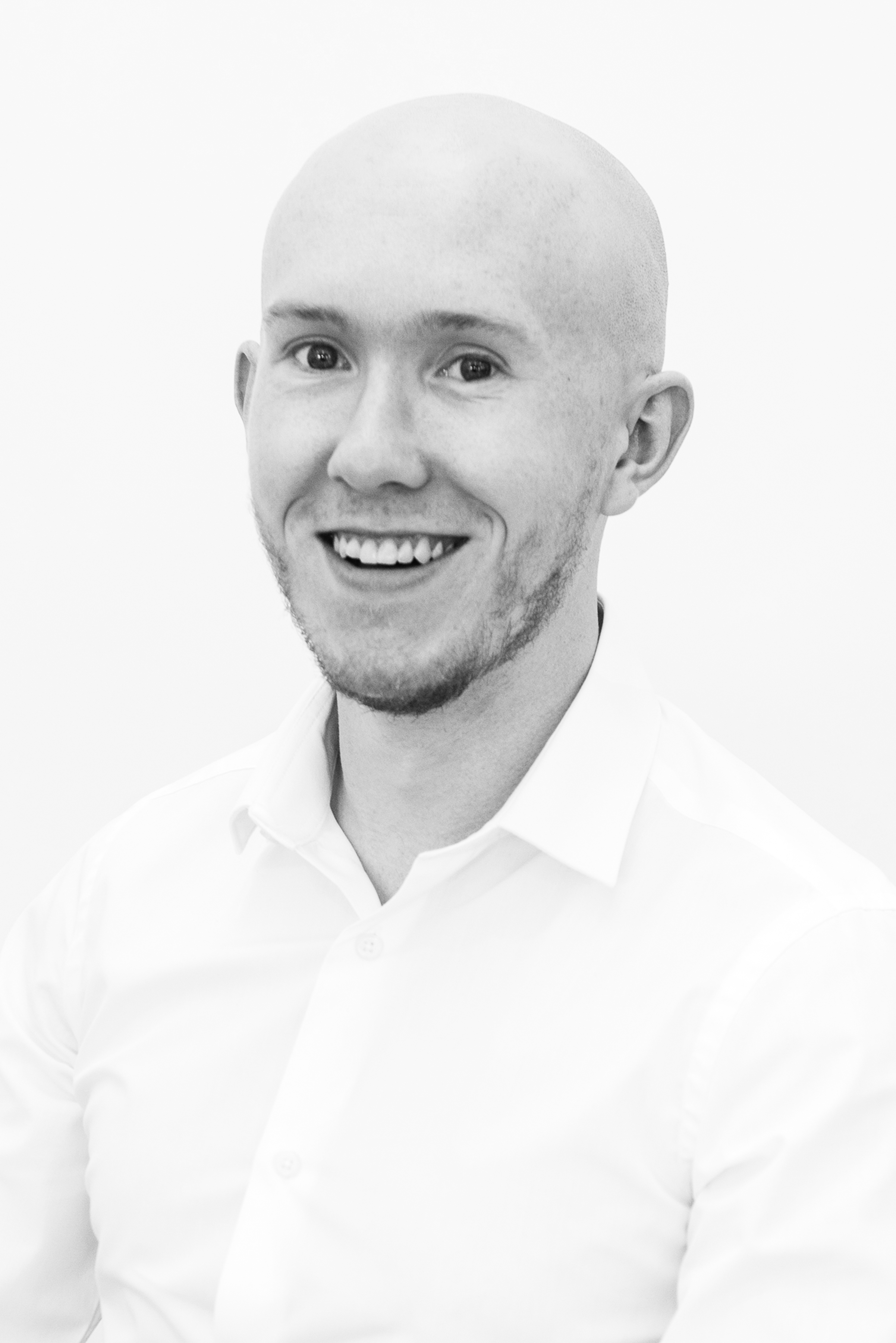 Every quarter the team votes for this person who's made the biggest impact on their work, and that member is given the opportunity to donate a large portion of this 2% to a cause they care about. The remainder is left for ad hoc donations and to support other causes the charity committee suggest.
If for whatever reason a charity would rather our services than a flat donation, we calculate a charity day rate (that replaces the 2% donation), and help out in this way. Because of this, those we're helping are able to benefit from the digital knowledge of the team, for free.
Our committee also run special events every month to keep things ticking over nicely, whilst also providing fun events for the team in and around the office.
Internal events & The Reddico Christmas Quiz
Those events have been coming thick and fast of late, with pumpkin carving, fancy dress and even the very first Reddilympics all helping to raise money for good causes.
To keep our team motivated, we've even introduced a Charity Championship. The best performers in each event are ranked, and it all goes towards an end-of-year score, with a prize for the winner.
So, what's next? Although it's not part of the Charity Championship, we're excited to be hosting our first ever large scale charity event on December 6th, open to those outside Reddico too. The Reddico Christmas Quiz will see team members, clients and friends and family all coming together to raise money for Dandelion Time.
If you're interested in entering a team, don't hesitate to get in touch.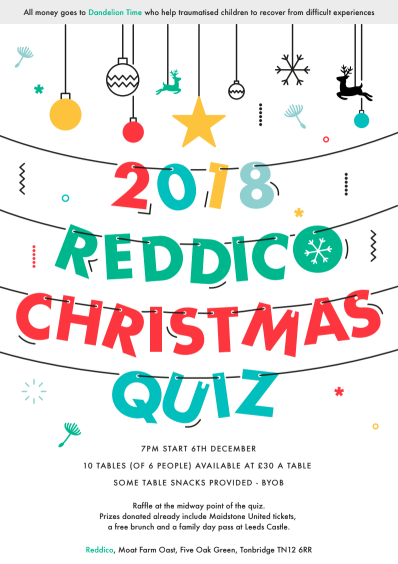 Plans for the future
But the quiz is far from the end of the fun. We've got a lot planned for the future. Just some of the fundraising ideas in the pipeline include:
A 5K run
We figure this could be a healthy way of keeping fit as much as a means of raising money. With gym membership offered to the team as part of our private health insurance package, it's helped our troupe of layabouts transform into relentless running machines.
Alright, maybe I'm exaggerating a touch. But there has been a notable increase in fitness levels since this came in. We want to make the most of that by tackling a 5K (or dare I even suggest, 10K) run at some point in the near future.
Naturally, everyone will raise money from their nearest and dearest. This will either go towards a specified charity, or straight into the pot (allowing us to provide further support in the future).
A charity football tournament
Here at Reddico, we've already formed a number of championship-winning football teams. And when I say "championship-winning", I really mean "promotion contenders". And, I guess, when I say "promotion contenders", I mean "mid-tablers lucky not to avoid relegation". The point is, we've run a couple of teams.
Having taken part in a tournament hosted by Pearson Whiffin in June 2018 (we were robbed in the quarter-finals of the consolation cup), we felt inspired to put on our own day. While we still need to finalise a lot of things, the wheels are slowly beginning to turn. Summer of 2019 is the most likely date for this event.
PPC grants
While it might not be in keeping with a football tournament or 5K run, we have big plans to start making the most of the Ad Grants Policy which Google offer to non-profit organisations. They're willing to give up to $10,000 (that's £7,683.85 at the time of writing) to any websites who conform to their guidelines.
But what are those guidelines, I hear you cry? Currently, Google cites these as their core priorities when it comes to being given access to the grant:
No single-word keywords permitted

No overly generic keywords permitted

No keywords with a quality score of 1 or 2 permitted

The website must maintain a 5% click-through rate each month

Must have valid conversion tracking, if applicable

Must have at least 2 ads per ad group

Must have at least 2 ad groups per campaign

Must have at least 2 sitelink ad extensions

Must respond to programme survey
We'll be doing what we can to help charity websites comply with these parameters. The grant has the potential to be a game changer for organisations who don't have a big budget to spend on their online presence.
Lessons learned
It hasn't been all plain sailing. While a lot of things have fallen into place, there have been important lessons learned along the way.
A dedicated charity account – We live in a digital age, so it stands to reason people find it easier to transfer funds online than with cash. That said, it's surprising just how few people carry change anymore. Creating a dedicated charity bank account which people can transfer money straight into is a priority which we want to get in place before the quiz.

Big events are the way to go – There's a lot more potential to raise funds with larger events than small in-house days. That's not to say we'll be scrapping our Reddilympics, bake sales or fancy dress competitions. Rather, we'll be focusing more attention on organising and running big external events.

Charities want more than money – Before we started our outreach, we always knew we wanted to do more than just throw cash at organisations in need. In truth, there was a partial expectation on our part that they'd take some convincing. In reality, everyone we've spoken to has been very open to the idea of our consultancy and resource donations.

People really care – We've reached out to a number of organisations to donate towards our raffle efforts for the quiz. We were shocked at how many big names in the county were happy to help out. It just goes to show, when people can do their bit of good, they're more than happy to lend a hand.
There'll be plenty more pleasant surprises and challenges ahead of us. Everyday is a school day, after all. The more we work with these organisations, the more lessons we'll learn.
Things have started well, but there's still a long way to go. Our charity outreach has already had an impact on three very worthy local causes, but we know we can do more.
If you, or someone you know, are aware of a charity that needs help with their digital presence, be sure to get in touch.
And keep watching this space, there's plenty more to come.