Impact & B Corp
Gender pay gap report – our story so far
Introduction
Welcome to Reddico's first-ever gender pay gap report.
Let's answer a key question before we delve into the figures: why are we doing this?
To set a benchmark. We don't have to complete a gender pay gap analysis until we reach 250 team members, but Reddico is undertaking this as part of its commitment to people and transparency.

To understand the progress we've made. We've been focusing on making the company more inclusive. We want to see if it's made a difference and identify what we still need to do.

To lay out our future direction. Clearly no-one wants any pay gap, but being open and transparent and discussing the issue enables progress to be made with our gender pay gap.
Executive summary
There are three key takeaways we'd like to pull out:
The Reddico gap has decreased significantly in the past three years.

Our gap is significantly better than the UK average (and of course we are striving for even better performance).

We will continue to review and improve our already market leading policies to support all members of our team.
The gender pay gap is a long-term commitment and it cannot be solved overnight. An example is tech industries, which are often male-dominated, and any changes that a company makes need to be considered overtime. For example, if a company specifically recruits female graduates to boost their own talent pipeline this will make the pay gap worse in the short-term as more junior females are employed by the company, but will enable progress in the longer term. For this reason, we are looking at our gap over a three-year time period to give further context.
What is the gender pay gap?
The gender pay gap is the percentage difference between average hourly earnings for men and women.
In general, there are a number of reasons the gender pay gap exists. Women are more likely to:
Work in part-time roles. Women in the UK make up the majority of part-time employment (38% don't work full time hours, compared to 13% of men).

Work in lower-paid jobs. 62% of people earning less than the real Living Wage are female. In contrast, men are more likely to be in senior roles with high wages.

Care for young children and elderly relatives. 58% of the unpaid carers in the UK are women.

Face discrimination, for example if they become pregnant. In research by the Equality and Human Rights Commission, 11% of mothers surveyed said they'd been dismissed, made redundant, or treated poorly and had to leave their jobs as a result, 10% said their employers discouraged them from attending antenatal classes, and 20% were harassed or experienced negative comments about pregnancy and flexible working.

Have gaps in their employment history. This in turn leads to less experience and lower wages.
The most recent statistics on the gender pay gap In the UK show that it has fallen:

Source: Office for National Statistics
How is it calculated?
There is more than one way to calculate a gender pay gap. For the purposes of this report, we will focus on two: the mean gender pay gap and the median gender pay gap.
The mean gender pay gap is calculated by:
Adding up the hourly pay of all full-pay male employees and dividing this figure by the total number of those male employees, in order to get a mean male hourly pay rate.

Adding up the hourly pay of all full-pay female employees and dividing this figure by the total number of those female employees, in order to get a mean female hourly pay rate.

Deducting the mean female hourly pay rate from the mean male hourly pay rate.

Dividing the result by the mean hourly pay rate.

Multiplying the resulting figure by 100.
The median gender pay gap is calculated by:
Identifying the hourly rate of pay at the midpoint of all full-pay male employees, in order to get a median male hourly pay rate.

Identifying the hourly rate of pay at the midpoint of all full-pay female employees, in order to get a median female hourly pay rate.

Deducting the median female hourly pay rate from the median male hourly pay rate.

Dividing the result by the median male hourly pay rate.

Multiplying the resulting figure by 100.
How is it different from pay inequality?
The gender pay gap looks at the average difference between the remuneration for men and women who are working. Pay inequality refers to men and women doing the same job but not being paid the same. Under the Equal Pay Act 1970 and the Equality Act 2010, it is illegal to pay people unequally because they are a man or a woman, no matter the size of your company.
A company could pay employees the same amount for doing the same or similar jobs and still have a gender pay gap, for example if more men have senior roles.
The Reddico gender pay gap

2019 - The gender pay gap, as at April 2019, was 22.61%. For every £1 a man earned, a woman earned 77p.

2020 - The gender pay gap, as at April 2020, was 21.47%. For every £1 a man earned at Reddico, a woman earned 78p.

2021 - The Reddico gender pay gap, as at April 2021, is 11.62%. This means on average, men at Reddico are paid 11.62% more than women. For every £1 a man earns at Reddico, a woman will earn 88p.
A visual representation of our journey so far:
Our current position
Our gender pay gap has decreased over the last two years. Let's examine why.
Reddico was founded by Luke Redding in 2012. He was quickly joined by his brother, Nick. The company has grown quickly over the last five years in particular, with an ever-expanding team of 30+ professionals with expertise in SEO, marketing and technology.
The gender balance of the team has gradually become more even as the company has expanded, with more women being hired across most departments and taking on more senior roles within the company.
At the time of writing, we're a team of 38*, with the male:female ratio at 21:17.
Board composition
Nick Redding (Managing Director)

Luke Redding (Founder and Director)

Craig McDermott (Operations Director)

Carl Hendy (Strategy Director)

Vicki Salih (Head of Finance)

Rachel McDonald (Board Advisor)
Women in senior roles
We currently employ five women in senior roles:
Vicki Salih (Head of Finance)

Rachel McDonald (Board Advisor)

Nikki Larter (Accounts Lead)

Holly Jackson (Content Lead)

Laura Tyler (Production Lead)
Our approach to gender diversity and equality
Our approach to diversity is simple: we want Reddico to be an inclusive place to work for everyone. We recognise the benefits of a diverse workforce and are committed to providing a working environment free from discrimination.
We seek to promote the principles of equality and diversity in everything we do – with team members, job applicants, clients, customers, suppliers, contractors, recruitment agencies and the public. The team and those who act on our behalf are required to adhere to this policy.
We aim to ensure no team member or job applicant is subject to unlawful discrimination, either directly or indirectly, on the grounds of any protected characteristic, including gender and gender reassignment, pregnancy or maternity.
Recruitment
Our board advisor
Rachel McDonalad recently joined us as a board advisor.
Rachel most recently led the largest agency group outside of London which spans seven offices in the North of England and Scotland, and includes key agency brands: Carat, iProspect and Amplifi. As CEO of Dentsu North, Rachel led 800+ people, specialising in media, creative, data and technology.
As a practitioner with over 20 years of experience in media and advertising Rachel credits her success to a relentless focus on client delivery aligned to a people-first culture.
New members of the team
One female team member cites Reddico's maternity leave policy as one of the reasons she decided to accept her role.
"I was happy to see that the maternity leave policy is better than the standard maternity leave policies in the market," she says. "It makes you feel that you can make life-changing decisions with your company supporting you to the best of their ability."
For another, the flexible working policy was a key reason why she took a job here. "While this is useful in many aspects of my life, I am sure it will be useful if I do ever decide to have children, as it is more likely to allow me and my partner to balance childcare between us and both work.
"I have endometriosis, and whilst mine is mild, it is reassuring to know that if I was having a difficult time with it, I wouldn't need to go into the office, but could be at home and still work. I imagine for anyone else living with something similar, the flexible working policy must be reassuring to them."
Salary bands
Many departments across Reddico have a career matrix. This openly aligns the skills, experience and knowledge the team needs to progress in their roles – from entry level through to senior positions.
The career matrix is also aligned to our thorough marketplace research, which provides a breakdown of the expected salary someone would earn based on their role in the company (and wider digital world). We refer to these breakdowns as salary bands.
Self-set promotions
At Reddico we want the team to be able to build the career and future they want. We give responsibility and control to individuals to map this out, work out where they want to go, and decide how they're going to do it.
However, in a self-managed environment we need to ensure people are still able to progress. Our career matrices (mentioned above) provide plenty of detail on how someone would build the skills and experience to move from an entry level position, through to a senior role.
The handbook
The Reddico handbook includes all the information a new starter would need about the company, such as how we work, benefits, perks, and policies (including those relating to diversity).
International Women's Day
On International Women's Day 2021, we wanted to celebrate and share the achievements of the amazing women who are part of this company. You can read about their experiences in the resulting blog post. More recently, we interviewed our board advisor Rachel McDonald about bias, boundaries, and what companies need to do to support their team.
Policies introduced
All policies mentioned here can be read in full in our online handbook.
Maternity leave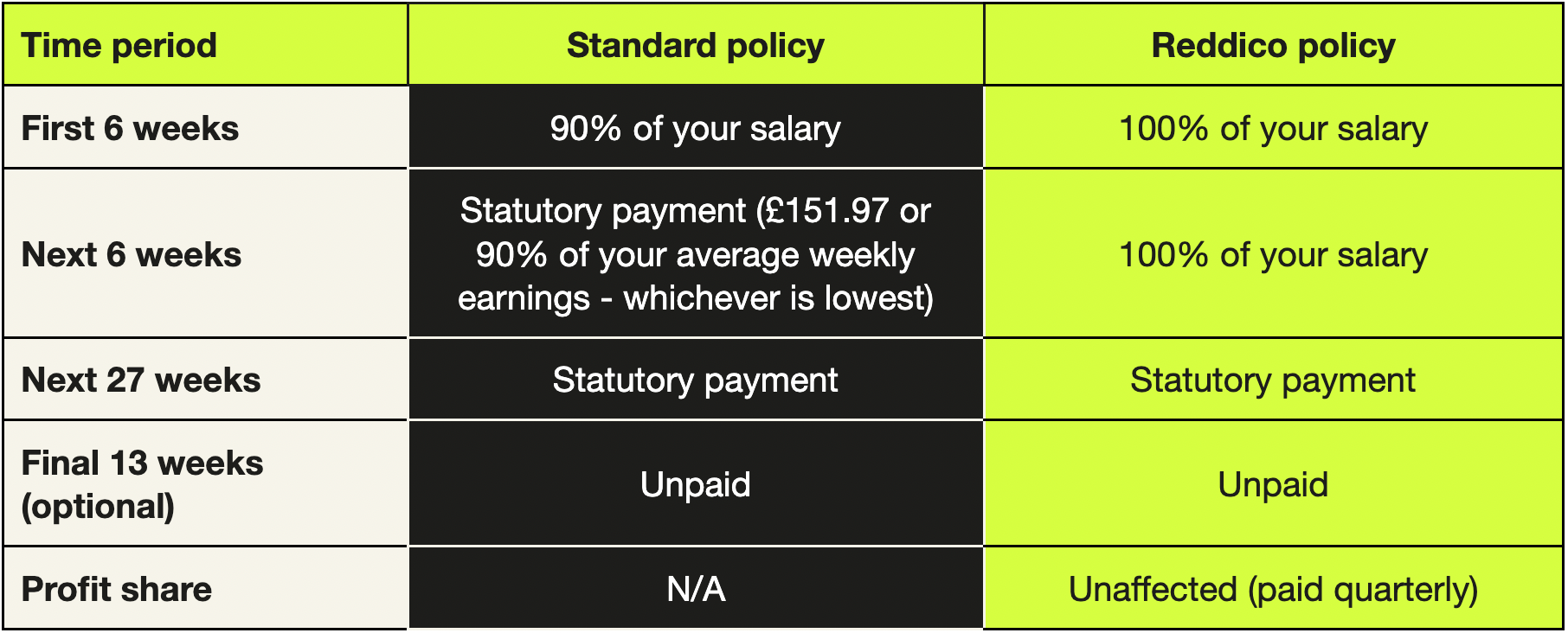 Breastfeeding in the workplace
New mothers can pump/express milk or breastfeed their babies in the Reddico office, with complete privacy and a fridge provided to store milk. They can do this as and when they need to, and can take as much time as necessary.
Losing a child during pregnancy
Sadly, pregnancy loss is more common than people realise. One in four pregnancies end in miscarriage, one in 200 births in the UK are classed as stillborn, and around one in three women will have an abortion in their lifetime.
We are committed to supporting all team members, whether it happens directly to them, their partner, or the baby's surrogate mother, regardless of the nature of the loss.
Our commitment to continued improvement
As a company we are fully committed to equal opportunities and diversity in the workplace. We want to create and promote equality throughout our people and culture initiatives, whether it's recruitment, development or reward.

Our diversity & inclusion team are continually looking for opportunities to review or add policies, and identify better ways of working and supporting all demographics.

Our marketplace research and career structure enables the team to own their career and progress in a way that's right for them.

We'll be looking to update, amend and add policies in our handbook periodically.

There are no issues with equal pay. Each individual is paid according to their role in the company and career matrix. However, we operate salary panels twice a year, and during this process are able to review salaries across the board to ensure fairness.

As the world continues to return to normal following the COVID-19 pandemic, we are identifying opportunities to hire the best people from not just the UK, but around the world. We launched a work from anywhere policy in 2021, and are engaging with Boundless to provide options to hire from countries around the globe.



We'll review our progress again over the next three-year period and reflect on the changes, initiatives and progress we've made.