Guides
Getting a foothold in SERP reputation management
When it comes to conveying a positive impression to potential customers of your business, online reputation management is a crucial step. Today, consumers can access customer reviews about your brand or product and make up their minds about you in seconds. A shocking 94% of consumers say that reading a negative online review sways them away from a business.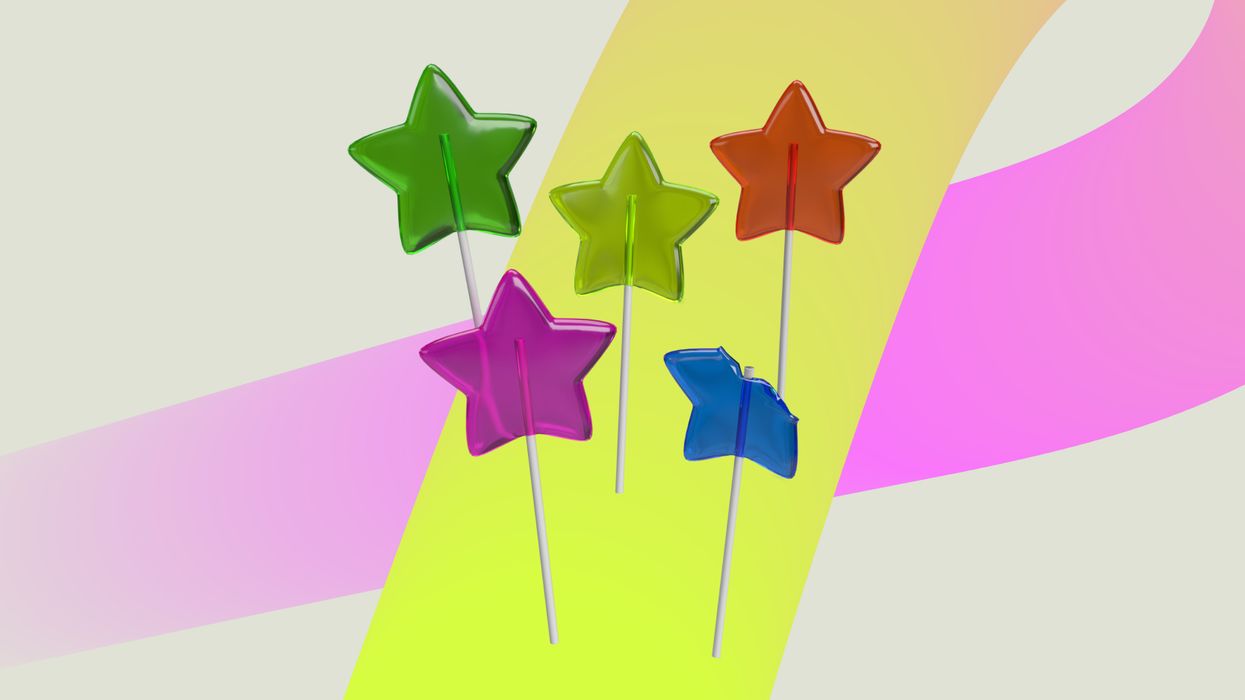 Customer reviews, be it Google, TrustPilot or others, are of course organic and subjective representations of your product or service. It is also a reality that you may get the occasional one-star review from the odd unsatisfied customer. However, there are steps to take to get a crucial foothold for your brand's visibility in the SERPs (Search Engine Results Pages).
What is SERP reputation management?
First of all, let's take a look at what SERP reputation management is and why it matters. As we've already outlined, it's vital to keep on top of how your business is portrayed across the digital environment. SERP reputation management encompasses how your brand or product appears in the SERPs and what customers are presented with when they search for you. Head over to Google now and search for a well-known brand to see what it looks like.
As an example, let's take a look at the main brand SERP of Calm, the San Francisco-based meditation app and website: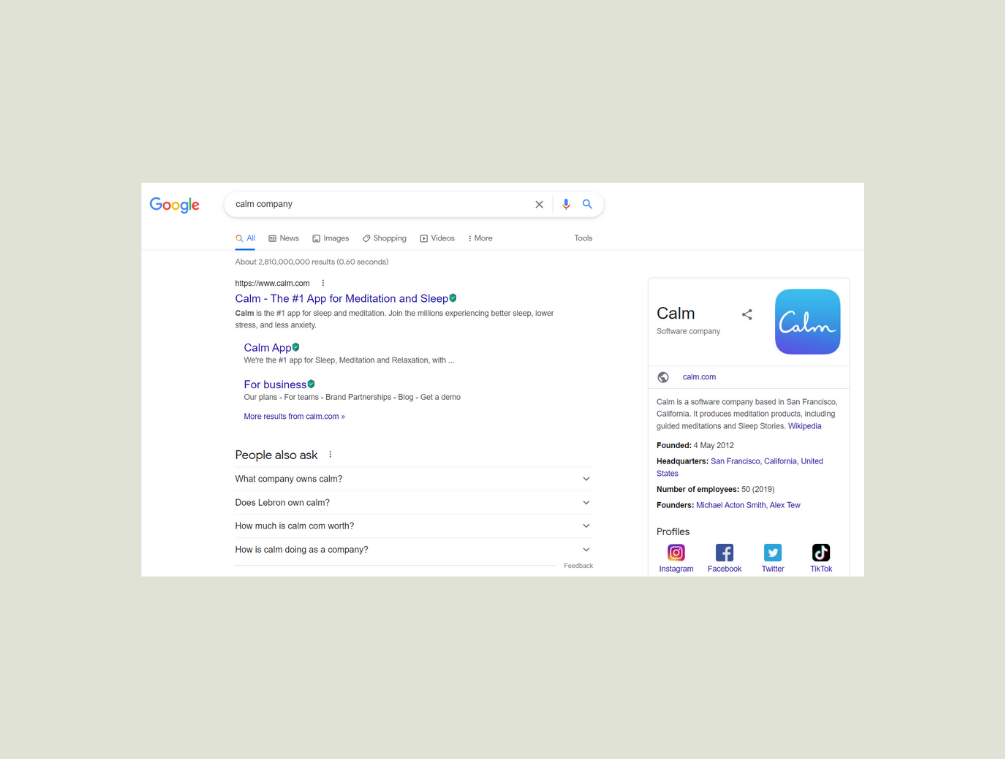 Reviews and other user-generated content aside, we can see that Calm, a start-up founded less than 10 years ago, enjoys a healthy amount of SERP real estate from pages across its website. Aside from its homepage, you can see a list of snippet URLs (with the opportunity to see more) being pulled out from the company's careers page, app page, partnerships page and team product page. We can see that even before the second organic result, which is a Wikipedia profile page, the brand enjoys a healthy amount of space.
Let's take a closer look at the business profile snippet on the right-hand side: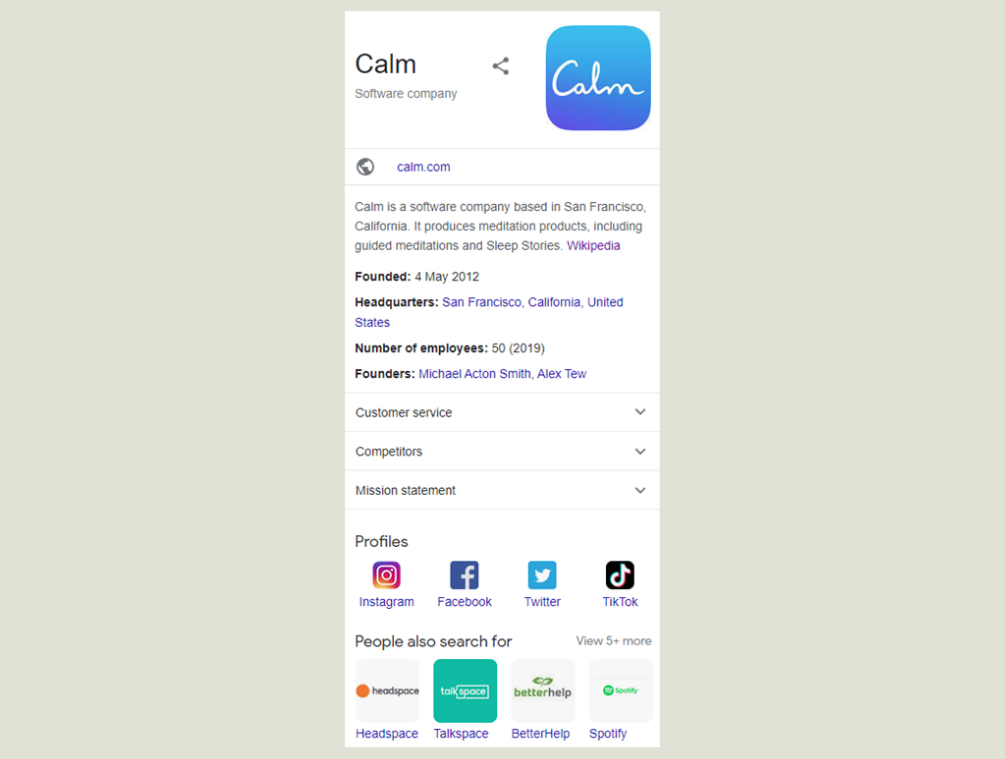 Taking full advantage of Google Business Profile, Calm enjoys a business profile with links to its Wikipedia page, details on its founders (who have Wikipedia and other profile pages in their own right) and headquarters, along with other pieces of information about the company. You can also see separate Calm social media profiles that encourage users to follow them on these platforms. It also has additional drop-down links to its contact page under customer service as well as its mission statement.
A prospective consumer already has plenty of avenues to explore the brand, all under the guided sphere of Calm's own digital properties and infrastructure. There are, of course, review results for Calm from aggregators like TrustPilot, as well as individual articles from publications like TechRadar if a consumer wishes to explore more. These are other areas of SERP reputation management we'll explore in detail later in this piece.
From the offset, and given that branded search results in the top five positions account for around 90% of click-throughs, you can see how important it is that start-ups like Calm take steps to occupy this crucial real estate to generate a good first impression of their brand.
Yet you would expect, at the very least, that your own company website, company profiling and its affiliated digital properties would appear if someone searched for your brand. Getting an attractive website set up, verifying Facebook and Twitter profiles for business as well as claiming a Google Business Profile are key first steps to getting your branded SERP appearance in order.
Claiming SERP real estate with your brand site alone
Before we delve into off-site monitoring and getting your footprint established across some key third-party sites, let's take a look at what you can achieve with your website in its own right.
Thinking back to the Calm example, we can see the SERP pulls in a number of individual URLs underneath the main Calm domain when a user searches for the brand. These are all relevant to the query and tie in semantically with someone searching for a brand and what this entails.
Think about user intent. When someone searches for your brand, what information could they possibly be looking for? The homepage of your site, of course, and by extension your brand's products and service offerings. What about the company story? The team behind the company and their own stories? Career opportunities? Buying company shares? Sustainability and various ethical ventures?
Here's an example from Microsoft: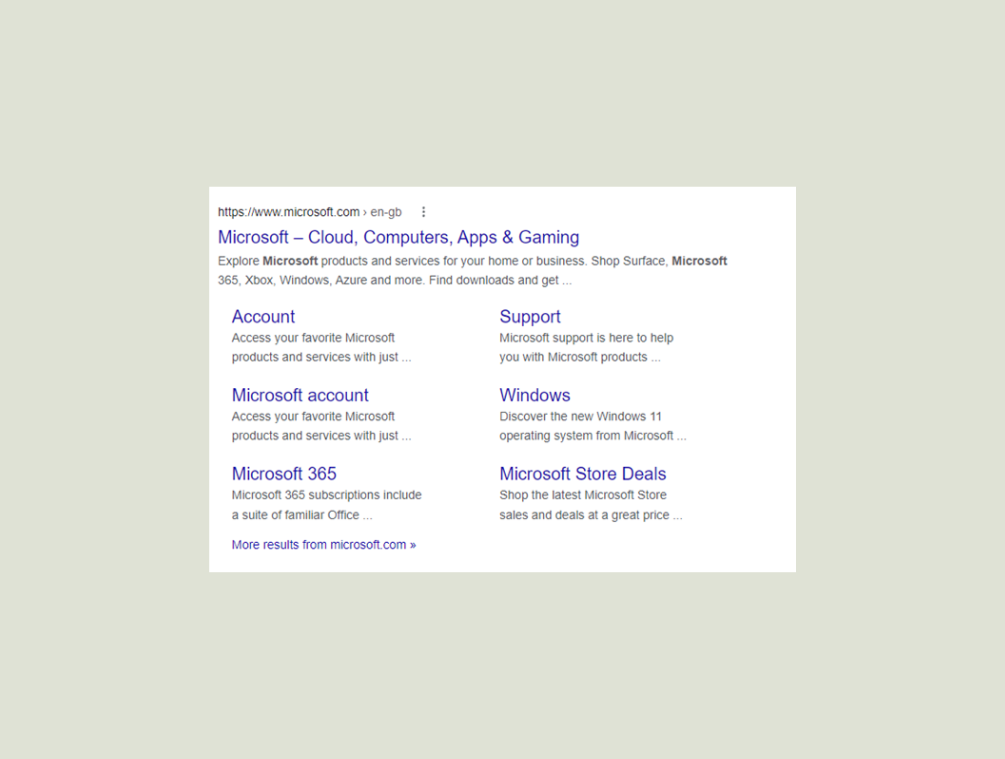 All of these site links from individual landing pages offer potential opportunities to capture the surrounding intent of what a user could delve into. Make sure that outside of your home and contact pages, for example, you've got rich, high-quality content pages around the key elements of your brand you want your customers to know about. Although product pages are very important, think beyond them, and consider other means by which you'd get users into the funnel in your other digital marketing strategies.
If you're not sure where to start, run some keyword research and find out what users in your industry are searching for around topics related to what your brand offers. Look at some direct competitors and analyse what pages they've built out to capture search intent variables and how they're being displayed in the SERP.
Managing your brand's presence across review sites
Alongside optimising your own site for SERP reputational prowess, let's look at what off-page SERP reputation management areas need attention as well.
We'll start with some key review sites to be mindful of on an iterative basis. This will eventually become crucial as your company grows its profile and the product reviews come pouring in.
One thing that start-ups in particular need to be mindful of is claiming official accounts on these platforms before any potential imposters run riot and create fake review spaces. The same strategy you'd use to get your desired handles and verified properties on social platforms applies here. We've already touched on Google Business Profile and how to claim yours, though there are other platforms to be aware of too. Most of them have avenues to claim business profiles and even submit content if they're non-review centric.
Trustpilot
While there are many review websites out there, Trustpilot is one of the biggest ones worldwide, with over one million new reviews posted each month. Trustpilot is geared towards consumer reviews and enjoys a lead in overall organic visibility over other popular review platforms, according to a study carried out by SEMRush. Trustpilot review pages appear regularly in the SERPs and often occupy Google Knowledge Graph spots when someone is searching for a brand and wants to see how they're liked.
It offers a freemium service for businesses to claim their official profile page. Beyond this, it offers packages to allow businesses to flesh out their review hubs, invite further reviews to their site, and much more.
Yelp
Yelp is a huge business directory website that you'll often see pop up in the SERPs every now and again, with relevant review snippets of a business. Important for local SEO, brands aiming for a better digital presence should look to create or claim a business listing on the website and monitor reviews accordingly.
Glassdoor
Glassdoor is a place for past and present employees to voice their approval or disapproval of companies they have worked for or are working for.
Glassdoor will verify these reviews and will publish them within their platform for all to see. While the platform is employee and employer centric, consumers searching for reviews around a company will often see Glassdoor review snippets appear in the SERPs and need only click through to browse accordingly.
Although fake reviews can be a problem (as with all review sites), this is a vital window into how a company may operate culturally and treat its employees, which is becoming an integral part of a modern-day brand's image and can impact purchasing power, among other things. Like Google reviews and other platforms, Glassdoor allows companies to respond to reviews, positive and negative alike, something we'll look into shortly.
Quora and other UGC platforms
Have you ever searched for a long tail, question-based query around a specific company, or a need related to the services it offers? Then you've probably seen search results from Quora threads and other user-generated content platforms appear a fair bit.
Quora, Reddit, and other forum-based sites are hives of activity for users asking questions and providing their experiences with certain brands and products. Keeping on top of these with a brand monitoring tool is a good way to see how people are talking about your business in a more honest, open environment (i.e. they're not leaving an actual review).
Businesses have the opportunity to jump in and get involved in the conversation and help answer any questions, though be very wary of appearing overly contrived in painting your business in a positive light, as this can look spammy.
UGC forums also serve as great listening tools. They can complement your ongoing social media listening and keyword research efforts by helping you to understand what people are talking about, what they're asking, and what their pain points are with certain brands and products.
Industry-specific review sites
Outside of the general review sites and forums lie the many review aggregators present across different industries. These are of similar importance to the other review sites insofar as they too also occupy a good amount of SERP real estate and, website dependent, strive to have their own houses in order from an SEO standpoint.
Take the travel industry, for example. There's Booking.com, TripAdvisor, Trivago and more. Each of these sites allows brands in the travel space to list their hotels and properties to invite users to book and leave reviews accordingly.
Mainstream news publications also serve as travel review sites these days and enjoy heightened SERP visibility because of their overall website popularity. Think about reaching out to journalists to arrange a visit to your property, with a view to an article write-up.
Of course, these couple of examples apply specifically to businesses working in the travel industry, though the same research and thinking should be adopted regardless of what field you operate in.
Wikipedia
Wikipedia is a hugely powerful domain that carries great weight for branded searches. As we've seen above, Google Business Profiles will often provide a snippet and a link to the Wikipedia page of a certain brand or business, a sign that Google values it as a trustworthy resource.
If you're a start-up and things are growing quickly, i.e. you're appearing more and more in the public eye, then move fast to establish an official Wikipedia page for your company before somebody else does.
Of course, you will be asked to provide all the correct citations and proof that what you're writing isn't fabricated and you are real, though getting in fast here is key. It can take a while for Wikipedia pages to be approved and pushed live, but getting an initial footprint here is crucial for managing your brand's appearance in one of the world's biggest websites.
Be sure to regularly update your company Wikipedia page as your product offering grows, as you hit various milestones, and as your overall story evolves. While you won't be able to control others contributing to your page, Wikipedia's strict editorial rules mean that you'll generally be safeguarded from spammers and only information that is fully cited and ratified will get published.
How to handle negative reviews
Now we come to the tricky stuff. Firstly, it's important to stress that negative reviews will happen. Even if your product leaves 99% of customers satisfied and your customer service team is world-class, you're always going to get unfavourable comments on some of these platforms.
What's crucial about these review platforms is that they occupy quite a lot of the modern SERPs and tend to rank quite highly. A potential customer is also just a few clicks away from delving into some of the individual negative comments that form the aggregate scores shown in the SERPs from platforms like Google reviews and Glassdoor. While negative reviews are out of our control, there are things brands can do to manage these in terms of their responses and how they're handled.
Negative reviews about your company and its products can be tough to take, particularly if a comment appears angry and emotive in tone. Many of these platforms offer the chance for brands to respond to such reviews. Firstly, it's important to agree on a consistent tone of voice for your brand in how it responds on such platforms. Remember that the responses will be seen by potential consumers browsing your site, and the way in which you handle negative reviews will be very insightful to the consumer in terms of your brand culture and values.
Avoid getting defensive. Avoid templated reviews that can be easily copied and pasted en masse, as these look insincere. Make sure each response is personalised and recognises the individual qualms from the reviewer, even in cases where you may think the negative reviews are fake or are from unscrupulous sources trying to damage your brand. Take the opportunity to recognise the faults detailed and make a clear, concerted response that alludes to the fact you're going to improve on these. Offer an avenue of response that allows the reviewer to get in touch with you directly (perhaps by email) to discuss the issues directly, allowing you to potentially mitigate any anger and fallout.
Here's a good example of this taken from Glassdoor: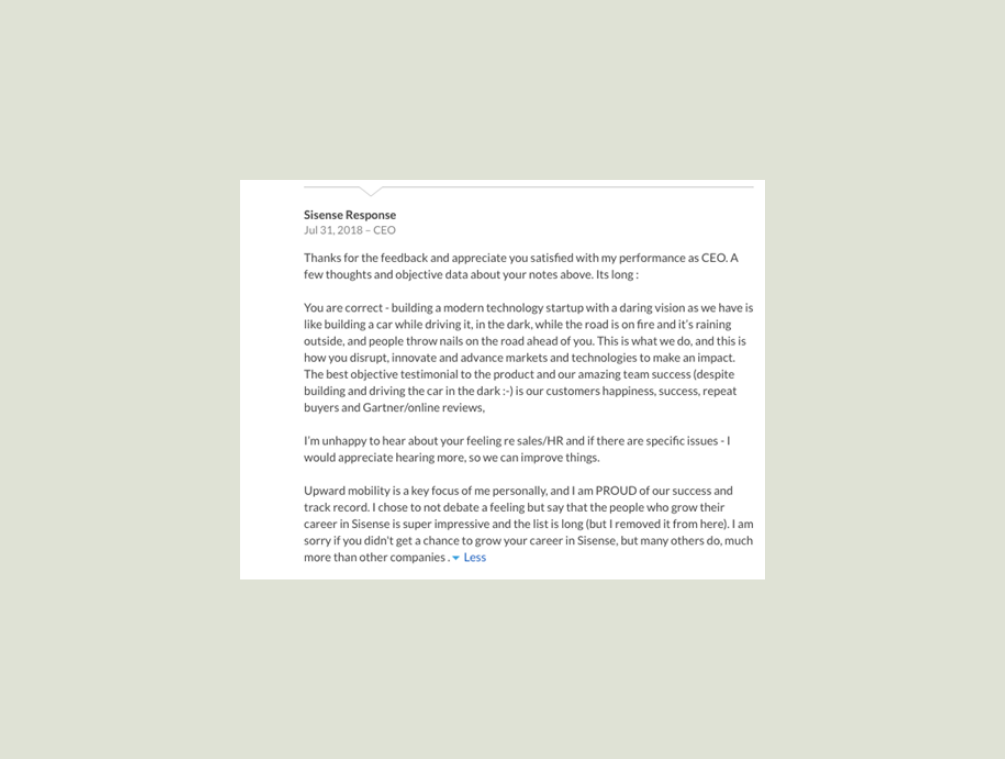 You can see here that the response, stamped by software company Sisense's CEO no less, is detailed, personal, and addresses the concerns of the negative review. The CEO also leaves a call to action for the reviewer to get in touch and the response is generally humble, self-aware, and reflective in tone.
While Glassdoor reviews aren't usually pulled up into the SERP itself, it's important to remember that users may well click through to these if they're researching your brand (even if they're not prospective employees, in this case).
How to actively monitor reviews, positive and negative
Aside from keeping a proactive eye on your brand's profile in some of the key review platforms we've detailed, there are other efficient ways of listening in.
If, for example, you've just launched a new product and are seeing press releases or know that there has recently been an uptick in consumers purchasing your product, it's worth investing in a brand mention tool.
There are plenty out there and even some free tools, like Google Alerts. Well-known SEO tool SEMRush even has a brand monitoring tool that scans the web for mentions of your brand or domain. It's worth investing in a tool so you're getting useful daily alerts to monitor and act upon if necessary. Be sure to use a tool that covers social media listening too, as we know that brand mentions, be they positive or negative reviews, can typically occupy a good amount of real estate in the SERPs. It's a good idea to keep on top of this.
Encouraging positive reviews
As we've established, there are plenty of ways in which you can gain a foothold in the SERPs from a reputation management perspective, whether you have an established presence or a start-up. We are ultimately at the behest of our consumers in this, however. Even if you possess the perfect product and customer service team, you can't force people to write positive things about your brand to manipulate your SERP reputation.
You can, however, encourage people to do so. You may be surprised at how willing a happy, loyal customer may be to leave a review, so don't be afraid to just ask. Many people like to see honest, hardworking businesses succeed (this can apply especially in the local sphere) and are more than happy to provide honest reviews and feedback points. A timely, personalised request for this can go far.
There's also the method of offering small incentives for people to leave reviews. These can come in the form of discounts off products or services, additional bonuses, or simply a free gift in the post. If you're a new business, encouraging people to leave reviews in order to build up a credible profile on one of the many platforms we've detailed is a crucial initial step in building your online reputation, even beyond the SERPs.
Keeping on top of it all
It can be a bit overwhelming to keep abreast with everything we've recommended here on an iterative basis, particularly if you're in start-up mode and everything is moving at rapid speed.
You may not even have the resources to monitor your brand presence across these review sites, social sites and brand profile sites that are so vital for achieving SERP reputation success.
If you do, then great. However, if you've just launched your offering and website, and are, say, in your first couple of years of trading with high ambitions, then make sure you at least get a foothold in fast. Claim the profile spaces that matter to you as early as you can.
You'll want to avoid getting into, at the very worst, potential legal battles with other bodies who have set up brand profiles in your name, which will do little more than harm your reputation and pocket. Although most of these platforms require verified business credentials in order to do so, there are still a lot of malicious operators out there who could do some harm.
Overarchingly, users in today's digital age expect to see a brand cropping up across these various third-party platforms as it's a sign of legitimacy, professionalism and trustworthiness.