Careers
Getting an SEO job at Reddico (Part 1)
Our employees here at Reddico have many things in common. They are all dedicated, hard-working, creative professionals who strive to achieve great things day in, day out. One thing they don't all have in common, however, is how they ended up becoming a part of this brilliant team.
We spoke to a handful of Reddico employees to find out how their unique career paths brought them here today, how they plan to progress within the company, and how their prior experiences are relevant (or not) to their current roles.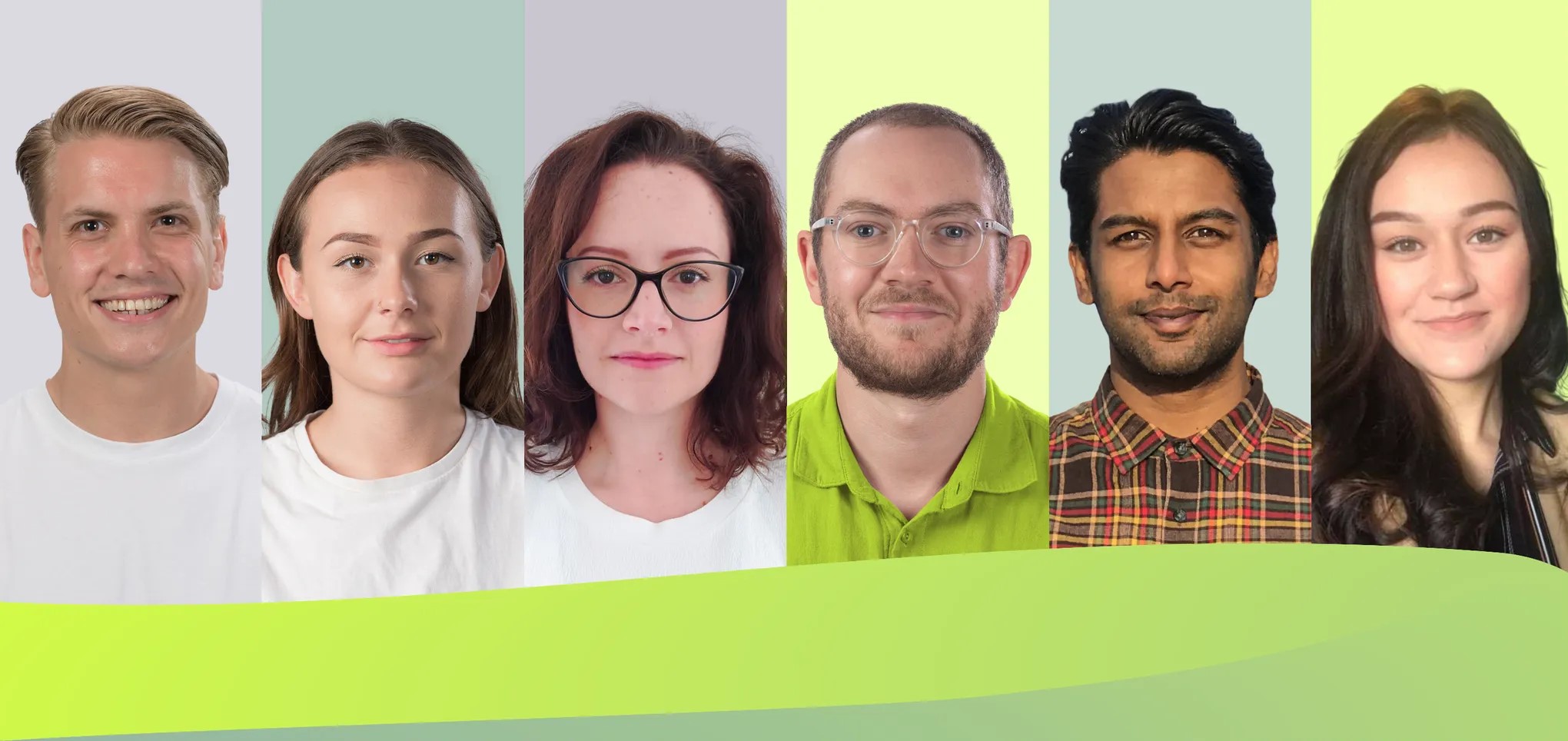 From left to right: Lewis Pugsley, Emily Barrington, Eva Mermingi, Toby Neilson, Luke Gosha and Abbey Ng
Did you go to university?
Lewis Pugsley, SEO Team Lead: I didn't go to university. There was no one subject that jumped out at me and I didn't want to accrue all these huge student fees. So I decided not to go. I just jumped straight into working. I was already doing a Sunday job in retail, so that was an easy path. I went to work for Topman, where I was a representative of the store, so they used to send me up to London to do things like suit fitting courses and they submitted me for their flagship customer service award, which I ended up winning. It was good to do things like that – it put me in good stead for talking to customers and being relatable and helpful.
Emily Barrington, SEO Consultant: I didn't go to university after A Levels like the majority of my friends. Instead, I decided to stay near my home and away from messy shared kitchens. Then, about two months later, I got bored and decided to keep myself busy with an online degree in Business Management (Marketing). It wasn't specifically SEO-focused, but I absolutely loved it.
Luke Gosha, SEO Consultant: Yeah, I went to a fairly local university. I'm based in Strood and this one was only over the tunnel in Gillingham. I studied Business Studies with Marketing, and it was always the marketing side I wanted to go into because it's the more creative and fun side. It wasn't the be all and end all to be honest. If I was to go back I would do something else, or maybe not go to university at all and go straight into work, or an apprenticeship.
It gave me an introduction into marketing and it touched ever so briefly on SEO. By the time I was in my final year, digital was really kicking off, but it wasn't anything major so we touched more broadly on it. I guess now people on that same course would touch more on PPC and SEO.
Abbey Ng, SEO Executive: No, I didn't. I just wanted to get straight into work. I did two apprenticeships, so I've been in marketing since I was 16. I just started from the bottom really. My first apprenticeship was telemarketing, second one was social media and events marketing, and from then on I've been working in agencies.
Eva Mermingi, Midweight Technical SEO Specialist: I did, in Greece. It was a coding university. This is when I realised coding wasn't really for me, but I didn't know about SEO then, so I didn't really understand exactly what I wanted. It was useful, for the time being, but right now not so much, just because when it comes to coding things evolve so much.
Toby Neilson, Senior SEO Consultant: I did, I studied Film Studies at Exeter University for my Bachelors and my Masters, loved it. I considered going straight into my PhD after my masters but decided to take a break from academia, and then recently completed a PhD at the University of Glasgow.
How did you get your job at Reddico?
LP: I was lucky enough to be originally employed by Craig [McDermott, Director], so he was quite keen to get me on board at Reddico. My interview process consisted of going down the pub for a pizza and a pint. I wanted a new challenge and I wanted something I could get my teeth into.
Coming to work at an agency meant there were a lot more clients, a lot more action, taking ownership of campaigns, really learning more about SEO in general. It's something that I wanted to push myself to do.
EB: I came to Reddico because after two years with my previous employers, I was ready to surround myself with industry experts. I had an email exchange with Craig about a year before I finally applied, and sent him my CV and a plea to be considered whenever the next SEO Executive job became available.
Being around a team of people who invest their time in me and trust me with important work and clients has not only built my SEO knowledge, but also my confidence ten-fold.
LG: I've been working with Reddico since 2016. When I was at my previous workplace, I started as an ecommerce executive and my role was to look at the relationship with SEO agencies, as well as trying to roll out SEO strategies. I was introduced to Reddico in my third week there, as I had a face-to-face meeting with Luke [Redding] and Craig. Then when the pandemic hit, I knew I needed to step into a different industry. I always followed Reddico on LinkedIn and things like that, looking for opportunities, so when I saw one I applied and got the job.
AN: I'd had my eye on Reddico for ages. I saw there were a couple of jobs going on LinkedIn, but none that really suited me, there wasn't an executive role. I reached out to Laura [Clews] and had a quick chat with her, then sent over a CV. I had my first interview with Lewis and was given a trial task to work on. They were happy with what I had produced and then I got the job! Following that, I got to meet the team over a pub lunch, which was really nice, and I was then onboarded during the first week of lockdown.
EM: I got my job here through a colleague who knew Michael. She told me that a good friend of hers was telling her about Reddico and it was a great company with flexibility to do whatever you wanted, at the time you wanted to. And they needed a technical SEO, which is my passion, so that's what drove me a little bit more in. I do hear that a lot of agencies focus on technical SEO, but sometimes it's not really the case, or they don't do much technical SEO.
What surprised me was that it [the recruitment process] had three stages. Normally I'm used to two stages – a phone call and a task. I liked the fact it had three. I found it very professional, but as an individual I liked it because it had the extra touch of, let's get to know you a little bit better and have you get to know us a bit better. It was really, really nice.
TN: At the risk of sounding like I got the job nepotistically, I know Nick and Carl from working at the same agency as them a few years ago. I really respected their work ethic and general vibe. Loosely stayed in touch with Nick over the years, and when I started my PhD he was telling me about Reddico, saying there were positions if I was interested. At that point in time I wasn't interested in remote working. I was also undertaking this project for the PhD, so that was where my head was at.
But when I finished, I was looking to get back into SEO and kept my eyes on what Reddico were doing. They were going from strength to strength, so I reached out and interviewed with Craig and Lewis, and I got the job.
What previous experience do you have?
LP: I'd say my first 'career' job was when I went to work for a software development agency in Kent. My first role was Junior SEO. It was good because you started off learning the ropes, doing a lot of the hands-on tasks, and then you kept progressing. I got the chance to work within what was at the time called the optimisation team for a year, which is where I learnt about CRO (conversion rate optimisation) and user experience (UX). UX interests me – it's something that goes down the psychology route of how users work and how they think.
EB: I remember the job interview for my first 'proper job' like it was yesterday. I had just turned 19 and had applied for a Sales and Marketing Executive job role. It was a long shot (I had no relevant experience and was the youngest applicant) but I was determined to give it a try. Two weeks later, I heard I'd been successful.
Within two years, I ran all internal quotations in the south, on top of all marketing responsibilities for the company. All 5ft 2in of me was filled with eagerness and determination to prove myself. I read and researched all I could, becoming a jack-of-all-trades as I tried copywriting, SEO, Google Ads campaigns, trade shows, and Google Analytics. By the time I left, I'd achieved a 100% satisfaction rate with customers and online enquiries had doubled.
LG: Shortly after leaving uni, there was a local business that specialises in insurance property claims. I knew someone who worked there and I asked if I could work for free for a month, then they hired me for a little while. I credit that role with giving me the introduction to the world of digital marketing. They had a small PPC budget, they worked with an agency, and I was reading SEO blogs and books, trying to incorporate the little SEO I knew, which was just page titles and meta descriptions at that time. That's where my introduction to SEO really started and when I knew I wanted to go down that route.
I applied for loads of roles after that job came to an end and unfortunately I couldn't get any agency roles. They said I needed more experience. I went into the world of automotive parts, building relationships with garage owners, doing deliveries dropping car parts off. From there I applied to work in the travel insurance industry.
If I was to do a different uni course, I'd do one which has a placement year to get that experience. I think all courses should do that. It would help employment as a whole and it would help industries.
AN: I've been working in marketing since I was 16. My first apprenticeship was for a Google Tours company, where I was a PA and managed the operations of the business, marketing, all CMS. Then I worked in events for a fitness modelling agency. I had free rein with their website and marketing, which was great. I was doing their social media, running one of their ecommerce shops, writing blog posts, and general website maintenance, and would help to organise and run the events and photoshoots.
My first full-time job was at an agency in Ramsgate. Initially I started off part-time and then I got in with the digital marketing lot and they took me on full-time as a junior SEO. When the agency got bigger they handed all the SEO clients to me, so I learnt very quickly. Following this, I worked in-house at a holiday cottage agency, where I was the SEO, and then at another digital marketing agency. I worked as a freelance consultant here and there, and finally I joined the team at Reddico.
I've done a bit of everything and found what I wanted to do. When I went to the first agency, I was helping out the digital marketing team and I was mainly helping the guy who did SEO on his own. I thought, this is the area I really want to go into. SEO just continued to grow on me and here we are today.
EM: When I started my SEO career, I was an SEO and PPC executive. I was mostly doing SEO, and some blog posts. This was when I realised that I do like SEO a lot more and was a little bit interested in technical SEO. I went to another agency that was focusing on technical SEO, and this is where I got my first big chunk of tech SEO experience. I worked with finance clients and it was quite interesting. This is when I met my very good colleague who introduced me to Michael.
After that, I went to another agency and went there as a senior SEO executive, to be trained as a manager. I got my experience when it comes to CMS, because I had full control of most of my clients and CMS access. Most of the changes I would recommend and implement myself, and check the results myself, which is a very nice thing to happen to an SEO! While I was doing that, I heard about Reddico, and the rest is history.
TN: My first proper SEO role, I came in with basic understanding and knowledge, and worked myself up to consultant level.
I worked in London and New York offices, got a lot of experience working on big enterprise client accounts, which was useful and quite a different style of working to working with smaller and medium companies. A different approach was needed, so it was a good learning curve.
I hadn't heard of SEO when I was at university, but when I was working as a film critic, I got curious as to why certain websites were ranking well for certain film review terms. I got interested in learning how to replicate that and get my reviews up there. That's how I first heard about SEO.
How would you like to progress at Reddico?
LP: The way I initially saw that question was that 'progress' would seem like a new job title or getting involved in more of an operations side. But for me, progressing is more about self-progression. There are areas around technical SEO I'd like to get involved in. Clients have come to us with a lot more technical challenges and I'd like to grow my knowledge in that. Google's algorithm is always evolving, so that's something that I want to continue to keep up with, understanding what's important and what's not important.
From a personal perspective, as a lead I want to make sure that I'm pushing the department to be the best that it can be, making sure as we grow that we maintain our culture and togetherness. I want to look at how I can best improve on creating a better experience for the team.
EB: I am on Project Promotion at the minute. [Writer's note: Since this interview, Emily has been promoted to SEO Consultant.] I would love to progress into a more account-based role where I have my own clients to look after. Obviously within my SEO circle I always have the help of the amazing people in it, like Craig, Toby and Anna, but definitely want to get more involved and lead more of that client work.
From a skillset point of view, I'd love to develop my technical SEO a bit more. I can do a technical audit, but I'd like to understand server logs and stuff like that. It's a really valuable thing to have as an SEO.
All in all, I just want to continue learning from all of my colleagues. Our combined knowledge is fantastic. I'm a strong believer in making small incremental changes every single day.
LG: I've been mulling over this question for quite a while. Part of me wonders if I should specialise in a certain area, like technical SEO, or do I want to progress to senior level? For now, I want to constantly learn, catch up with my coach, who's Luke Redding – there's so much you can bounce off of a coach. I want to enhance my career here, but it's that big decision to make about which route to go down.
AN: I've been thinking about this for a while. Part of me feels that I would like to specialise in a certain area, such as reporting or analytics. The other part of me feels like I may want to progress into a consultant or perhaps a combination of the two? For now, I feel like I am already making progress within my role and would just like to continue to learn and grow – this decision will likely become clearer with a bit more time.
EM: I was looking at the career matrix yesterday actually. It's very soon for me but I do have a plan in my head. I would like to progress as senior technical specialist and then as technical lead. But I always have it in my mind that I don't want to lose my skills in on-page SEO. I'll never close the door to a hybrid kind of role. You never know!
TN: I honestly don't know! But I'm perfectly happy in my role, and at the moment I'm trying to focus on other things rather than career progression. I'm chugging along, enjoying what freedoms are afforded me at the moment.
Why are you recruiting?
LP: We're recruiting for a few reasons. One is that we are ambitious and want to grow, and work with more good brands, and have partnerships and collaborations with them. We want to make sure we have the best people who can deliver those strategies. Obviously that comes with bringing in additional work, so we need that additional capacity, but we want to make sure people have the flexibility and capacity to be proactive on campaigns and push results.
It largely comes down to how ambitious we are. We've got such a wealth of knowledge, experience, ambition, passion and drive within the team at the moment. We want to make sure we're continuing down that route. We've got a really strong togetherness there and everyone is happy to share, so we want to make sure we continue to grow that in the right manner, so the clients we work with are happy and we can deliver the best results and be best-in-class.