Guides
Optimising video for search: How to optimise video to rank on YouTube and Google
There's no denying the important role that video plays in today's digital marketing world. It provides a powerful way to showcase the benefits of products and services to potential customers. YouTube alone had 57.1 million users in the UK as of January 2023 according to Statistica. So how do you optimise your videos to rank organically on YouTube and parent company Google?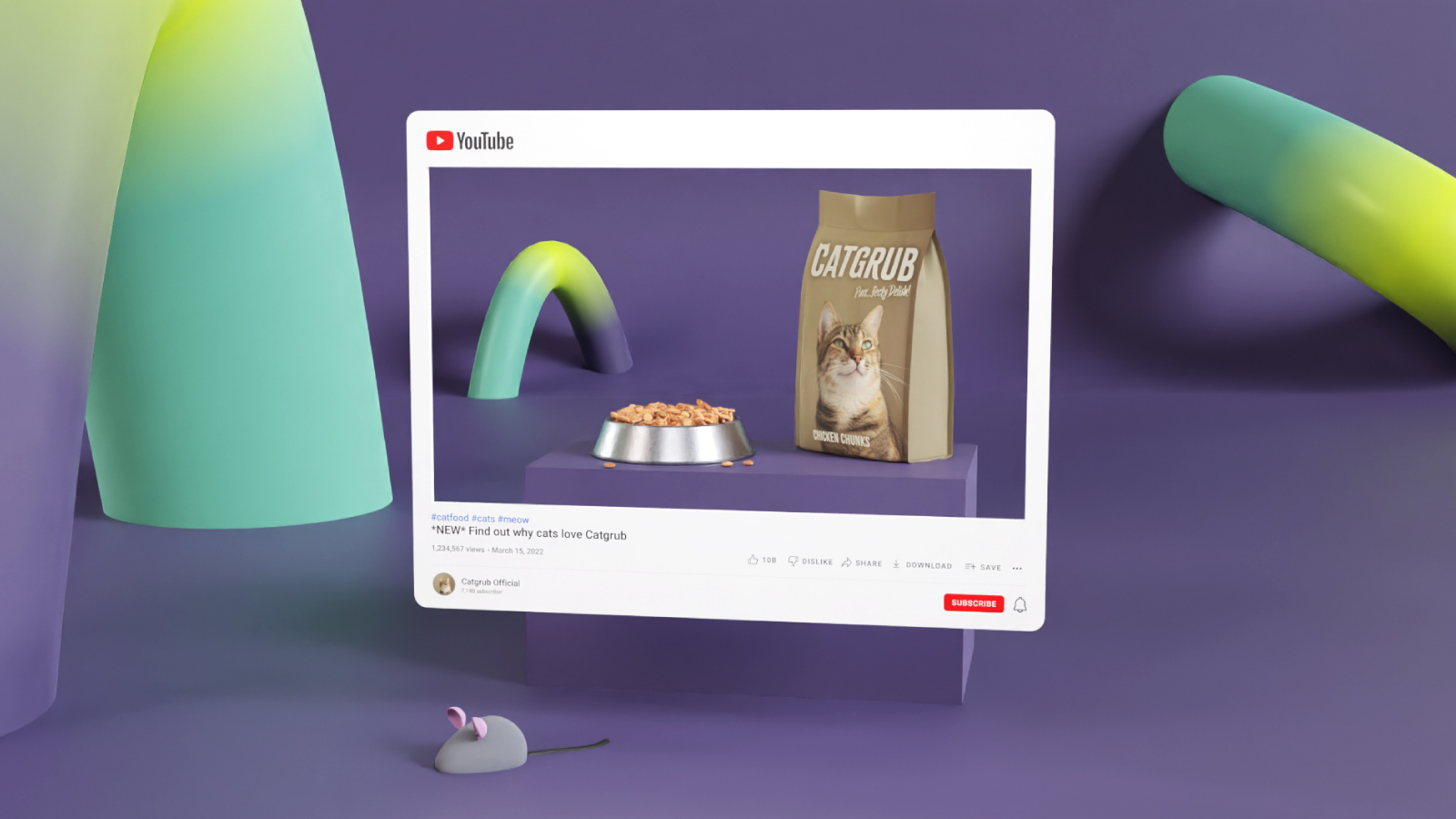 YouTube search
Much like Google search, YouTube's search function sorts through video content to find the most relevant and useful results to a user's search query.
YouTube's algorithm pays attention to the following user signals:
What they watch

What they don't watch

Time spent watching

Likes and Dislikes

Clicks to the "not interested" feedback
Their algorithm also takes into consideration the following factors:
How well the title is written and matches a user's query

How well the description matches the query

How well the video content matches the query
In summary, Youtube's algorithm looks at two key aspects, the relevancy the video has to the query and the user engagement signals the video has received.
Suggested videos
Suggested videos are a personalised selection of videos a user may be interested in watching based on their prior activity. These videos are displayed when a user watches a video under the "up next" right-hand side.
The signals that help contribute to being featured as suggested include:
Videos that viewers watch along with the current video

Videos that are topically related

Videos from a user's past watch history
To optimise your videos to appear in the suggested videos section consider the following:
Use strong CTAs to encourage viewers to watch other videos from your channel.

Suggest the next video to watch by using playlists and links from the end screen.

Create a series of videos that are organically connected - For example, a best-of series such as "Considerations when working with third parties", "Financial Cyber Risk", "Common business cyber vulnerabilities".
Home screen
The home screen is what users see when they first visit Youtube or open the Youtube app. This is where users can discover their most relevant and personalised recommendations. It is also a place where new content can be discovered.
The selection of videos shown on the home screen is based on:
Performance: How well the video has engaged and satisfied similar viewers, among other factors.

The viewer's watch and search history: How often the viewer watches a channel or topic and how many times YouTube has already shown each video to the viewer.
Tips for optimising videos for the home screen include:
Building up an uploading consistency so that users know when to expect new content.

Keep viewers engaged for longer. The longer you keep people watching, the more your content is likely to get surfaced.

Review analytics data to understand what is working for your audience. Keep doing what is working to keep your audience engaged.
Search for video themes
You may be wondering what videos you need to create. As well as important business cases for video creation (such as details on specific solutions, promotions and case studies as an example), you can also do some research to see what kinds of videos within your niche people are searching for on YouTube or Google.
YouTube search predictions
When you start typing into the YouTube search box, you'll get some autocomplete suggestions that relate to whatever it is you're typing. These predictions are accurate and generally up-to-date, which provides you with a good direction towards targeting particular keywords.
You can also check for more keywords with the underscore _ key, for example: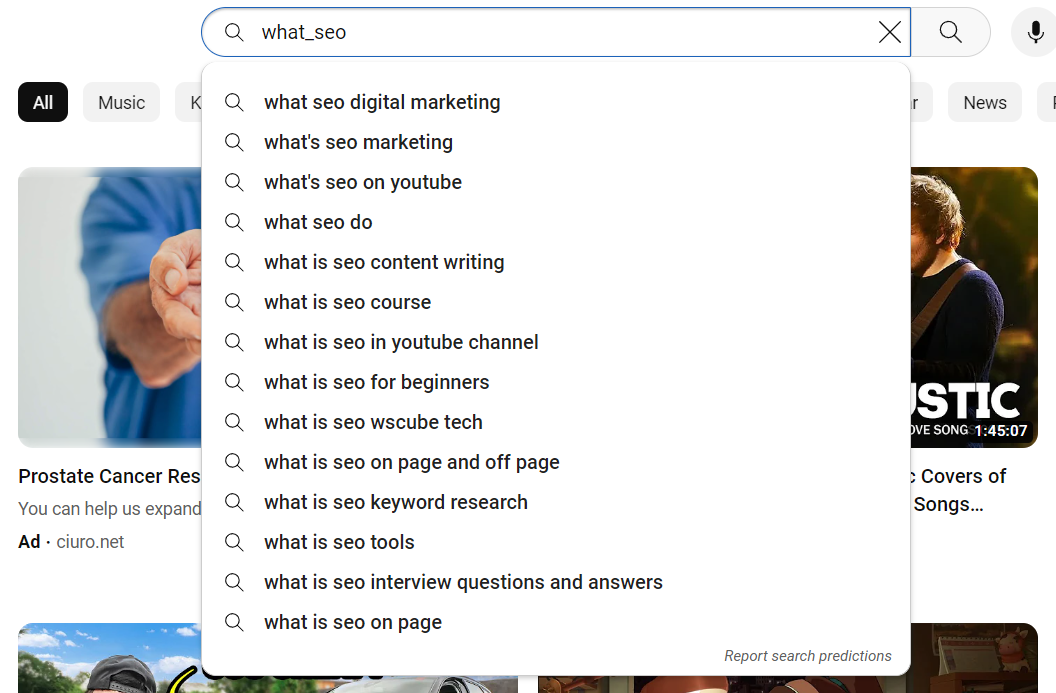 Try to use a variation of keywords within the YouTube search box, and this will help you identify if there's a need for the video you plan to make. Remember, not all content is necessarily meant to be made for SEO purposes - they may work well for email campaigns, social media and so on, ensure you maintain a healthy mix.
It can also give you ideas for new videos that you haven't thought of yet.
Google Trends
Google Trends is a free tool that lets you find trending topics in Google (which also powers YouTube). You can filter it by country and time period, as well as compare different topics. Additionally, and most helpful, you can filter these results for YouTube search.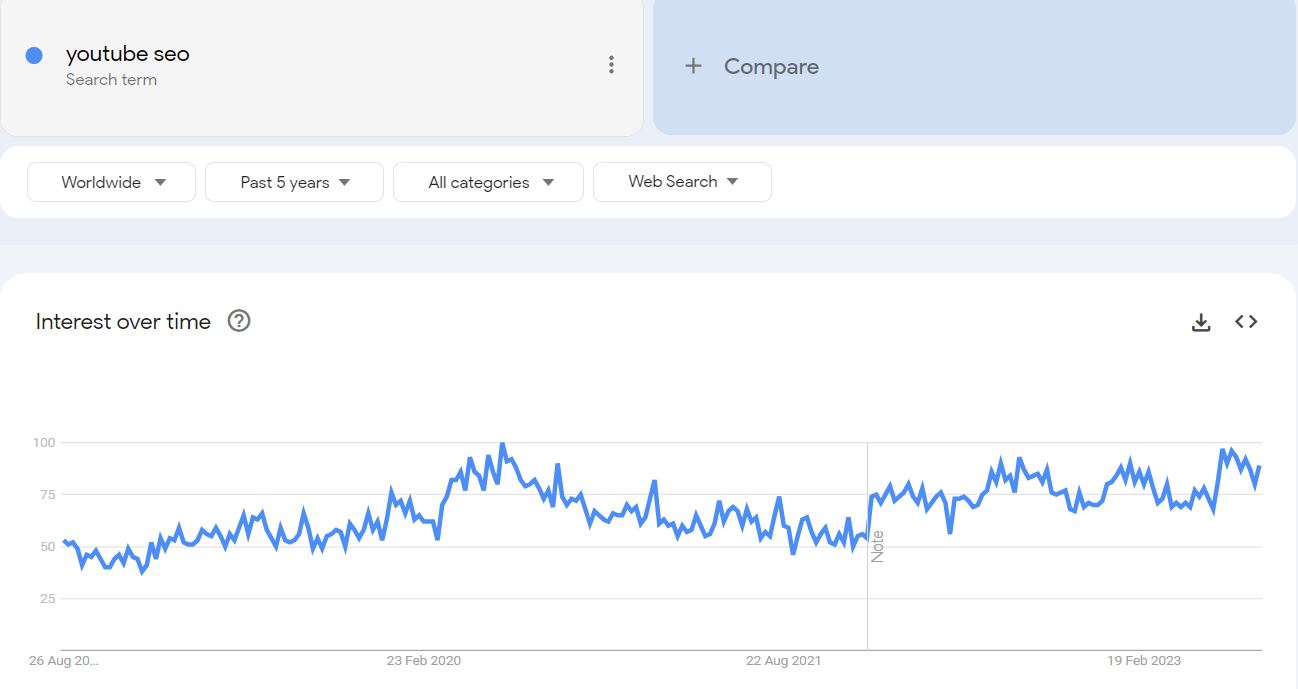 From this data we can gather that lots of people are looking more into YouTube SEO. When performing your keyword research for YouTube SEO, consider using the keywords you've identified within the YouTube search predictions along with Google Trends for the overarching topic.
YouTube optimisation tips
Channel category
Setting your channel category will better signal what type of content you intend to create, therefore, it helps YouTube to display your videos to the right people. You can choose your channel category by going into the YouTube Studio –> Settings –> Upload defaults –> Advanced settings.
The ability to choose only one channel category further reinforces how important it is to stick to one niche, otherwise, you'll confuse your audience and YouTube itself.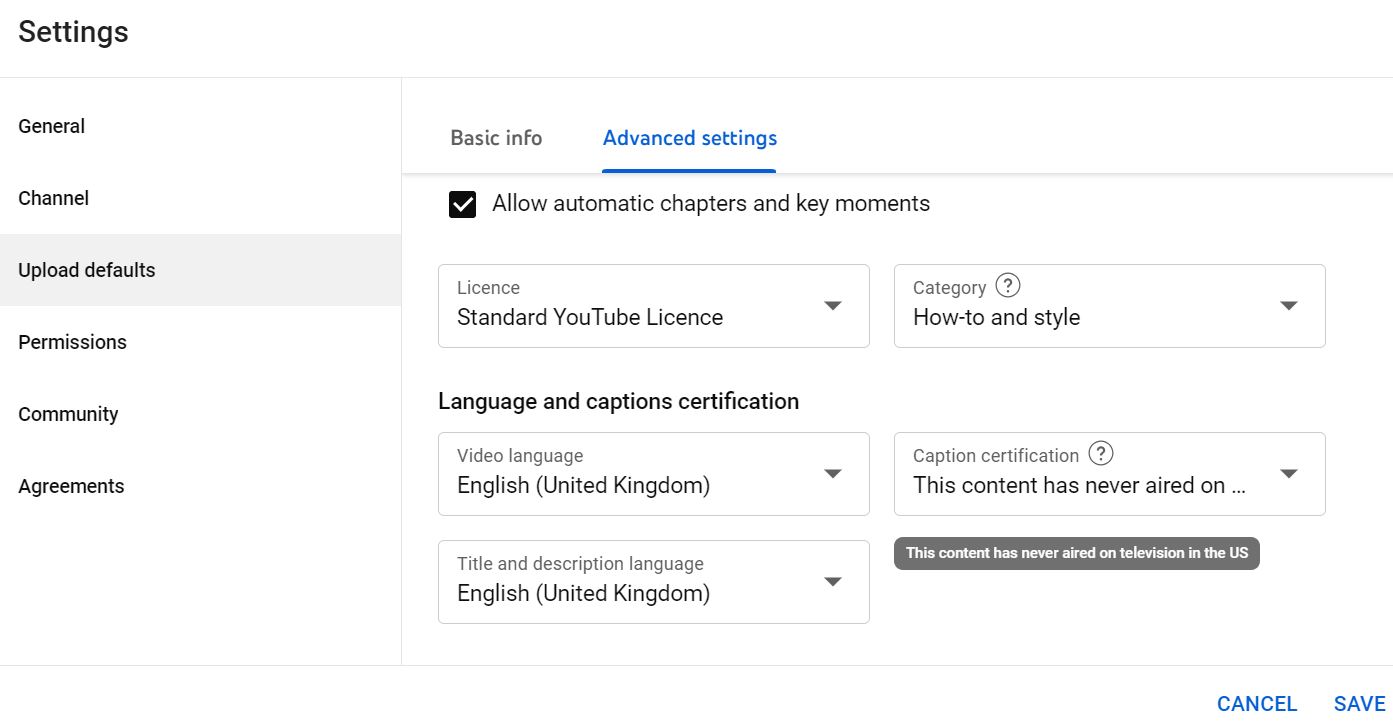 Channel ABOUT tab
This is where you can create a description for your channel, insert some links, and add details such as your business website, email address & country.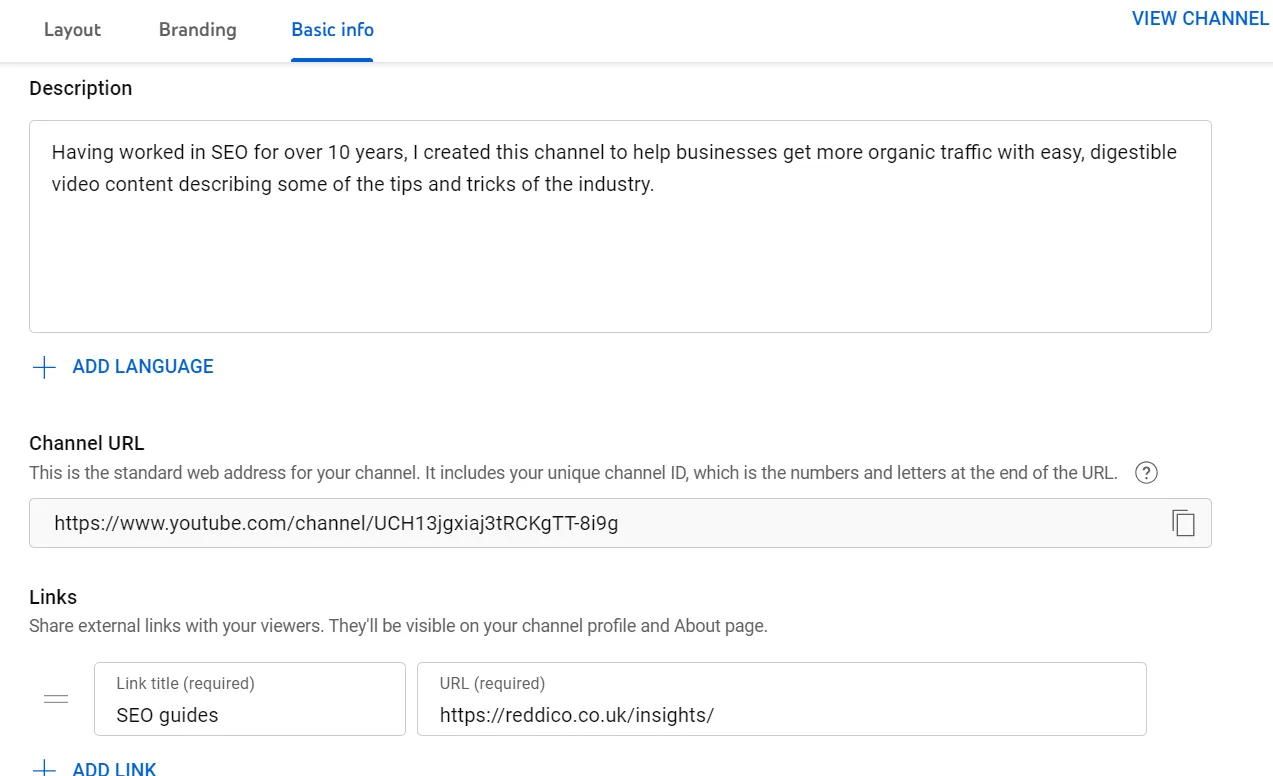 Try to be as descriptive as you can in the ABOUT tab, as the keywords that you enter here will also help validate your content topics, as well as provide your audience with a greater insight into you as a content creator.
Rename your video file using a target keyword
With a keyword or video theme identified, the first place to put it is your video file before it is even uploaded. The reason for this: YouTube can't actually "watch" your video to see how relevant it is to your target keyword, and as you'll learn in the tips below, there are only so many places you can safely insert this keyword on your video's viewing page once it's published. But, YouTube can read your video's file name and all the code that comes with it when it's uploaded.
Titles and thumbnails
The first thing viewers see when browsing on Youtube is the title and thumbnail of a video. They are used to help viewers decide whether to watch your video.
Titles and thumbnails should deliver and summarise what is presented in the video. If they fail to do so, then viewers tend to leave and abandon the video. If this happens too often it can limit the video's ability to be found.
If a user clicks your video and watches it all the way through, it lets Youtube know that users are enjoying the content. The longer users keep watching, the more your content will surface.
Consider the following when optimising titles:
Write titles that spark curiosity, but also include keywords and themes that people are searching for.

Keep titles concise (60 characters) with the most important information upfront

Save episode numbers and branding towards the end.

Check that your titles don't get cut off in suggested videos, search results, and mobile.
Consider the following when optimising your thumbnail:
Think about your thumbnail before you shoot so you can capture several options.

Use a high-resolution thumbnail as possible but keep it under the 2MB limit.

Specs: 1280 x 720 pixels (16:9 ratio) as a .JPG, .GIF, .BMP, or .PNG.

Ensure your thumbnail looks good, small and large.

See if your thumbnail would stand out among other thumbnails.
Descriptions
Descriptions help users find, learn more and decide if they'd like to watch a video.
Descriptions can be seen as two parts, what viewers see before they click "show more" and what they see after.
Tips for optimising descriptions include:
Use unique descriptions for each video.

Use the first few lines of text to explain what the video is about. Use search-friendly keywords and natural language.

Use the rest of the text (what shows up once they click Show more) for 300 to 2,100 characters of extra information like what your channel's about, social links, links to blog posts, newsletter sign up, etc.
Tag your video with popular keywords that relate to your topic
YouTube suggests using tags to let viewers know what your video is about. But you're not just informing your viewers — you're also informing YouTube itself. YouTube uses tags to understand the content and context of your video.
That way, YouTube figures out how to associate your video with similar videos, which can broaden your content's reach. But choose your tags wisely. Don't use an irrelevant tag because you think it'll get you more views — in fact, Google might penalise you for that.
Create a playlist about your video's general topic
As you add more and more videos to your content library, group them in keyword-optimised playlists. This won't only signal to YouTube what your videos are about, but it will also keep viewers clicking from video to video, increasing your view count and, by extension, your rankings.
Categorise your videos by themes in your channel
Once you upload a video, you can categorise it under "Advanced settings." Choosing a category is another way to group your video with similar content on YouTube so it winds up in different playlists and gains exposure to more viewers who identify with your audience.
Use an SRT File to add subtitles and closed captions
YouTube cannot watch your videos — and so transcripts and subtitles help it understand what your videos are about. Subtitles and closed captions can also boost YouTube search optimization by highlighting important keywords.
To add subtitles or closed captions to your video, you'll have to upload a supported text transcript or timed subtitles file. For the former, you can also directly enter transcript text for a video so that it auto-syncs with the video.
Adding subtitles follows a similar process, but you can limit the amount of text you want displayed. For either, head to your video manager then click on "Videos" under "Video Manager." Find the video you want to add subtitles or closed captioning to and click the drop-down arrow next to the edit button. Then, choose "Subtitles/CC." You can then choose how you'd like to add subtitles or closed captioning.
Add Cards and End Screens to increase your YouTube channel's viewership

When you're watching a video, you may have seen a small white, circular icon with an "i" in the centre appear in the corner, or a translucent bar of text asking you to subscribe. Those are Cards, which YouTube describes as "preformatted notifications that appear on desktop and mobile which you can set up to promote your brand and other videos on your channel."
You can add up to five cards to a single video, and there are six types:
Channel cards that direct viewers to another channel.

Donation cards.

Fan funding to ask your viewers to help support the creation of your video content

Link cards, which direct viewers to an external site, approved crowdfunding platform or approved merchandise-selling platform.

Poll cards, which pose a question to viewers and allow them to vote for a response.

Video or playlist cards, which link to other YouTube content of this kind (so your other videos).


For detailed steps on adding a card to your video, follow these official steps from Google.
Add a call-to-action (CTA) in your video and video description
Calls-to-action are a powerful way to foster engagement. A CTA that offers value not only encourages likes, subscribes and shares but can also improve viewer engagement metrics. This can boost your video's visibility in search results and suggested video features.
For maximum effectiveness, vary your CTAs. On one video you might do a verbal CTA asking viewers to like, subscribe, or share. For another video, ask your audience to bookmark your video or click shared links in your description.
You'll also want to ask your viewers to share comments and feedback. These actions aren't just valuable for user experience. They also give signals to YouTube that your video is engaging and offering value to your viewers.
Add timestamps to your videos
Timestamps mark different sections of your videos. They make it easy for your audience to find the content they're looking for within each video.
Here's what Google says about these "When you search for things like how-to videos that have multiple steps, or long videos like speeches or a documentary, Search will provide links to key moments within the video […] You'll be able to easily scan to see whether a video has what you're looking for, and find the relevant section of the content."
Google also says "If your video is hosted on YouTube, Google Search may automatically enable clips for your video based on the video description on YouTube, and you may not have to mark specific timestamps in your YouTube description. However, you can tell us more explicitly about the important points in your video and we will prefer that information."
Google is more likely to show "key moments" for your videos if you mark important points in the YouTube description. To do that, use timestamps and labels. Adding a timestamp can improve retention and user experience because it sets expectations. Timestamps give watchers an easy way to jump to what they want to see in a video or a reason to wait for that section to appear on-screen. Timestamps also improve SEO because they make it easier for YouTube's algorithm to understand your video content. This helps your video appear for search terms within your video, not just the overall theme of your video.
For example, if your video is about baking a cake, your video might include sections on baking equipment or cake trends like geode cakes. If you add timestamps to mark these sections, a user might not find your video when searching for "how to make a cake" because of competition for this keyword, but they could find it searching for "how to make a geode cake."
You can manually add a timestamp or add and edit automatic video chapters with YouTube Studio.
Embedding YouTube videos on your website
If you're going to add videos to your site, make sure to add them to core pages or relevant blog posts. To give your videos maximum exposure, create a dedicated page for each video, where the video is the most prominent subject on the page.
Development guidelines
Ensure the page is crawlable and indexable
Make sure that the page isn't blocked by robots.txt or noindex robots meta tag; this ensures that Google can find and index your page.
Sitemaps
Create a video sitemap to make it even easier for Google to find your videos. Learn how to submit your sitemap to Google.
Embedding the video
Include your video in an appropriate HTML tag. Google can more easily identify a video on your page when there's an HTML tag around it, for example: <video>, <embed>, <iframe>, or <object>.
Add the video at the top of the page
This shows Google that your video is the main piece of content of that page. So make sure your video is at the very top of the page or following a brief text introduction.
Publish a transcript below your video
A full transcript below your video helps search engines understand what your video is all about.
Use video schema markup
Google and Bing both support video schema markup. This guide from Google will give you the full run-down.
Other considerations
Ensure that the page doesn't require complex user actions or specific URL fragments to load, or Google might not find your videos.
Don't lazy-load primary content upon user interaction. Google may not find content that requires user interactions to load (for example, swiping, clicking, or typing). Make sure Google can see lazy-loaded content

If you are using overly complicated JavaScript to embed video objects from within JavaScript only under certain circumstances, then it's also possible that Google won't correctly index your videos.

URLs for content or landing pages that require fragment identifiers are not supported.

Make sure that your videos are visible and easy to find on your video pages. We recommend using a standalone page for each video with a descriptive title or description unique to each individual video. Make sure videos are prominent on the page and aren't hidden or difficult to find.
Third-party embedded players
If your website embeds videos from third-party platforms like YouTube, Vimeo, or Facebook, Google may index the video both on your web page and on the equivalent page from the third-party hosting site. Both versions may appear in video features on Google.
For your own page where you've embedded the third-party player, we still recommend that you provide structured data, and you may also include these pages in your video sitemaps. Check with your video host to ensure they allow Google to fetch your video content file; for example, this is supported by YouTube for public videos.
More guidelines from Google here: https://developers.google.com/search/docs/appearance/video