Culture
Our culture revolution, Part 20: Our 'Great Place to Work' ambition
We're just a normal agency. You may own one. You may work for one. We're ticking along nicely, picking up new business and growing at a good pace. The team size has upped from 1 to 20 in five years, with plans of reaching 50 by 2021. Everyone seems happy.
But we want more.
Day Zero was the launch of our manifesto. Its aim? To revolutionise our culture, attract amazing talent, and be recognised nationally as a great place to work.
Over the course of the next few months we'll be taking you to the heart of Reddico, sharing our highs, our lows, and our eureka moments. We'll be honest and open about everything. What works. What doesn't. Whether you're here for inspiration, to watch us fail, or out of sheer curiosity, welcome along.
No hours. No managers. Rules set by the team. Let's see what happens next.
It's been a while since our last update, mainly for the reason that there's little to actually update on.
In fact, everything seems to be working. Nothing has blown up.
So it seems only fitting that, in the 20th instalment of this blog series, we celebrate some of the amazing achievements from the last 12 months – culminating in us being recognised as one of the UK's best workplaces.
Our team NPS is world-class
You may remember some of the reasons behind our culture revolution – back from post number one. One was our faltering internal NPS, stuck in the 'Good' section of the scale.
At the time we were giving a lot to our team, and didn't understand why they were seemingly unhappy. However, it quickly dawned that the free food, table tennis, and company events aren't the be all and end all.
People want more.
It's not what you give people for free. It's how you free people to give.
And that's why we went down the route of offering complete freedom, trust and responsibility to the team. Everyone became accountable for their time and how they used it.
And our NPS results have taken a dramatic upswing.
As you'll see from the below, we've stopped languishing in the 'Good' and hit world-class levels over the last two quarters. A pretty incredible rise. Up to a score of 95 for Q2.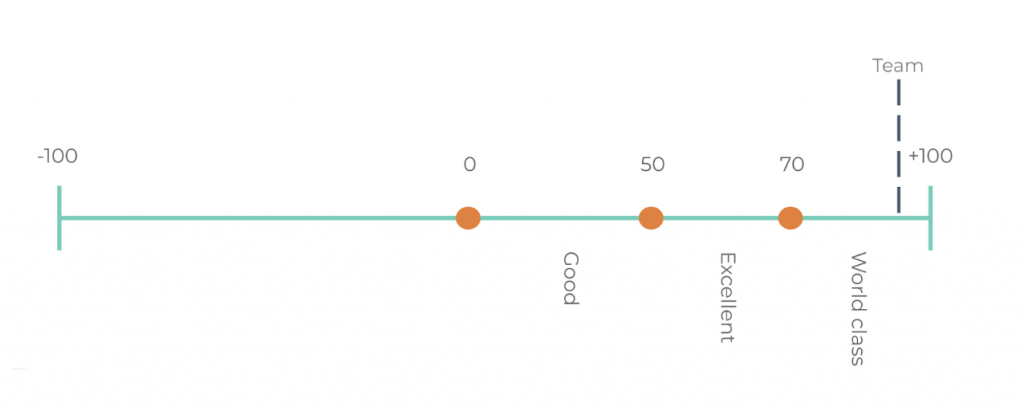 We're a freedom-centred culture
18 months ago it would have been a near impossible task to predict us taking home culture accolades. But that's exactly what's happened in 2019.
In fact, we're one of just 33 companies worldwide to be certified as a freedom-centred organisation.
You can also find our individual page.
Following on from this, we spoke to Roger Trapp at Forbes, who was particularly interested in our managerless approach, so take a look at the full article.
One of the UK's best
Perhaps our greatest success this year was being placed on the UK's Best Workplaces™ list.
After being shortlisted in the top 25, we ventured to London's Tobacco Dockyard ready for an evening of celebration.
We surpassed our own expectations, jumping into the top 10 and being named as the 9th best place to work in the UK (small business section).
Also unprecedented was the media coverage gained off the back of this award. Kent Online was first to pick it up, as we featured on their website and newspaper version, as the best place to work in Kent.
The nationals subsequently followed suit, with both the Mail Online and Mirror posting articles about our success. A rollercoaster 24 hours.
What's next?
We're still adapting. It's been a hectic 12 months, but the team have really embraced the change and worked to ensure our manifesto's success.
However, that's not the end.
We'll need to tweak things as we grow, with plans to double in size over the next two-and-a-half years – both in team members and annual revenue.
We're also in the early planning stages of a profit share scheme, which we'll be able to talk more about as soon as it's finalised.
What's more, we're now becoming an influencer of sorts in workplace culture – we've been invited to speak on podcasts, various companies have got in touch to ask for advice, and in June we spoke at LinkedIn Live Kent, with some amazing feedback from those who were there.
A busy 2019 so far, but we can't wait to see what happens next.