Reddicon
The Reddico team tackle Laser Tag at Bunker 51 - our Q4 update
So ends another great year at Reddico. It's been a huge one for the team, with our cultural shift now an integral part of how we operate as a company.
But some things never change. We've been treating the team to quarterly updates since the olden days, as a means of rounding off and celebrating our achievements as a group.
We give everyone the chance to vote for what they want to do, as well as where to eat afterwards. In keeping with our tradition of picking activities reminiscent of a 12-year-old's birthday party (go-karting and mini-golf spring to mind), the group elected to give laser tag a try – followed by a hearty helping of burgers. It's the simple things in life.
But before the fun could begin in earnest, there was the small matter of the actual update to get through. It's easy to forget, in all the excitement of the day, the very serious business of discussing where we are as a company. We like to mix up our meeting rooms when we do an external update. This time around, the Greenwich Yacht Club were our gracious hosts.
I'll spare you the nitty gritty of the meeting, but the good news is we're still moving in the right direction. And as the company grows behind the scenes, so too does the team itself.
A change in roles
One of the biggest takeaways from the day was a shift in roles for one of our longest-serving team members.
Lewis Pugsley has been with Reddico since we were a fledgling company of just a handful of employees. In that time he's made himself an irreplaceable member of Reddico. As such, it came as little surprise to many that he'd been made our new SEO Lead.
| | |
| --- | --- |
| | Lewis now leads a team of five into the new decade. We all have faith that he'll churn out the best results the department has ever seen. |
New faces
Since our last update, two new SEO enthusiasts have come aboard: David Joinson (who joins as a Senior SEO Consultant) and Adam Foster (taking on a role as a Midweight Technical SEO Specialist).
Adam's been here for the entirety of the quarter, fitting in nicely with the Reddico family. David's only been on board a couple of weeks, but is quickly adapting to life with us. Both of these chaps will be largely based in our Brighton office. That's great news, as it means we're really starting to make our second office a home away from home.
We're all really excited to see where they go from here.
Team Impact Award
The Team Impact Award (TIA) is an internal vote where we decide who's made the biggest (positive) impact across the prior three months. This is usually a fairly close affair, with four or five people receiving a few votes each. Not this time.
Emily Barrington has been with us for just over half a year, and has made a huge difference in the SEO department and charity committee. Her stellar work across both areas of Reddico saw her accrue a whopping seven votes. That's the most anyone has ever received at once.
Laser Tag and burgers
Once the serious stuff was out of the way, it was on to Bunker 51 for the fun part of the day.
We had a real mix of experienced shooters and complete newbies in our ranks, but I think it's fair to say regardless of talent everyone had a good day. The star of the show was unquestionably our designer Jon Daulby, whose name was read out in the top three of practically every game. Note to self: stay on Jon's good side. Games varied from traditional team warfare to a hide-and-seek variant, where staying alive earned you extra points.
All that running around really helps to work up an appetite. So it was fortunate we had a booking with Honest Burger to tide us over for the rest of the evening.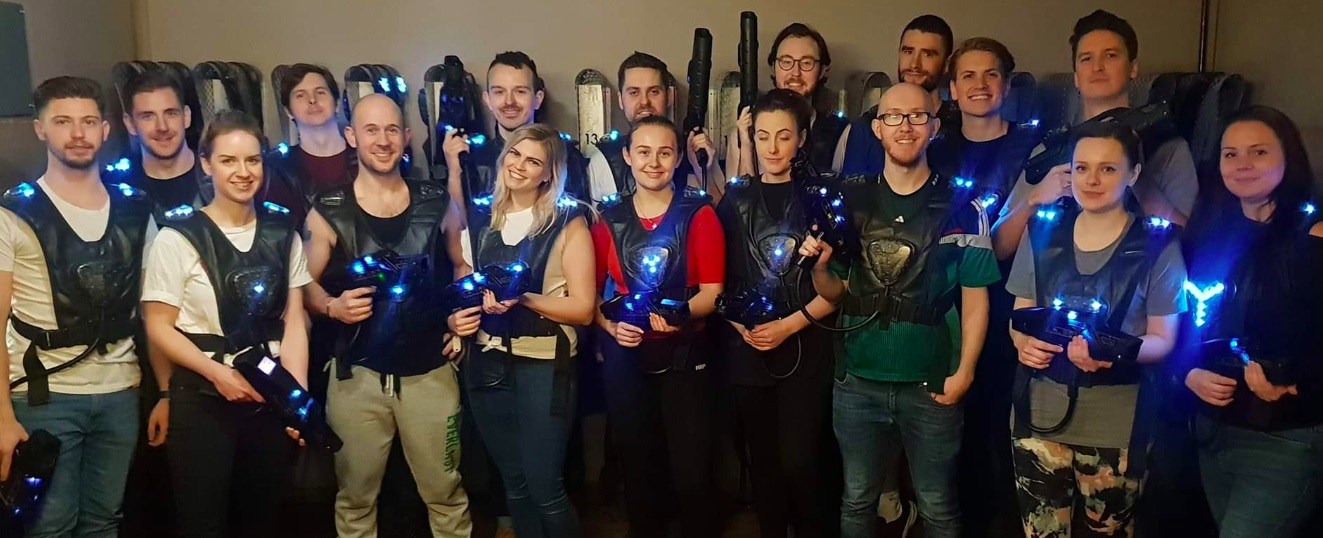 Forward to Lisbon
With the update in the bag, it's on to our next company adventure – Reddicon. Having previously been treated to long weekends away in Budapest, Barcelona, Zell Am See (for skiing) and Oslo, this time it's the turn of the Portuguese capital of Lisbon.
It's a welcome to return to a hotter climate after the previous two Reddicons were in very cold, albeit incredibly fun, locations.
Stay posted to our blog (and social channels) for updates on what is sure to be a trip we'll never forget.