Annual Retreat
Hitting the Slopes of Zell Am See
We're back from Austria after a hard-earned trip away. You can read all about our fantastic adventure below – but first, check out the incredible video which logs just a small portion of this once-in-a-lifetime company holiday:
Earlier this year Reddico ventured to the slopes of Austria for a company ski trip. Check out our best bits in the video below and read more here: https://t.co/S0wJ0gpbwe #reddiski #greatplacetowork pic.twitter.com/P9qm3uDFzw

— Reddico (@reddicoltd) May 2, 2018
Day One
"If you try to run down that mountain, you will die."
Those words are some of the first we hear from the natives of Zell Am See, as we arrive at our hotel room. Staring out at a view which looks over the staggeringly beautiful Schmittenhöhe, part of the Kitzbühel Alps, we're met with a sense of fear, excitement and, perhaps most importantly, adventure.
Ahead of us lies three days of skiing – something which the majority of the team have never experienced before. As beautiful and picturesque as this quaint little Austrian town is, surely the challenge of successfully scaling a mountain – or even staying upright on a nursery slope – is a little out of our grasp?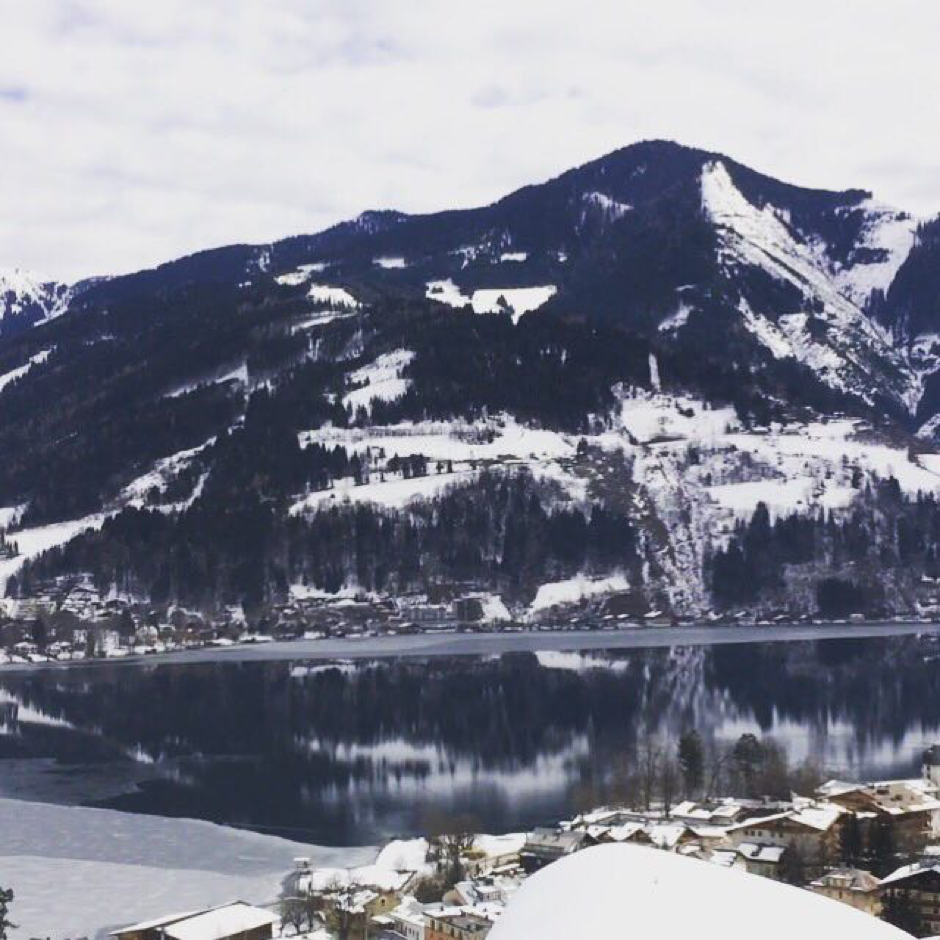 Upon first attaching our skis, those suspicions look to be confirmed. People are slipping, nerves are fraying and there's a distinct sense of panic in the air that we may be in over our heads. Thankfully, just moments later those concerns are alleviated with the arrival of our ace instructor, Joe.
While the thrills and spills aren't totally eradicated, two hours with Mr. Bird – with everyone coming together to support each other through their trials and tribulations – instils us with a new level of confidence. We leave the slopes with renewed vigour, as we head out for the first communal meal of the holiday.
Don't let anyone fool you into thinking it's all about wieners and schnitzel in this part of the globe. All the meals we enjoyed were out of this world – and washed down with generous helpings of Stiegel (the local beer) and cocktails. Needless to say, this helped spirits and a sense of camaraderie remain peaked.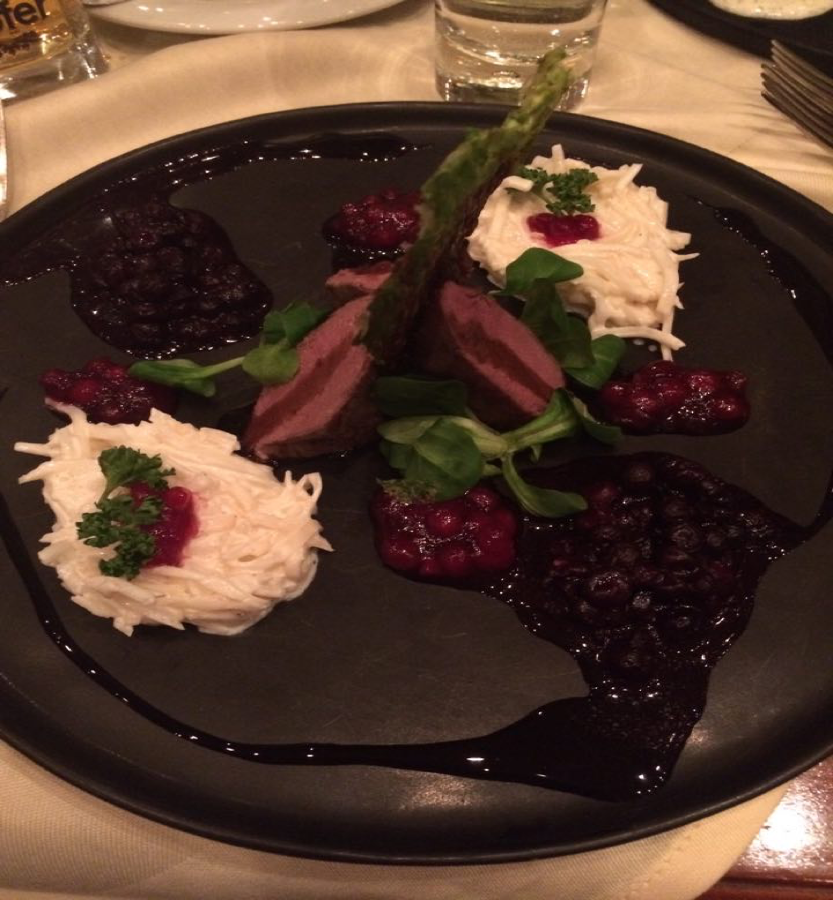 (The kind of dish we sampled throughout our travels. This is venison with coleslaw and a cranberry puree)
Day 2
After a hearty meal and some more team bonding in the evening (which might have involved a few drinking games), it was time to tackle our second lesson. Joe was again on hand to help the beginners, while the Redding brothers, Nick and Luke, and ski veteran Jack took their classes on the red slopes.
With another two hours of learning behind us, it was finally time to try out the nursery slope for ourselves. Don't let that name belie the challenge of this peak. There was nothing infantile about this behemoth – especially to a group of skiing newbies like ourselves.
At this point it was staggering to see just how far everyone had come. Even those not confident enough to tackle the nursery slope could be proud of their efforts, having shown immense levels of improvement throughout the little time Joe had been teaching us.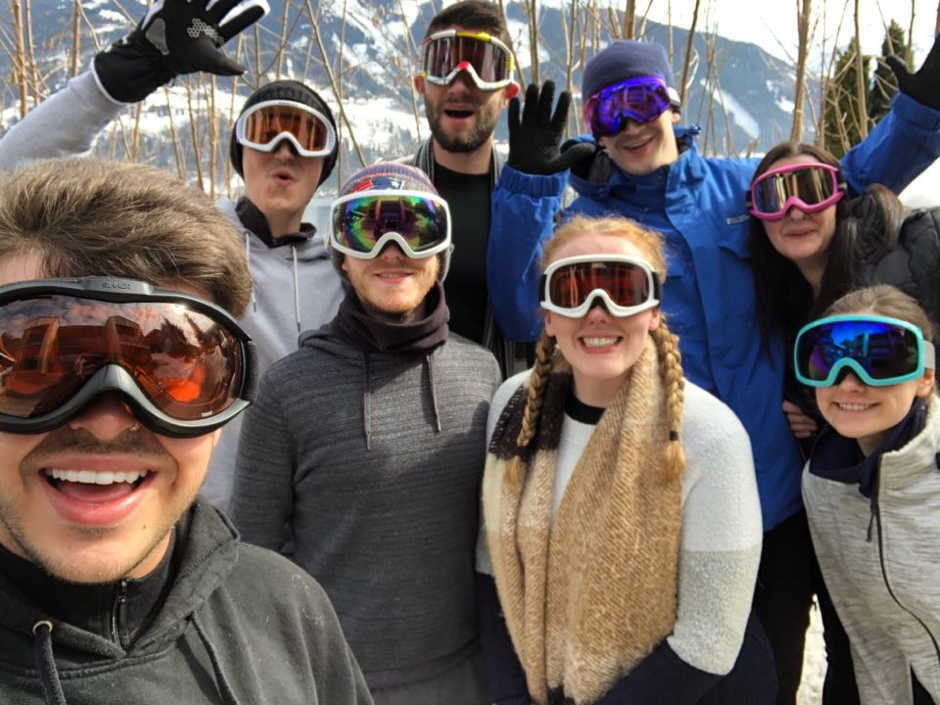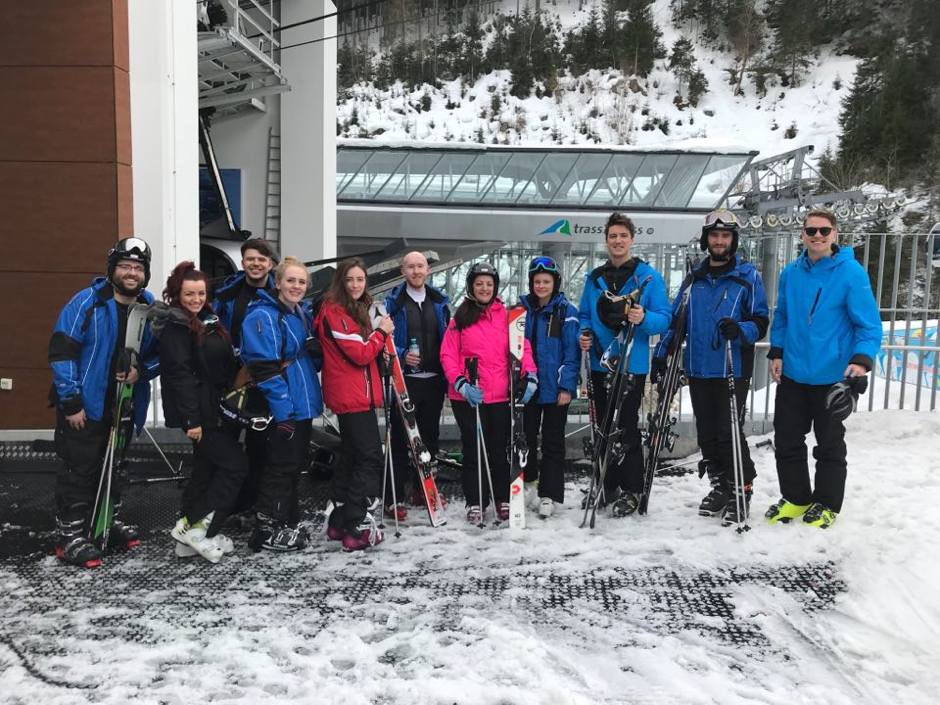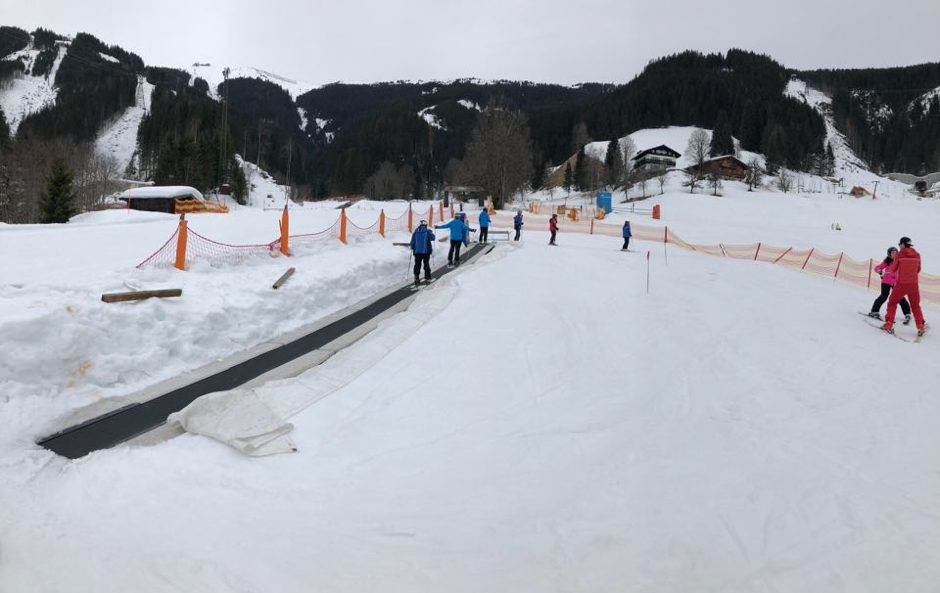 The evening frivolities would be capped off by a trip to the Zell Am See casino. Those among us who were more familiar with the surroundings lent a hand to the less confident, resulting in a lucky few making a decent amount of money. After the cash stopped flowing, we caught a couple of cabs back to our hotel, in preparation for the final day of skiing.
Day 3
With the basics behind us, it was time for those feeling ready enough to try out a blue run – the easiest on the mountain, but nevertheless still a formidable challenge to anyone who just two days prior didn't know how to ski.
"This looks pretty steep…are you sure this is a blue slope?"
A plucky group of six took to the perilous slopes of the Schmittenhöhe. "Culture shock" would be understatement for those of us who were new to the skiing lifestyle. What felt like the steepest slope in the world lay in front of us, with nothing but a pair of carbon fibre skis to stop us from slamming into the snow-covered mountainside.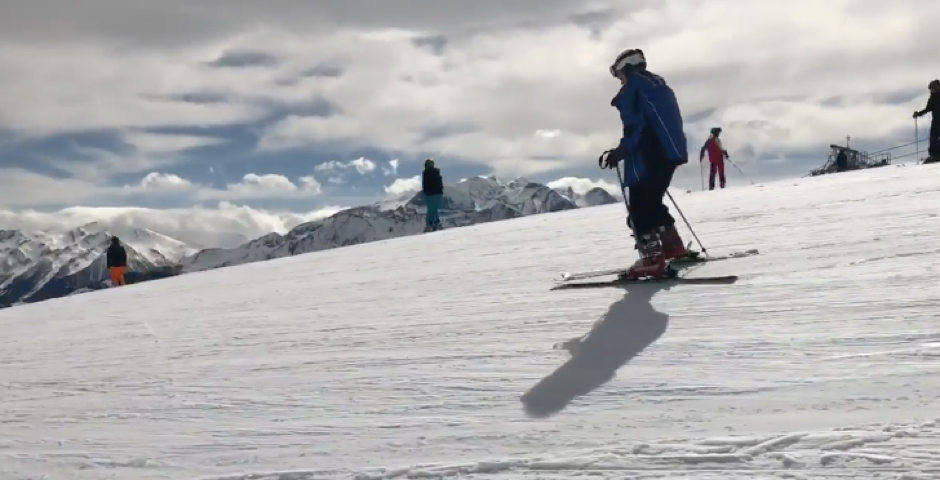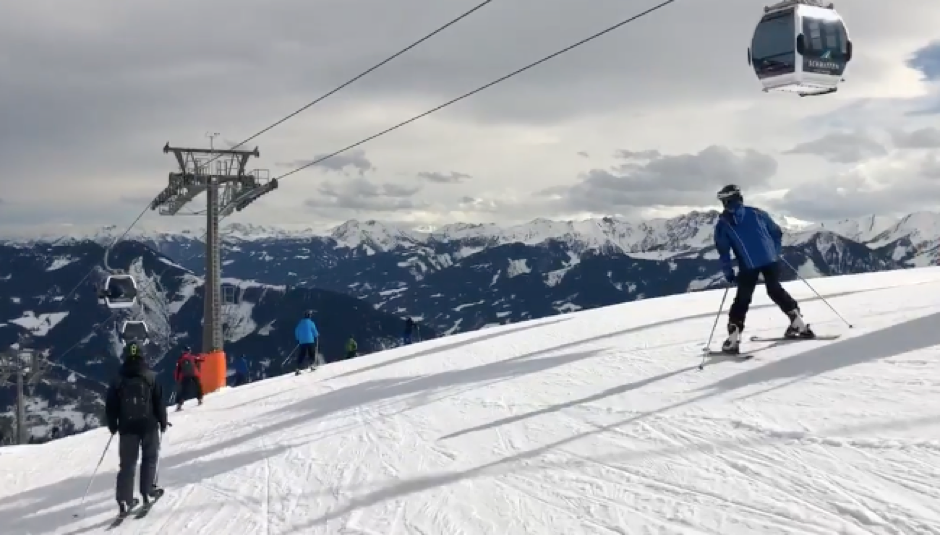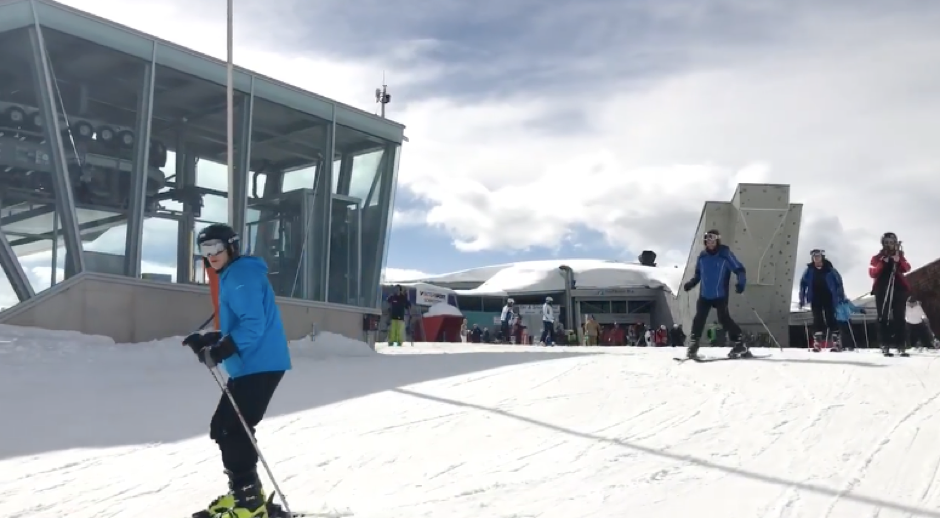 Looks steep, right?
Despite a few tentative first steps, the training we'd been given by Joe – as well as the Reddings and Jack – soon kicked in. While it wasn't an accident-free journey (especially for the newcomers), everyone managed to make it to the bottom in one piece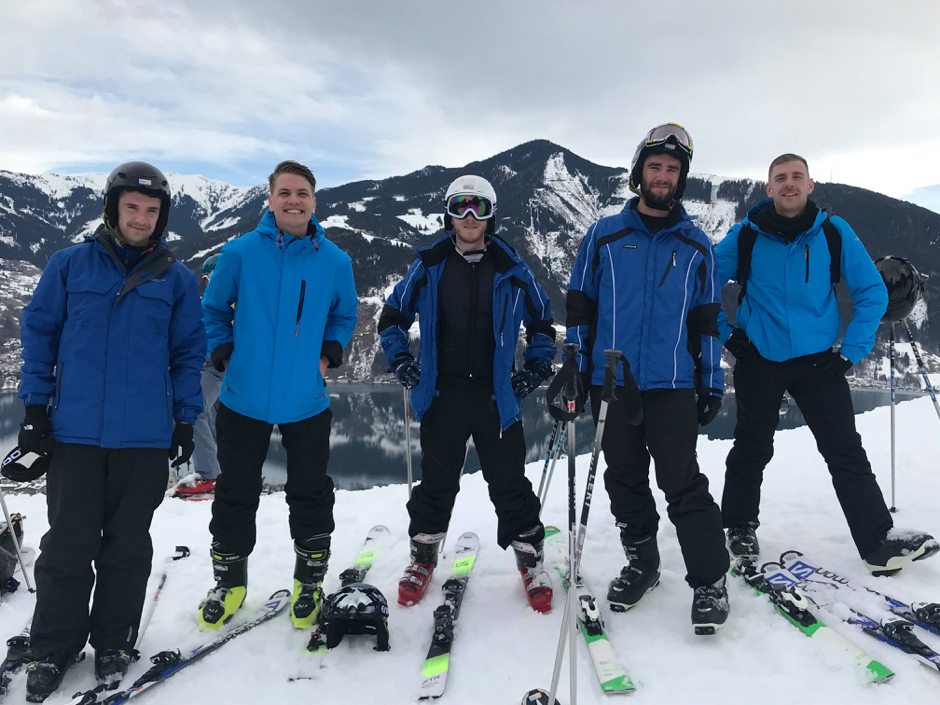 Such were the renewed levels of confidence, that most of the group replicated the run just a few hours later (after a hard-earned beer and pizza at the bottom of the mountain). They would even tackle 15m of a black slope (the hardest possible route) at the end of the journey.
It's all relative though – with everyone, even those who didn't take to the nursery slopes, showing an immense level of improvement. Everyone can be proud of themselves for the advancements they've made.
For those who chose not to ski on the last day, there was plenty of opportunity for them to immerse themselves in the beautiful scenery of Zell Am See itself.
Since it was Sunday, the town was quiet but not empty, with visitors sitting outside cafés and coffee shops, and families strolling along the cobbled streets, stopping only to buy waffles and Nutella from a van.
A relaxed walk alongside the picturesque lake was the perfect way for the team to recover from busy days and late nights (and get some photos taken for the 'gram), with everyone welcoming the fresh air and panoramic views of the snow-covered mountains.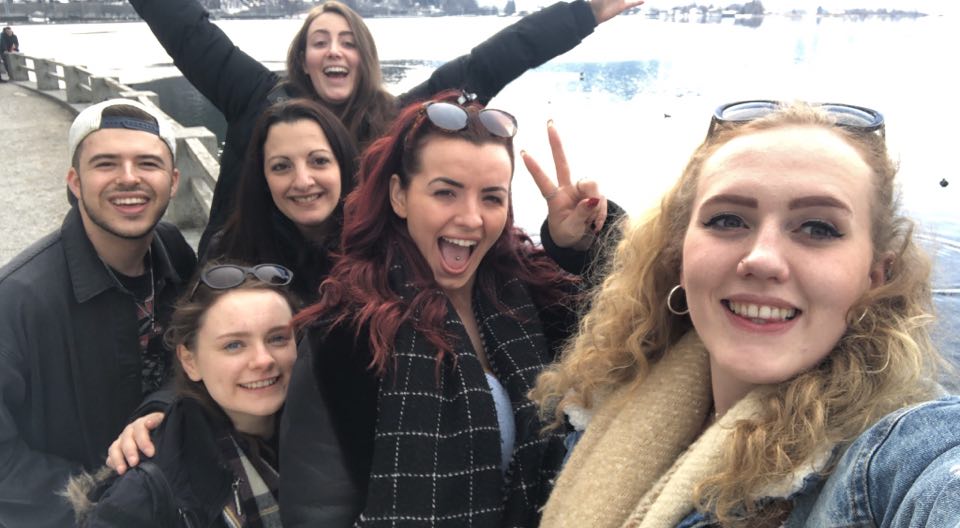 Meanwhile, Craig and Dave continued to enhance their skills on the nursery slope. This trip was all about ensuring everyone felt as comfortable as possible within their own abilities. As such, the deadly duo honed their abilities and were probably ready to tackle the mountain. Sadly, as we were heading home the next day, it wasn't to be (this time).
The pair made up for this by enjoying a well-deserved beer at the local bar. Having both been absolute rookies to skiing just a matter of days before, conquering the nursery slope was an incredible achievement.
It wasn't all about the skiing. The team have always been an amiable bunch, but we've come back from this trip feeling like more of a family than ever. The brilliant thing about a holiday away is giving people in the office who wouldn't normally chat the chance to get to know each other a little better.
This holiday was funded exclusively by the company, as a reward for hitting targets after a year of hard work from everyone. It's this forward-thinking and genuinely appreciative mentality which has seen Reddico transformed from a young man sitting in his spare room, to a marketing agency which deals with industry-leading names on a daily basis. All of this has happened in just a few years.
Our values are at the core of everything we do – and it was with these in mind that each individual member of the team was assessed. Thankfully, we're proud to say everyone met the required standards of what a good Reddico employee should be. That meant it was a full quote of adventurers heading out to Austria this time around.
Needless to say, it was the trip of a lifetime…but who knows what might lie in store next year. Check out some of the other pictures and videos of the team below. Who knows, maybe you'll be joining us on our adventures next time?