Culture
A day in the life of an SEO: how our team uses flexible working (Part 2)
Welcome to part two of our day-in-the-life series. This time, the rest of the SEO team have their say.
It can be hard to imagine what a job might be like in a new company, even if you've done a similar role. Whilst Reddico is clear and open about our policies and work culture, it can be helpful to understand how this works in a practical sense. By sharing these stories, we hope to give anyone interested in Reddico an insight into what it means to work in a truly flexible team and the importance we place on trust.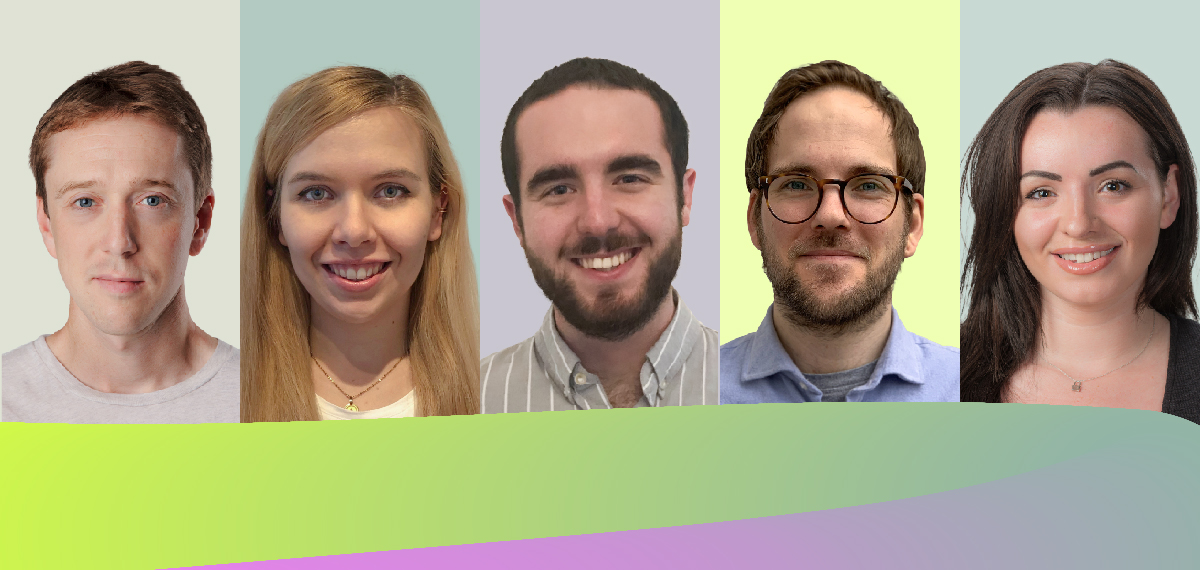 L-R: James Cook, Anna Wójcik, Ollie Newell, Michael Carden-Edwards, Leona Storet Slythe
What's a typical day like for you? What kind of tasks do you do?
James Cook: I do keyword research quite a lot, gap analysis, lots of link stuff, maybe some outreach or link reviews. It tends to be gap analysis, keyword search, link stuff, quality raters review.
Leona Storet Slythe: I have a lot of client calls, team meetings – we have our SEO catch-ups three times a week. I have individual catch-ups with some people as well, like Mikey. Those are more to discuss strategy and check in on tasks. With clients, some of the calls will be status updates, checking on performance and reporting, but then others will be running through a task we've completed for them that month, so it could be presenting a technical audit or a serve log analysis.
And then I'll have time taken up doing other things, like working with third-party agencies, and a lot of following up with people, account management. Say for example, who's looking after the content rewrites for a page? Let's check in with them. Or someone might have sent over a new product they're launching and they want to know how to add that to the site and leverage it. Amongst that busyness is just trying to fit in the monthly tasks. A lot of them are shared out between the team, but there will be some that sit with me.
Ollie Newell: Typically I do keyword research, gap analysis, quality raters. I'll check emails, try to keep up with the news in case anything's happened, stay on top of that, then pick up on anything from the day before.
Anna Wójcik: I would normally check my emails, see what else is there from the previous day for me to focus on, try to analyse tasks from the previous day. Then I'll catch up with my circle and we'll prioritise certain tasks. I'll normally work on keyword research, gap analysis, client performance reports, or content audits.
Michael Carden-Edwards: In terms of my day to day, I usually get up pretty early, I'm an hour ahead [of the UK] because I'm in Spain. I will get up, walk the dog, then spend the first half an hour of my day running through industry news, Twitter, SEO Roundtable, Search Engine Journal, that sort of stuff, just seeing if anything's happened.
I then spend around 15/20 minutes running through my clients' search console accounts, checking rankings, checking visibility, just seeing if there's anything devastating… hopefully not!
I'll then spend about ten minutes running through my Trello board, my to-dos, which is a bigger task on Monday just to make sure I've got everything in line for the week.
A typical day consists of leading client calls, talking to clients about strategy for their site, putting together recommendations. Every single type of SEO task you can think of, basically! I also do a lot of support for the team in terms of training, development, researching new stuff and helping people.
How do you use flexible hours?
JC: I do 8am to 4:30pm, which is the original hours they set us, just because I got used to it and I really like it. I'm up early with Mary [his daughter] anyway.
LSS: Because it was really sunny over the last couple of weeks, I'd work in the morning and then in the evening. Monday this week I started work at 10pm and finished at 5am – extreme, but it meant that in the afternoon I literally laid in the sun with the dogs, slept for a bit, then I woke up late on Tuesday and did the same thing again. I do use the flexible hours to the max.
For me, evenings are a time when I have no distractions and I feel like I get more out of my work. During the day is when I want to do things like see my friends, have some downtime, be outdoors, go to the gym.
It feels like work fits in around my life, rather than my life fitting in around work.
ON: I try to use the flexible hours to my advantage. Over the first couple of lockdowns I realised staying active was quite important, so I'll go out for walks in the morning. There's been a good few instances where I've needed to finish early, or take an hour out to go and look at a flat or something. Previously I'd have had to go through a minefield to get that approved, whereas now I can say, if you need me I'll be away for an hour. It works so much better.
I was at an insurance company just before I joined Reddico and they had a strict hour's break because they wanted us on the phones. If I just needed to take 15 minutes to pick up my brother or something, I'd have to ask five different people. So flexible working has been a blessing, really.
AW: I normally start really early, about six o'clock in the morning; I'm a proper early bird. I can't focus in the evening or late afternoon. I'm really grateful for flexible hours, because that was one of my biggest challenges in my previous jobs, when I was forced to be productive during a certain period of time. But you can't force your brain to do that.
MCE: I've always been one to work from home. Whilst I love talking to people, working with people, I love my own space and being able to tune things out. So for me, especially having a dog and learning Spanish, it's lovely to be able to take an hour out and not worry about it, because people don't have the expectation of you that you'll reply straight away.
So I'm able to wake up, take the dog for a walk, at lunchtime I can play with him and feed him, I can get lunch myself, I can do a Spanish lesson, I can look after myself. And then in the afternoon I can take another half an hour or hour out with the dog, take him for a little walk. Last night I was cracking on about 8pm, just catching up on things I'd missed.
I don't feel under pressure to conform to anyone else's timetable. I've been quite self-sufficient in terms of my work and what I need to do for years. So I'm good at prioritising and having the ability to do that throughout the entire day is nice.
That flexible time means I always find time to help people and support the team as well, which is a huge part of the satisfaction I get from my role. I really enjoy that. I can do that without feeling like I'm dropping other things.
I know that if I've done more than I should have done one day, I can give and take.
How did you deal with work during lockdown? Has it changed the way you approach things now we're starting to get back to a little bit of normality?
JC: I mean, pretty similar to now. I wasn't working in the office [the Bristol office]. At first it was more productive and I could concentrate more. But it wasn't too different for me. I don't think getting back to normality has really changed things. I'm going back to the office next week, so I'm looking forward to that. As long as it [the pandemic] doesn't continue!
LSS: It was hard. My mental health was poor at times. I couldn't get out of bed some days. But I think that's where the flexibility was, in that I was able to fit it in with that schedule and routine, where I did my calls during the day and when I could and was a bit more with it, later in the day, I would have therapy or go for a walk. Whatever I was doing for my mental health, I prioritised that. I always made sure I turned up for the calls, but then I was able to fit my work in later in the evening. Clients have always been very accommodating.
I had a rule last year – I am an earlier riser now – where I didn't have any calls in the morning, they were all in the afternoon, which meant I could allow for having a really bad night or not sleeping, and needing that extra time. It also fit in quite well because at the time I was living with friends who were furloughed, so it meant I got that downtime in the evening to focus more when there was less chaos in the house. They were doing at-home workouts, dancing, yoga… it meant I wasn't trying to have a call at the same time, or write a technical review of the site at the same time that was going on. That worked well.
Now I'm living with [different] friends and one of them also works from home, so we just have a really nice routine. We have breakfast or lunch together, we've made workspaces in a few different rooms so we can take calls at the same time and not distract each other. I don't feel like I'm missing out on things, really.
ON: I think I've worked out that working from home is something which I can definitely do. I had never done it before. You do university work at home, but even then I knew I was more productive in the library. I assumed that when I worked I'd be more productive in the office. But I don't think my productivity levels have changed between home and the office. I do want to get into the office more, but working from home does make life so much easier. The lockdown has had its advantages. It was a bit of a culture shock [at first].
AW: I've been very lucky, because lockdown hasn't changed much for me, work-wise. Back when the lockdown started, I was self-employed and I used to work on my own always, either at home or at some of the co-working spaces around. That was the only difference really – I couldn't just go somewhere else. It made me realise that I've been lucky and I didn't have to be worried about my position at work.
MCE: I loved lockdown, I thought it was the greatest thing ever. I love being on my own timetable consistently, I love being able to set my own boundaries. I started two new jobs during lockdown [the latter being the job at Reddico] and I didn't feel like I missed out on anything.
With Reddico, I'm quite far away and I still feel pretty involved within the wider business. I feel like my voice is heard. I haven't seen any negatives to it. It'll be interesting to see what happens a lot more of the team are in the office, but at the same time, with the Zoom calls it works really well. I look back and I think, how many hours have I wasted travelling to client meetings? How many hours have I wasted commuting? If you add that up over the course of six years, that's a long, long time. I don't think clients miss out on that personal relationship [over Zoom] at all. For me, it's [lockdown's] confirmed everything I suspected. And being part of the eco circle, so much energy is wasted, in every sense, on all that unnecessary travelling.