Annual Retreat
The 2019 Reddico Retreat to Oslo
Before we get started, a big thanks from the whole team has to go out to the Redding brothers (Luke & Nick) and Craig McDermott. Our three directors spoil us, and this was an exceptional treat even by their standards.
Special thanks also has to go to Luke Kyte, who ferried us around throughout the trip (steering 20 adults from A to B is not easy), as well as Laura Clews and Holly Jackson, who played big roles in organising and booking activities alongside Luke.
Thanks also to Jack Gaisford – a non-Reddico attendee, who filmed the entire trip for us. Make sure to check out Jack's company, V21, if you want any video work done to advertise your business.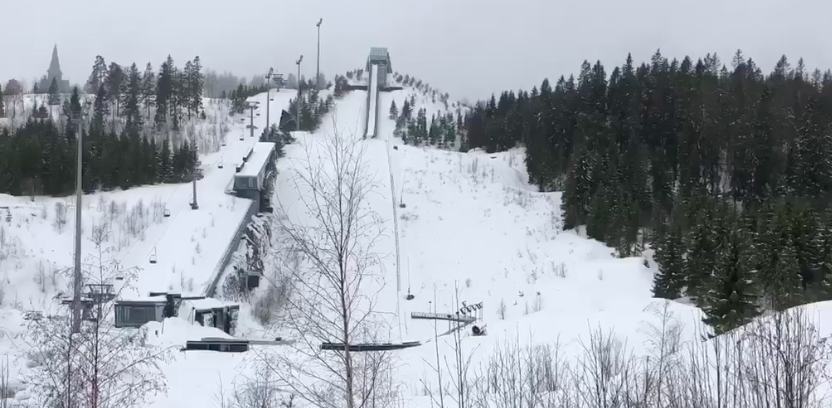 Another brilliant company retreat is in the bag. Thanks to a year of hard work from every member of the team, we smashed our annual targets. Our goals are defined by both annual income and our NPS (net promoter score). We set an ambitious target of 75 (sitting in the "world class" bracket). And, with a score of 83, we more than met the lofty standards we were shooting for.
That meant we got the chance to head off to the destination of our choice. Totally comped by the Reddico budget.
Having narrowed down our options to Lisbon and Oslo, the team unanimously agreed to give Scandinavia a try. This was a part of the world very few of us had ever been to, so it made perfect sense to use this opportunity to try something new.
Following the excitement of 2018's fantastic ski trip, the Norwegian capital had a lot to live up to. I'm pleased to say it more than delivered.
Friday
Things kicked off early on Friday morning. With the minibus heading to the airport at 6am, it was touch-and-go whether everyone would wake up in time. Miraculously, as we departed for Gatwick, everyone had made the deadline. Just.
After filling our stomachs at Wagamama (who knew a Japanese restaurant could whip up such a good full English?), we were braced for the impending cold of Oslo.
[embed]https://twitter.com/LukeKyte101/status/1106484346993688576[/embed]
We knew it was going to be chilly, but I don't think anyone was quite prepared for the ice-cold chill which hit us as we made the trip from the airport to our hotel. Highs of 2℃ made the UK seem like a tropical paradise.
That didn't dampen our spirits, though. We'd been looking forward to this for months, and nothing was going to spoil the fun.
After dropping our luggage off in our rooms, we did what any respectable Brits would do on a holiday abroad. Hit the pub.
Alright, maybe we did a little exploring first. The city is beautiful, and oddly quiet, which gave us a great chance to take in some sights without having to fight our way through swathes of tourists.
With a few drinks inside us, we headed off for dinner. After walking for 15 minutes in one direction, we decided to double back on ourselves and walk even further the other way. Forty-five minutes later we arrived somewhere completely different to the restaurant we'd booked.
Thankfully, they let us in anyway. After a round of burgers it was off to a local bar. The rest of the night gets a bit hazy after that, but I've been assured everyone had a good time. What kind of team bonding would it be if a few pints of the Devil's water wasn't involved?
Saturday
Saturday morning was a tad rough for some. Thankfully, we had a brisk walk to help cure what ailed us.
We were headed to a Fjord Boat, which would transport us on a scenic two-hour tour through some of the most picturesque locales you're ever likely to see. Those of us who managed to drag ourselves out of bed (or the sauna, in some cases) we were treated to something special.
[embed]https://twitter.com/reddicoltd/status/1106968530086432769[/embed]
The waters were incredibly peaceful. At times it was easy to forget you were on a boat – which was a welcome relief to those of us who'd had a bit too much fun the night before.
After that it was another quick stop off at a pub (we're not monsters, after all) before our second organised event of the day.
Segways don't get much hype, but I'd highly recommend trying one out. It's surprisingly fun to propel and turn the machine with nothing more than the force of your body alone.
The outing gave us the chance to see even more of the city, with our tour guide Christian making sure to provide us with more historic tidbits than we could handle.
The best way to tour a city #Oslo #Segway pic.twitter.com/am7K0DWl1g

— Reddico (@reddicoltd) March 16, 2019
Italian was on the cards for dinner, with the team stopping off for a bite at Olivia's. Luckily, we found this one far more easily than the previous night.
The evening was certainly a unique one, with those of us who stayed out mixing their time between enjoying a few drinks and playing some shuffleboard. It's a unique game, which involves a lot of sand. I won't go into too much detail (largely because I don't think we were ever playing by the actual rules), but think of it as "curling on wood".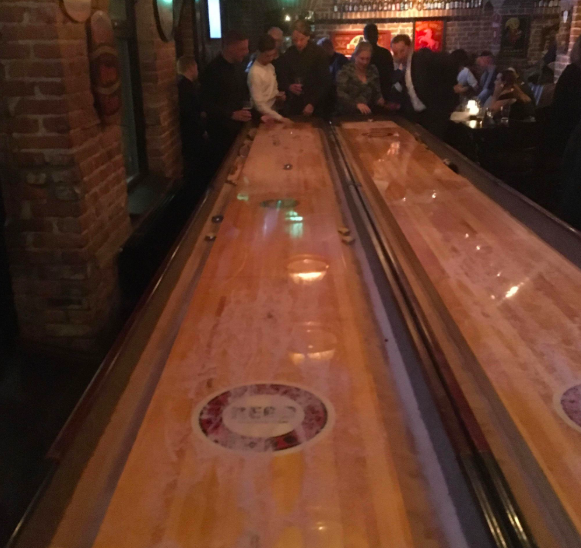 After a few (many) games, we were ready to hit the hay ahead of our final full day.
Sunday
We'd purposefully not booked up anything for Sunday to give people the chance to get out and do what they wanted with their day. Because of that, we split into two groups: those of us who went tobogganing, and those who wanted to try out a few escape rooms.
Escape Rooms
Two separate teams tackled the imaginatively named "Kingdom of Escape Rooms", each testing themselves in the same labyrinth.
Beth, Dave, Vicki, Laura and Nikki took the honours, getting out in the remarkable time of just 29 minutes and 54 seconds (with no hints). The team of Craig, James, Lewis, Holly, Leona and Nick would also make their way out in a respectable time, smashing through to freedom after 40 minutes and 35 seconds.
While we can't give much away in terms of the room layout, all the escapers were impressed with the way in which visual illusions were used instead of the regular padlock and key methods.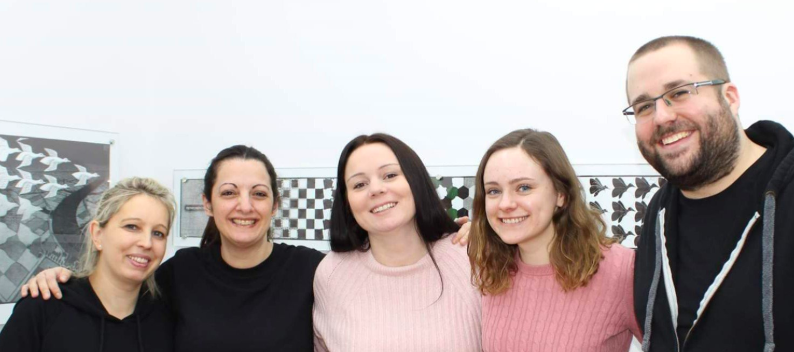 Tobogganing
That left Luke Redding, Luke Kyte, Katie, Jack (the developer), Jack (the cameraman), Kirk, Adrian and myself to tackle something completely foreign to all of us.
While most of the group had been skiing before, sledding down a hill was a completely new experience. Much like the Segways, it involved a lot of steering with your body (except this time, it was at much faster speeds).
Conditions were rough to say the least, but we made the most of it by stopping off for a few snowball fights along the way. After getting absolutely soaked to the bone, we headed back and met up with the rest of the group for our final meal together.
[video width="1280" height="720" mp4="https://reddico.co.uk/content/uploads/2019/03/video-1552833516-2.mp4"][/video]
(Jack, showing off his acrobatic skills)
[video width="1280" height="720" mp4="https://reddico.co.uk/content/uploads/2019/03/video-1552823715-2.mp4"][/video]
(The top of the slopes were a harsh mistress. Watch out for the cheeky skier who rammed through me in this one)
[video width="1280" height="720" mp4="https://reddico.co.uk/content/uploads/2019/03/video-1552833296-1.mp4"][/video]
(Luke Redding messing about in the snow)
[video width="1280" height="720" mp4="https://reddico.co.uk/content/uploads/2019/03/video-1552833354-2.mp4"][/video]
(Kirk enjoyed himself really)
 
With a tasty Indian in our stomachs, we were ready for one last night of pubbing, bar pool and laughs before heading off the next afternoon.
Monday
A bittersweet atmosphere greeted the team on Monday. While nobody wanted to leave, there was a palpable sense of camaraderie spread throughout the group. It's a testament to the tightness of the company that we're able to go away on trips like this and not end up at each other's throats.
After a few delays, we boarded the plane home and bid farewell to the beautiful land of Norway. These annual retreats are both a reward and a bonding session, and it's safe to say both applied to this excursion.
Where to next year? Hopefully somewhere a little hotter.