Careers
Getting an SEO job at Reddico (Part 2)
Welcome to part two of our Getting An SEO Job at Reddico series.
Our colleagues here at Reddico have many things in common. They are all dedicated, hard-working, creative professionals who strive to achieve great things day in, day out. One thing they don't all have in common, however, is how they ended up becoming a part of this brilliant team.
We spoke to some of the SEO team to find out how their unique career paths brought them here today, how they plan to progress within the company, and how their prior experiences are relevant (or not) to their current roles.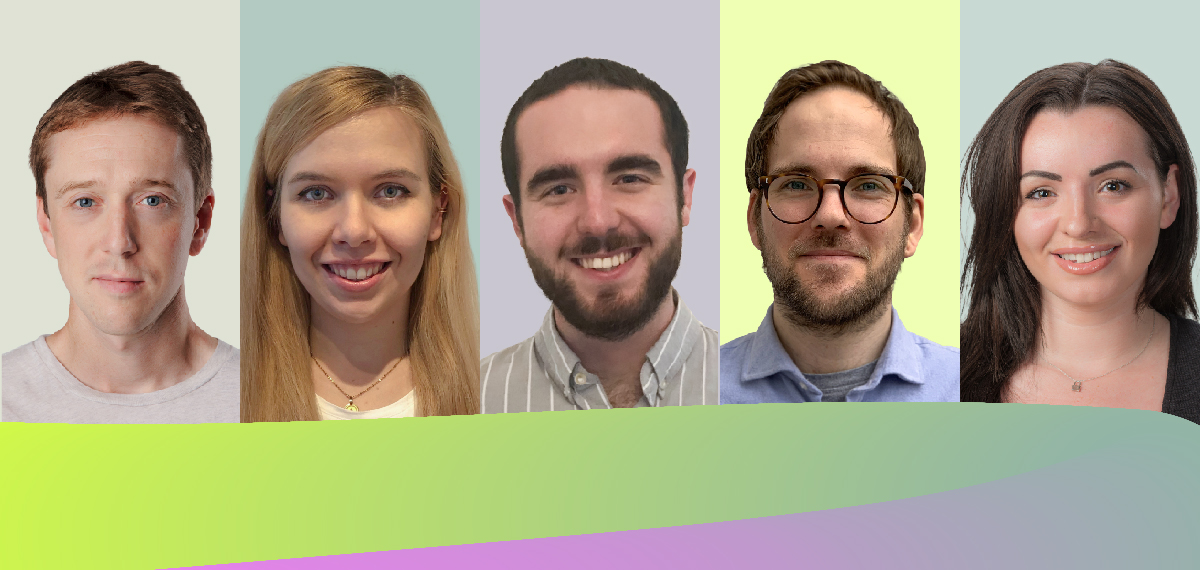 From left to right: James Cook, Anna Wójcik, Ollie Newell, Michael Carden-Edwards and Leona Storet Slythe
Did you go to university?
James Cook: Yes, I did. I did Multimedia Technology and Design, which was just a mishmash of all things digital: bit of coding, bit of design, bit of development. It was at Kent uni, in Canterbury. It was worth it. If I had my time again I'd do a different degree, I think, something that was more specialist, but in terms of the uni it was great. I loved it, and met loads of cool people who I'm friends with now.
Leona Storet Slythe: I considered going to uni to do languages. When I applied for my job here, I did it on the premise that it was my gap year. That was my goal: I was going to have a year doing work and then go to uni. But I went to start writing my applications and my heart wasn't in it anymore. I missed the boat – the year before, everyone was writing them and they had a lot of support from the school, whereas I didn't really feel like I had that.
I hadn't really ruled it out at that point, but as I worked for a longer period of time, I was really glad that I hadn't gone. And I thought I'd learn more about French or Spanish by travelling and staying in those places. I had lost the ability to sell myself university. I was working, I was earning money, I was enjoying my job, and I didn't feel like I was going to learn enough valuable skills to warrant the investment.
Ollie Newell: I did, yes, I went to the University of Brighton. I studied Marketing Management, but the management part was my placement year. I really enjoyed it. Back when I was deciding which uni to go to, it was a toss-up between there and Bournemouth, just because they both gave you extra opportunities to develop. You did modules around client relationships where you'd actually work with a client, so it was interesting. It was a positive experience overall.
Anna Wójcik: I did, I did my BA in English. Instead of analysing the Canterbury Tales, I ended up analysing keywords! And then I did my masters in London, in Digital Media. It was great.
I still, to this day, don't know how much it was worth career-wise, in terms of my skills. I think it was just a good introduction to being a professional later on. It taught me how to do research properly, how to communicate with others, how to work in teams.
Michael Carden-Edwards: I did indeed, I studied computer science. It got me in the door, although none of the things I learnt at university are relevant anymore. So I haven't used any of the things I learnt on my degree for a long, long time. It's more the life lessons you learn at university which have stuck with me. They're the things that have actually helped me in my career.
How did you get your job at Reddico?
JC: Through Craig. I was away travelling, knew he'd started Reddico, and I'd done a bit of work for him before. I had a chat with Nick [Redding] and he brought me on as a link builder, freelance, and then that led into an interview when I got back and I got the job. It wasn't really a traditional interview because everybody knew me.
LSS: When I had an interview at Reddico, I didn't know that this was what I wanted to do as a career. I was very junior, I didn't have a massive amount of knowledge, but I guess that I had the tools I would need to learn quickly.
My biggest win has been starting at 18 and progressing. I came along quite quickly, starting with manual tasks, soaking up a lot of the foundations in what we do, to managing bigger client accounts now. I've really enjoyed it and learnt loads along the way.
I enjoy the busyness of agency life, working on loads of different accounts and speaking to people you probably wouldn't cross paths with otherwise.
ON: I was doing work experience alongside my degree and reached out to a bunch of local companies, asking if I could do blog writing and stuff, and one of them said yes, you can, do you know what SEO is? They gave me a very quick overview of it all and that's what opened me up to it.
When I finished my degree last year I knew I wanted to work in marketing and applied for some SEO roles. That went on for a while, then I got interested in the area [West Kent] because my partner is doing her training contract in Tunbridge Wells. I looked at what firms were nearby and found Reddico's website. They had an opening for an SEO executive so I applied from there.
The website has changed since then, but even reading through then I thought it was all too good to be true. I applied and thought I'd see what happened, and it all went from there. On the job description it said even if you have a keen interest in SEO but don't have experience, we'd still like to see your application, so that was good.
AW: It was quite a usual way, I would say. I applied through LinkedIn, went through the stages, and here I am now.
MCE: I worked with Carl [Hendy], Nick and Toby in a previous agency. I've been in communication with those guys for a long time and then I was chatting to Carl about doing freelance work, as he's lived all over the place, and he said talk to Nick. Nick was really gracious to say, let's have a Zoom call, and we spent about an hour chatting. At the end of the call he was like, dude, if it doesn't work out do you just want to come and work here? I had a couple of interviews and then I arrived.
What previous experience do you have?
JC: I worked for a digital agency in Bristol doing SEO and development stuff, then worked at VoucherCloud as a link builder, so that led into the freelance role.
LSS: My first 'career' job was at a similar agency – I did work experience there when I was 16, 17, and then they had someone leave, so they asked me to stay on. I used to finish school at three, then walk over and work till half five. My last year of school, I worked there over the holidays for them as well. I did it for the first summer after I left school, as my first full-time job.
ON: Outside of marketing I've worked in M&S, River Island, Waitrose, all those customer service roles. I was a market researcher during my placement year, for a computer hardware company; they would manufacture computers that were placed on naval ships. I had to try to find opportunities and market size and stuff. Which has been quite useful, because there are some transferable skills for SEO, there's a lot of numbers and data, using spreadsheets and things like that.
Aside from that, just working on clients when I was at university – we were referred to as marketing consultants. I've done a bit of blog writing for companies as well. I was just trying to do little things here and there to boost my CV a bit.
AW: I worked in different environments when it comes to digital marketing, both on the agency side and client side. Then I ended up working on a freelance basis as well. Most of my experience focuses on affiliate marketing, but I did touch on all sorts of marketing-related tasks, from branding to communication to social media.
I'm really happy I can finally focus purely on SEO.
MCE: I worked as an online marketing executive for four years at Coast Digital. Then I worked for around six-and-a-half years, starting as SEO consultant and working up to SEO director at Ayima. I was Head of SEO at Passion Digital for six months. And then I spent a year as Head of SEO and Digital at a technology-focused PR agency called Ballou, which was a wonderful job.
How would you like to progress at Reddico?
JC: The link stuff interests me, the affiliate stuff interests me. The link building stuff is probably where I see myself progressing the most. There's new techniques. We've been talking about it for a while, a new role where I support Ron and his team with link opportunities. But for me, if I'm honest, my main motivation is the business I run outside of Reddico. That takes up most of my energy. I would hate to do just that, though, I'd go mad, so I really like working for Reddico. It's a good balance.
LSS: I'm gonna be a director one day, which is going to be amazing. I'm coming for it. That's where I would love to see myself. When I think about my progression in my life, being a director, being involved in the running of a business is something that matters to me. At the moment I'm at a really crucial point in my life where I've got loads of experience and I'm learning so much, and I want to continue on that path.
I'm never gonna stop learning, but I want more and more responsibility. I want to drive change and make a difference to people's lives. Why would I not want to do that here? I love being here.
ON: I want to move up to the consultancy level. It's not that close, as I'm still in that probationary period [Writer's note: Since the interview, Ollie passed his probation] and fairly new to SEO itself, but that's the long-term goal. Lewis and I have looked at the career matrix and outlined where I am now and what I need to do going forwards. That's the aim. I don't know how long it'll take, but I'll get there eventually.
AW: As of now, I would really like to take it slow and polish the skills I already have. I can see there's room for improvement, so I'd like to focus on things that I already know of and want to be a pro at. Then I would like to move on to more technical aspects of SEO, which I have had a chance to touch on before, but not in a serious manner. So that's my next step.
MCE: I had a fun conversation with Nick about this. Theoretically, I can't progress, right? There's nowhere for me to get promoted. In terms of progression, I said to Nick before I joined, I went up the corporate ladder, found myself as high as I could get, and the higher I got, the more miserable I got. I was frustrated beyond belief.
I've taken a lot more stock of my life, of things that are actually a priority and make me happy: just doing good work, helping people, having my opinions count. However, I am a very competitive person, there's gonna be a point where I want to progress somehow. That's what Nick and I are discovering in my coaching sessions at the moment, how that would be.
I think the biggest thing for me in terms of progression is helping the company progress. There's a reason I work here, and it's because I can use my experience. I joined Reddico because of the culture; I trust the people who work here. I like the people who work here. I respect the people and the agency as a whole.
I think Reddico hired me because of the experience I have and what I can bring to the table. I think if I can just use those qualities to the best of my ability and help the company grow, that will give me some satisfaction. I am here to help people at the end of the day.