Guides
Marketplace SEO: The key steps to a killer listing
Huge marketplace platforms such as Amazon, eBay, Etsy, Wish and Alibaba offer brands the opportunity to put their products in front of millions of users — users who spend a lot of their time browsing the ecosystems of these platforms. Amazon alone has over 200 million Prime subscribers who will spend their time shopping within the platform and its associated business arms of Alexa, Kindle and Prime Video.
These marketplaces have their own structural nuances and ways of working. As a brand selling a product or service, it's important to get a good understanding of how to optimise your listings on these platforms. This is where marketplace SEO comes in.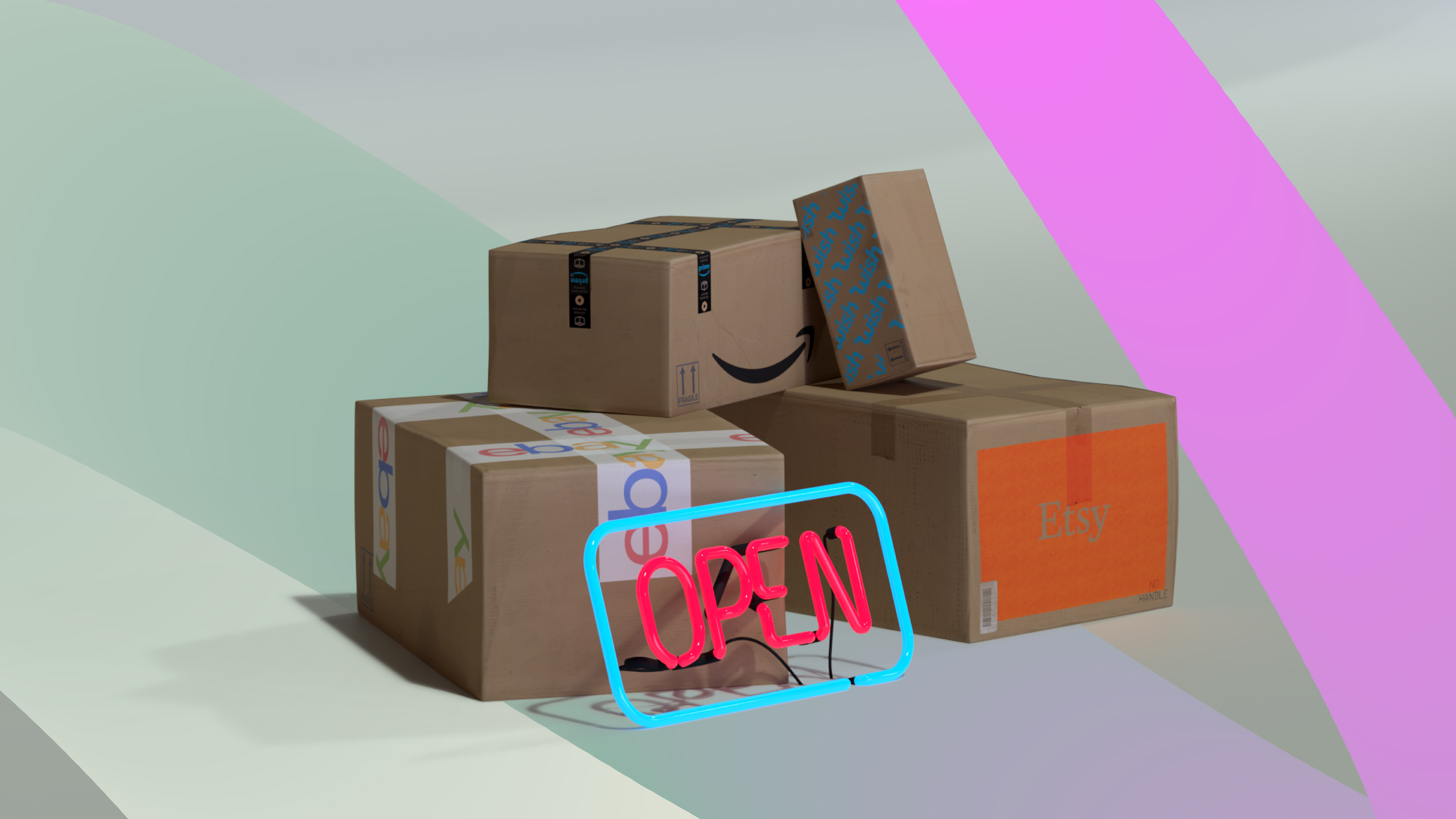 What is marketplace SEO?
Marketplace SEO relates to optimising listings within the platforms of certain websites that list products, as we've alluded to above. As huge eCommerce platforms in their own right, with millions of listings, various categories, filters, price ranges and more, these platforms invariably have their own search engines and algorithms.
In essence, the goal is to optimise your product listings and get them to rank higher for commercial and transactional search terms in order to get users to buy.
Unlike other SEO variants, such as international SEO and eCommerce SEO, there are many who argue that marketplace SEO should be treated as a separate discipline entirely.
This means that alongside your traditional SEO efforts, there need to be considerations for Amazon SEO, eBay SEO and Etsy SEO, among others, if you're an eCommerce brand wanting a bigger share of sales through marketplace sites.
We won't go through the piece-by-piece particulars of these big hitters here. However, there are some recurring themes and considerations which are relevant across the board, that we can use for our overall marketplace SEO strategy.
Should I consider investing in marketplace SEO?
If you're offering a product as an eCommerce brand and you're looking for ways to diversify traffic and revenue via online product purchasing, then the answer is yes. Taking away the potential of users active within marketplace sites like Amazon and Etsy, the propensity for product listings under such websites to appear in Google search for certain product terms is also high.
A search for certain product types, say, for example, "Garmin Forerunner 245 Music", will not only result in the brand website appearing in the SERPs, but will also see listings in marketplace sites such as Argos, Wiggle, Amazon and Idealo, among others. If you're the business behind this product you're going to want to look at ways to ensure your listings on these third-party sites are optimised to attract buyers from within these platforms.
If you're in a particular niche and are selling a product without an immediately obvious presence on major marketplace sites, then you'll need to understand the demand out there. Outside of traffic to your site, are people searching for your product or your competitor's products on marketplace sites relevant to your industry? What's the nature of their searches outside of direct brand or product terms?
Outside of the major marketplace players like Amazon and eBay, there are plenty of marketplace sites that cater to specific industries. In the UK, the video game industry has sites such as Game, 365Games, and Simply Games, to name a few. The real estate industry has players such as Rightmove and Zoopla in the UK, and Zillow and Realtor in the US.
Establish the opportunity and marketplace website landscape in your niche, along with your consumer research, and then decide whether it's worth venturing into marketplace SEO and capitalising on the potential opportunity in your industry.
What are the main differences between marketplace SEO and traditional SEO?
There are a number of technical and content-led differences when it comes to optimising pages for marketplaces compared to pages for search engines. One of the core differences is user behaviour and where they are in their journey.
When it comes to optimising websites for Google, there are many stages of the marketing and sales funnels to consider, as well as a number of different search intent types that feed into these.
For example, a user early in the sales funnel considering a new laptop may turn to Google and type in something like "best laptops under £1,000 in 2023". They may then browse a variety of informational and comparison articles across the likes of TechRadar, Tom's Guide or on mainstream news sites to get an understanding of their options.
Following this, if they have a good idea of what types of products fall within their desired budget and overall requirements, they may turn to the likes of Amazon or indeed a more tech-specific eCommerce platform such as Currys or Argos to streamline their search. This is where marketplace SEO kicks in and becomes so important.
At this stage, given that the user is much further down the funnel and is close to a purchase, search terms within these platforms are more likely to be transactional and very specific. Perhaps something like "Dell XPS 13 9350" if they have got a specific product in mind.
This is when it's important to make sure the following elements of your product listings are fleshed out and relevant to search terms:
Product titles

Descriptions

Product information

Imagery

Reviews
Not only will this favour your potential rankings within these platforms, but a fully detailed product listing page with as much relevant information possible will encourage users to convert.
Another key difference is that unlike doing SEO for your or your business's website, where you may have full control of the codebase and ways in which to build out a page, marketplace SEO does leave you at the behest of your platform of choice in terms of technical markup and content fields to optimise. This means it's vital to ensure familiarity in terms of what you can do within each platform.
Like traditional SEO, marketplace SEO also has stiff competition. The key difference here, however, is that in marketplaces, you're competing with potentially thousands of other listings using the same listings formats for similar products targeting similar keywords. This means you have to be smarter and more strategic in how you optimise your listings and make them as relevant to buyers as possible.
The key steps to a killer marketplace listing
Regardless of the platform you're working with, there are a number of key steps to follow to help you create a well-optimised marketplace listing that puts you ahead of the competition.
Keyword and consumer research
This is one area where traditional SEO prowess can help in driving your marketplace SEO efforts. Hone in on transactional keyword data for your product base and take learnings from your success stories there.
It's likely that there are similarities in transactional, end-of-funnel search behaviour when looking at how users behave on search engines and marketplace platforms. Utilise insights from the product listing pages on your websites in terms of how they rank and perform, and map those commercial terms to your listings accordingly.
There are also some great marketplace-specific keyword research tools out there (such as for Amazon) that can pull in data from searches within these platforms. A quick tip is to take a look in the internal search bar of the marketplace site in question and see what comes up in the autofill or related search suggestions. This can complement your keyword research data nicely.
Optimising your product listings accordingly
Depending on the marketplace platform in question, there will be various listing fields and elements you can add colour to, as well as algorithms to consider. For example, Amazon's own "A9 algorithm" ranks listings by performance, reviews and relevance in terms of how they match user intent. Using Amazon as an example (which will hold relevance to other platforms), there are a number of things to consider within the listing that will affect this.
Optimise product titles. Ensure titles don't exceed 200 characters and include your brand name and target product keyword. Along with images, this will be the first thing users see. Use the limited space to do all you can to match intent on the product users may be looking for and to signal relevance. Are there any unique modifiers (such as size or dimensions) of your product that will be relevant to your potential buyer? Does mentioning the colour help? A typical standout product title format to use where you can sprinkle keywords accordingly is: [Brand] + [Product] + [USP/feature] + [Size/Colour].

Use of imagery and videos. Use high-quality, high-resolution images (and indeed videos) that show your product in the best light. If applicable, make use of images from instruction manuals or for certain use cases. Buyers are often looking for products that feature specific use cases or have certain functionalities, so do your best to show these off. As with traditional SEO, mark these assets up with a variety of unique, detailed alt text.

Detailed product descriptions. Using a maximum of 2,000 characters, include keywords about your product and highlight important features that make your product great. Selling a laptop? Highlight USPs such as its speaker system, graphics card, processing speed, screen dimensions and RAM, for example. Utilise bullet points to separate the text in a clean, digestible manner. Again, highlight anything that has a specific feature or use case over similar products.

Use reviews to your advantage. While we can't control the content of the reviews (your amazing product will do that!) we can get involved in the conversation by thanking users who have left a positive review and responding in detail to negative ones. Reviews are one of the primary ranking factors in many marketplace sites, so look to encourage users to leave a review once they've purchased your product, as you would with your web pages and Google Business Profiles.

The price is right. Pricing isn't a ranking factor and may be out of your control if the business has set-in-stone commercials, though it still remains a big factor in the decision-making of the buyer. Examine competitor products that offer similar (or indeed the same) features to yours and see if there are ways in which you can be more competitive. Offering these insights back to C-level stakeholders alongside your ongoing marketplace SEO strategy can be valuable.



What SEO areas should I consider if I'm a marketplace website business?
Flipping the topic of marketplace SEO on its head and approaching it from the standpoint of a business running a marketplace website, there are some key areas to consider.
While this warrants a separate guide, due to the vast nature of running large marketplace sites from an SEO standpoint (take a look at our guide to eCommerce SEO for some additional pointers), we'll touch on a few here.
Programmatic SEO
Programmatic SEO is the process of generating vast amounts of landing pages at scale and is commonly used by the likes of TripAdvisor and Zillow to capture demand on searches such as "things to do in London/property in London", to give some examples.
Run your keyword research around your service and gather data for both head terms and modifiers, such as colour, size, price, location and so on.
Work with your development team to come up with a code template to produce these landing pages at scale, with the ability to easily modify them so they provide unique content and insights based on additional research. Programmatic SEO is resource heavy (largely on the developer and QA side), though if done well and to a high standard can help you capture searches around thousands of core commercial terms with your programmatically created landing or product pages.
Schema markup
Whether you're undertaking a programmatic SEO venture or not, the implementation of correct Schema or structured data in the html of your product or listing pages at scale is a vital step in any eCommerce or marketplace SEO program.
Product reviews, for example, which provide Google further data around brand, seller, price, product itself, company address, and images, along with aggregate star ratings, will get you ahead of the game in marketplace SEO via the means of star rating snippets appearing in search results. Good reviews generate trust, which will encourage the user in their buyer decision.
Indexation management
eCommerce or marketplace brands with thousands of product listings will need to manage the indexation of their assets on Google to get the most out of their crawl budget. The use of multiple sitemaps covering different site sections is a good way to manage this and ensure your priority pages are listed accordingly to prioritise crawling and indexing.
A typical headache around crawl budget for eCommerce and marketplace sites is Google crawling (and possibly indexing) expired or out-of-date products or deal listing pages on your site. Look at ways in which you can utilise redirects or canonicalisation methods so that your important listing pages are given priority in the eyes of Googlebot.
Automation techniques (handle with care)
One way in which some marketplace sites attempt to boost their organic traffic via user searches in the site is the deployment of automation techniques, with one example being a landing page generated for certain searches, complete with page titles, meta descriptions and templated intro copy.
Some freelance marketplace websites use this method, for example, with users who search "graphic design freelancers in London" being presented with a landing page showing talent that suits their request with some automated body copy around the search term.
Complex indexation rules will need to be applied to these pages as there is the potential for things to get out of hand, not only with thousands of low-quality pages being crawled but with spammy search terms showing up in search results. Job marketplace site Indeed has famously fallen victim to this going wrong.
The marketplace SEO opportunity continues to be huge
Alongside the titans such as Amazon and eBay, the emergence of marketplace sites for almost any niche out there continues to prove that marketplace SEO is a massive opportunity for brands in the eCommerce space.
Even if you're not selling a physical product, if there's a chance to leverage listings pages around your brand within a relevant marketplace website then it's certainly worth considering. The chances are users will be searching for your brand or product, or indeed your competitors.