Culture
Our culture revolution. Part 11: Have our 360 Reviews been a success?
We're just a normal agency. You may own one. You may work for one. We're ticking along nicely, picking up new business and growing at a good pace. The team size has upped from 1 to 20 in five years, with plans of reaching 50 by 2021. Everyone seems happy. But we want more.
Day Zero was the launch of our manifesto. Its aim? To revolutionise our culture, attract amazing talent, and be recognised nationally as a great place to work.
Over the course of the next few months we'll be taking you to the heart of Reddico, sharing our highs, our lows, and our eureka moments. We'll be honest and open about everything. What works. What doesn't. Whether you're here for inspiration, to watch us fail, or out of sheer curiosity, welcome along.
No hours. No managers. Rules set by the team. Let's see what happens next.
Over the last couple of weeks we've been discussing 360 reviews and the positive change they can bring to any workplace. Rather than relying on feedback from your line manager, there's the opportunity to get valuable insights from the rest of the organisation.
Whether it's positive or constructive feedback, you can address areas and focus on improvements personally and professional.
They sound scary in principle and being marked by your colleagues can feel a little unnerving. But if they're used in the right way and promoted as a real chance to drive change in yourself and how you're perceived, they can be extremely effective.
Last week we explored how our 360 reviews would work, and gave an insight into the tool our development team have been working on.
In this final post on 360s we'll look at how the first bunch of reviews went, and dig into version two of the tool we're creating.
Should we have rolling 360 reviews?
If you've kept up to date with our culture blog, cast your mind back to a few months ago. When discussing OKRs (the measurement system we use to drive results), we considered the possibility of having rolling objectives. This is opposed to quarterly targets, and once you complete one goal you simply move on to the next.
It sounds good in principle, not having to wait for a certain time of the year to set your new objectives.
But when you're planning to push a number of changes in the workplace (as we've been doing), it makes sense to start with an element of structure. Give yourself the opportunity to test, get feedback, and refine – before experimenting.
360s are another perfect example of where getting the fundamentals in place first is crucial. They're new to our business and something everyone has to get used to. Why risk chaos and uncertainty before you've even got going?
That's why we opted for quarterly 360 reviews, rather than have them open all through the year. Who knows, that may change in the future. But it will hopefully pay to test the water first before loosening the reins.
Our first 360 reviews – team quotes
Over the month of August we ran our very first internal 360 reviews. Each team member needed to complete a self-review, before asking three others to review them.
But how did it go?
Let's ask the team.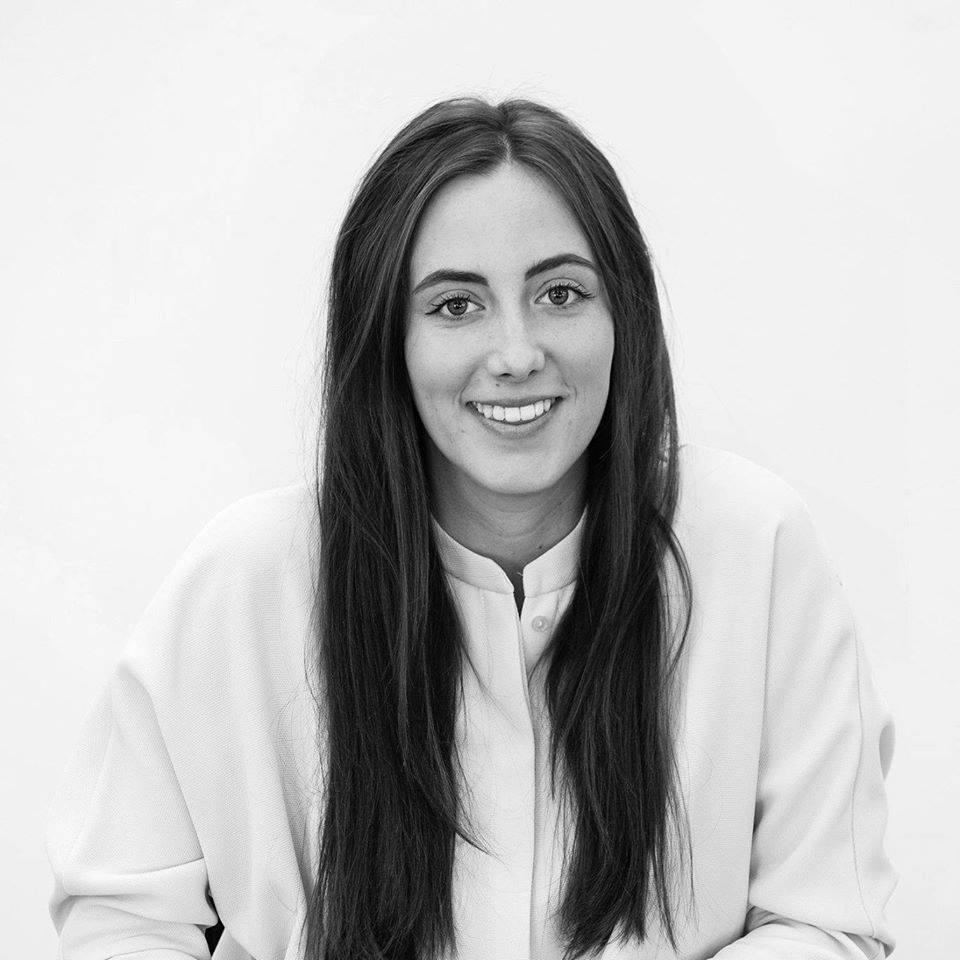 Content Manager, Holly Jackson, has found the task of reviewing others initially challenging, but feels 360s have been really valuable:
"I found 360 reviews difficult at the start, and still do. It's a real challenge to think about how your comments can add value to other people – but they really do. I've seen how important it is to get honest feedback, as some of the remarks I've got have been expected, and others have given me something new to think about.

"It's good to see people already acting on feedback I've suggested too. Getting the perspective from people you work with in this way can have a real impact on how we all work together. It's definitely a team effort, as you can make small changes which other people will appreciate massively. It might even be things you never thought of, and which take minimal effort.

"So even though there will always (I imagine) be people like me – who find it hard to provide honest feedback in a constructive way over a series of questions – I do think it can add value to other companies."
PPC Account Manager, Katie Layzell, joined Reddico in June. She was tasked with the challenge of reviewing others just a couple of months into her role:
"360 reviews are a great way to get feedback from people who wouldn't normally review you throughout your time at a company. Receiving feedback from people other than your manager allows you to focus on feedback for a range of scenarios and not solely on your job performance.

"It's a valuable tool as it can cover all bases from not only reviewing your job role but how you work with other departments and within the company itself.

"Other companies should take on this approach if they would like their employees to grow professionally and on a personal level."
SEO Consultant, Lewis Pugsley (@PugsleyLewis) was sceptical to begin with, but has been won over by 360s:
"It's great to get feedback from everyone rather than just the typical manager feedback. Everyone has great insights and feedback I can improve on and help different areas of the business.

"At first it was a little daunting reviewing fellow colleagues but you soon get into the swing of things.

"It's encouraged to be open and honest. As everyone has this mindset people take feedback well and I've personally found it's helped me think about ways I can better myself.

"I was a sceptic to begin with, but after the second phase of 360 reviews I'm a fan! It's quick and easy to do and has helped me personally."
Evaluating our 360s and driving improvement
Nothing's perfect first time around. 360s were always going to be a case of trial and error, and there would be much to refine as part of improving the experience for the team.
We organised a group feedback session to discuss the first round of reviews and iron out issues, whilst identifying ways to build on the tool for three months' time.
Some of the main points are detailed below.
Problem 1: Sections merged. People would repeat points across multiple parts of a review, as there was occasionally a similarity between questions.
Fix: We identified the questions and wrote new statements to make each section more defined (reducing the chance of crossover between sections).
Problem 2: The review took too long.
Fix: We reduced the number of questions in each section and improved the display of the form, to make it easier for the team to summarise points and provide as much value as possible to the person they're reviewing.
Problem 3: Some of the skills didn't match up too well with the values.
Fix: This was something touched on last week, and we mentioned a couple of the values that we were initially unsure of. These were updated and became:
Pursue growth and learning: Self-motivation

Build open and honest relationships: Integrity

Build a positive team spirit: Interpersonal

Embrace and drive change: Leadership

Make a real and meaningful impact: Impactful

Be passionate, proud and determined: Passionate
Problem 4: Difference of opinion on what should be scored a 1,2,3,4,5.
Fix: Wording was added to each score, to give more background as to what the reviewer should be looking for. For instance, a 1 = Never and a 5 = Always.
Problem 5: The team weren't able to mark accurately against all criteria, and for some statements they wouldn't know, or wouldn't have seen the person they're reviewing in a certain situation.
Fix: A 'don't know' option was added. This doesn't count towards the final score.
There were a number of changes made around the display of the form, as well as extra features from an administrative POV. These are shown in the next section.
Our 360 tool – version 2
Here's some extra insight into our 360 tool and how it's displayed for users.
The updated form completed for each review: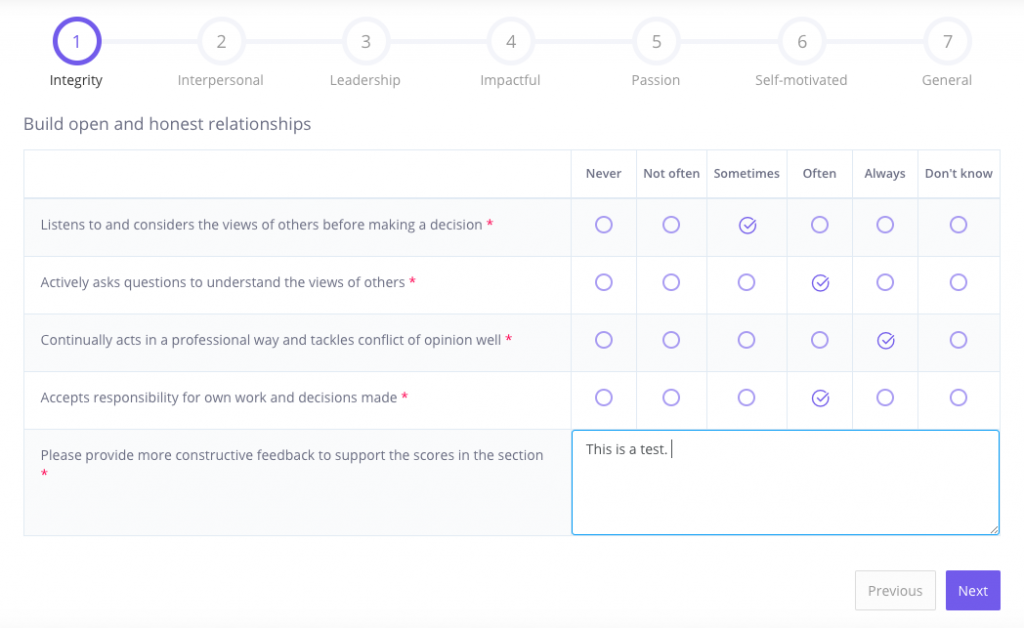 An individual feedback page. The yellow shows the self-review, whilst the blue an average of all those who have reviewed Rick. Choosing the review opens up the tab, displaying written feedback.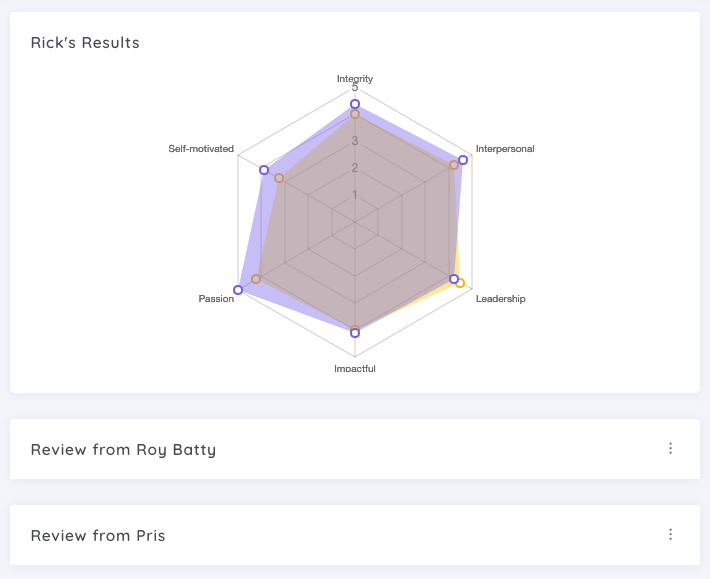 A top level view of other's scores, highlighting their strengths and areas for improvement: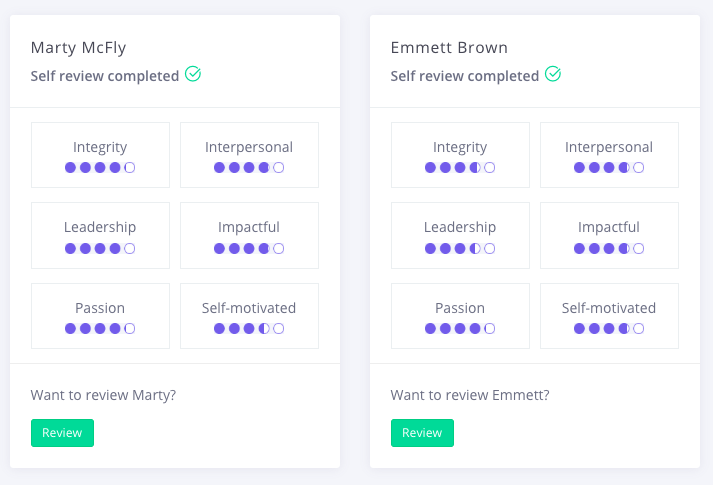 A slightly different display, as this person still has three requests to complete. Anyone can also choose to review this person with the green box at the bottom: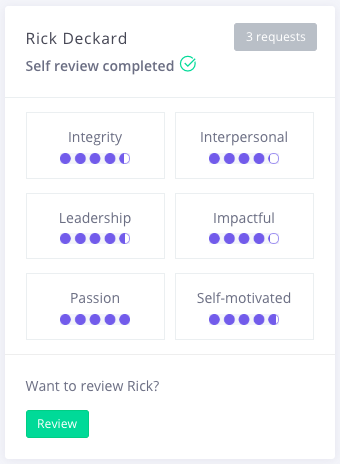 The future of our 360 tool
Our 360s are here to stay and will become a huge part of Reddico. There will always be tweaks and changes based on feedback, but the positivity so far has shown that implementing them has been beneficial.
Going forward we'll be looking to completely overhaul the system and make it as user friendly and functional as possible. There's even the potential to offer it as a product to other companies looking to implement 360s in the future.
We believe rounded feedback from the team is essential to measuring your performance and improving professionally and personally, and there'll only be more and more companies taking up 360 reviews as part of their appraisal process.
What's next?
We're moving away from the Job Ownership part of our manifesto and taking a look at how we can have an impact on charities and the local community.
In years gone by our charitable efforts haven't been the best, and there's plenty we can do with our time and skills to really make a meaningful impact.
We're planning to tackle this in three ways:
Donations: 2% profit each year to be donated to charitable causes

Time: Using our skills to offer services to charities and community projects

Education: Providing educational support to businesses and charities to help them grow and increase their online presence