Culture
What taking a sabbatical at Reddico is really like
Five weeks off work, paid. It sounds completely unrealistic, doesn't it? And yet that's exactly what I found myself enjoying earlier this year. Why? Let's rewind to Spring 2022.
Enjoying the views at Abel Tasman. Yes, the water really is that colour in real life.
Last year, Reddico introduced milestone anniversary rewards, in order to recognise and celebrate longevity, contribution and commitment. There are two big milestones—five years and 10 years—plus smaller ones in between.
One-year anniversary:
Three-year anniversary:
Experience voucher worth up to £150
Five-year anniversary. A choice between one of the following:
£2,000 to put towards a bucket-list item

£2,000 to put into your pension

Five-week paid sabbatical
Eight-year anniversary:
Experience voucher worth up to £300
10-year anniversary. A choice between one of the following:
£4,000 to put towards a bucket-list item

£4,000 to put into your pension

10-week paid sabbatical
I was a few months shy of my own five-year work anniversary when the rewards were announced and I knew exactly which one I would choose: the five-week sabbatical. I'd been saving for a trip to New Zealand for a long time, but hadn't quite figured out the logistics after my initial plans got scuppered by the pandemic.
I knew that if I went, I'd want to tick off as much as possible, because I'd probably only visit once. (Long-haul flying isn't something I want to make a habit of due to the environmental impact. And, let's be honest, flying for over 24 hours isn't fun or comfortable.) Having five weeks off, planned well in advance and paid, would give me the opportunity to make the journey and fully switch off from work while I was away.
What is a sabbatical?
As per Indeed, "a sabbatical refers to a lengthy leave of absence from employment that individuals take so they can travel, complete a goal or fulfil a different ambition." They were originally introduced to give professors a break from teaching, but the practice is slowly spreading to other industries.
How long is a sabbatical?
There's not a definitive answer, but generally a sabbatical can be anywhere between one month to one year – longer than standard annual leave allowances.
The length of a sabbatical might depend on your industry, role, or the amount of time you've worked at the company.
The benefits of employee sabbaticals
They're good for your health
As much as we try, the perfect work-life balance isn't possible every single day. Some periods are busier than others, sometimes personal commitments take over, and it's all too easy to burn out if you've got a lot on your mind. Stepping back from work for a while frees up some headspace and gives you more time to look after yourself, both physically and mentally.
"From a mental health perspective, taking a sabbatical is really rewarding," says Head of Culture Luke Kyte who, initially unbeknownst to us both, also chose to visit New Zealand when he took his sabbatical in December 2022.
It just allows an opportunity to unwind, switch off, and come back ready and raring to go.
I had expected the mental health benefits, but was pleasantly surprised to find there were physical health benefits too. I really enjoyed being away from my desk and have made a conscious effort to get outside for a walk and fresh air each day since returning from my trip.
They give you a chance to reflect
Removing yourself from daily work responsibilities allows you to reflect on what's really important to you, both personally and professionally. Before I went I'd been taking steps to cut down on some of my workload, as I was stretching myself too thin, and having time away helped me to realise I was right and feel more confident in my decision upon my return.
They can help with gratitude
Although great strides have been taken towards work-life balance in recent years, there's still a long way to go. We've all heard the stories of employers desperately trying to get their employees back into the office full-time post lockdown, even though hybrid and remote working allow many people the flexibility to juggle their commitments and look after themselves. So if you're working for a company which encourages taking time off, sabbaticals included, you're probably going to feel very lucky — I certainly do.
SEO Team Lead Lewis Pugsley agrees:
You're working for an employer, you're committed to them, so for them to recognise your level of commitment and say thank you is a nice touch. I joined Reddico because it was a new start-up and I wanted to make an impact and grow the company, so to see what it's become is quite gratifying.
Making it work
The planning process was intense. Not only did I need to sort out flights and accommodation for the Australia leg of the trip (New Zealand was simplified by signing up for a guided tour), but I also needed cover for my everyday work tasks, namely writing for clients and running the eco circle. There are some rules you have to follow if you decide to take a sabbatical at Reddico:
Get approval from your team before making any commitments

Take the sabbatical within 12 months of your work anniversary

Plan your handover and cover, with Reddico's support
I wanted to ensure everyone knew exactly what was needed from them, and to be around to answer questions before I left at the end of February, so I created a large handover doc covering every possible thing someone might need to refer to. All queries were cleared up and, before I knew it, I was on my way to the Land of the Long White Cloud.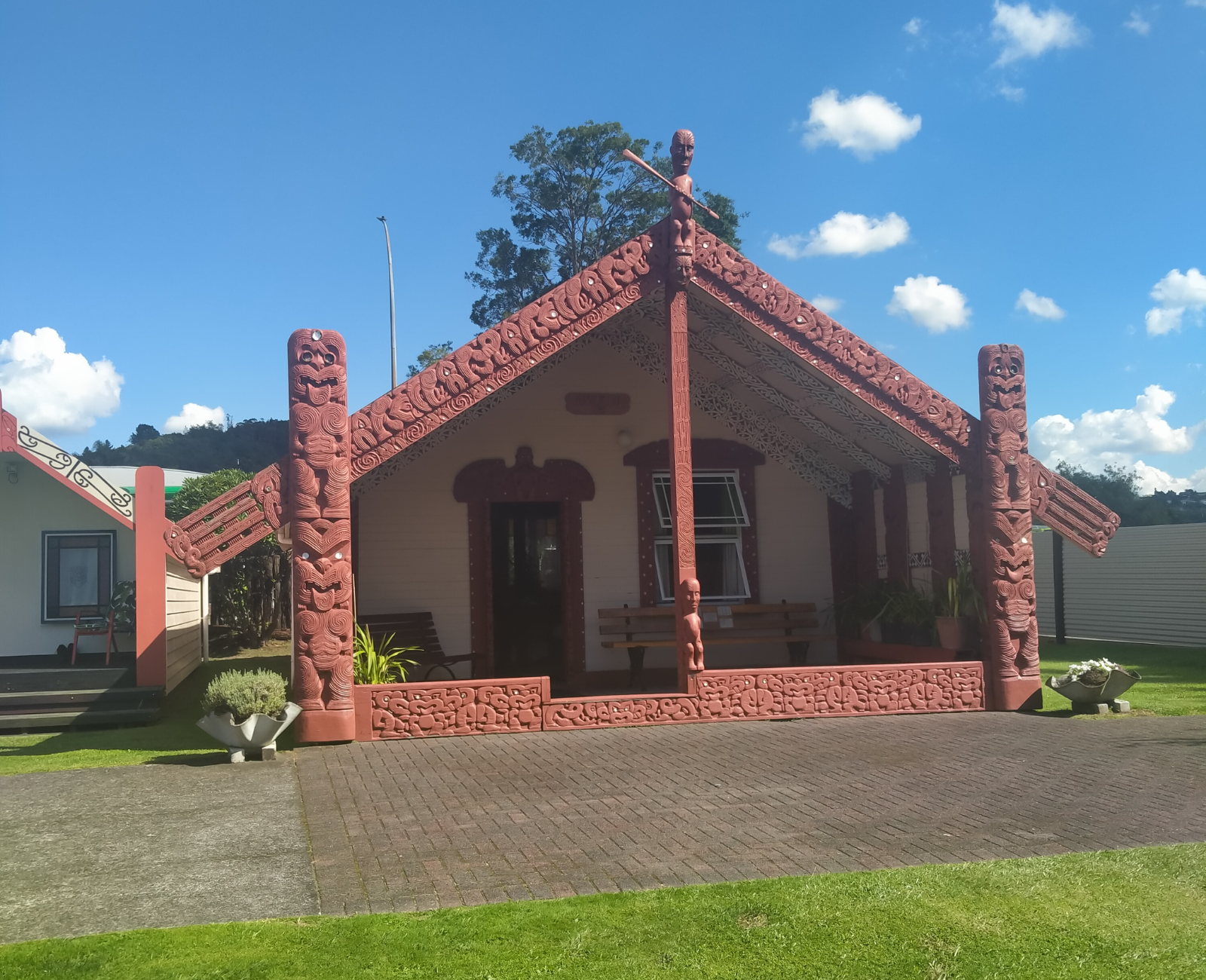 The marae in Rotorua, North Island
The sabbatical
So, why New Zealand?
I'd written about the country extensively in the past and, it seems, absorbed all the carefully researched information, because New Zealand quickly shot to the top of my travel list. I wanted to see the breathtaking landscapes for myself, as well as learn about the history and culture.
Luke adds:
New Zealand really has everything in one place — rugged snow-capped mountains, beautiful Lord of the Rings countryside, golden beaches, and even rainforests.
Within the five weeks I was able to see as much of the North Island and South Island of New Zealand as possible, travel to Australia to see my family, spend a day in Melbourne, then fly home and have a few days to recover before getting back into my normal routine again.
I could write a dissertation about the trip but, for brevity's sake, here are some highlights in chronological order:
Taking in the attention to detail at Hobbiton

Swimming in the Pacific Ocean

Having lunch with a Maori family at their home and learning about their way of life

Visiting a Māori meeting house (a marae) in Rotorua

Climbing up part of a mountain that was used while filming Lord of the Rings

Seeing a real Kiwi in a bird sanctuary

Exploring Wellington: browsing the Te Papa museum, getting a tour around Zealandia sanctuary, and sipping a mocktail in a hidden bar that looked like a library

Walking part of a trail through Abel Tasman National Park

Observing a seal colony in the wild

Viewing the glaciers on the South Island (although this also made me sad because of how quickly they're melting)

A road trip through Victoria with my cousin

Spending time with the Australian side of my family, catching up and, in some cases, meeting people for the first time

Spotting a family of kangaroos in the wild

Wandering around Melbourne for a day, seeking shade in the botanic gardens and then viewing the city from above at the Melbourne Skydeck
Melbourne. The city's Skydeck is on the far left.
Reflections
So, did I think about work while I was away? In short: no. It felt a bit strange not to be doing my usual daily routine, but I was trying to really soak in the experience—I knew I'd be back in the blink of an eye and I didn't want to miss out on anything because I was worrying about the state of my inbox.
A few months on, I'm so glad I took the opportunity to travel while I had the time to do so. Travelling isn't something I do a lot, so I'm proud of myself for stepping outside of my comfort zone and making the most of it. (Another thing Luke and I have in common: "I always regret not spending a significant amount of time travelling after school or university, so the sabbatical reward at Reddico helped to ease the itch.") I had a brilliant time, created lifelong memories, and feel an abundance of gratitude that I was able to tick something so big off my bucket list.
And I'm not alone. Even when people don't necessarily want to take a sabbatical, they might still factor travel into their milestone recognition plans.
Senior Content Writer Simon Edmonds, who received his milestone reward in 2022, says:
The recognition bonus meant I could experience something I probably never would have otherwise.
"I could see the Alamo Mission in Texas — ticking off what had been my most unlikely lifetime travel goal. Some of the best memories I have of my childhood are watching old war movies with my grandad and The Alamo was one of our favourites."
Lewis did the same, putting his monetary gift towards a trip across the pond. "With the contribution, it felt like a stepping stone. Obviously tax comes off that, but it got me to New York and I've always wanted to go and experience it: going to Madison Square Garden and watching an ice hockey or basketball game, the food, the architecture, Central Park, going across Brooklyn Bridge. It was that opportunity to go and do something I'd always wanted to do."
Travel doesn't just benefit the employee, but the employer. It can boost your confidence, communication skills and cognitive abilities, as you're constantly put in unfamiliar situations.
Of course, some people might not choose to travel at all in their time off, instead embracing a slower pace of life. Content Lead Holly Jackson plans to do exactly this during her upcoming sabbatical. "I'll be spending plenty of time with the dog and horse," she says, "doing some DIY, visiting family and friends, just some downtime. I want to come back refreshed and ready to tackle new challenges."
One thing is for certain: extended time off can benefit employee and employer alike. I came back with a new lease of life, more engaged and more enthusiastic than before, and who could be unhappy about that?