Serving clients across the UK and North America, independent luxury tour operator Audley Travel creates premium tailor-made experiences covering both popular and more unusual destinations around the world – including the Antarctic. Their team have all travelled extensively, allowing them to offer immersive tours and off-the-beaten-path activities to help their clients get to the authentic soul of a place. Audley Travel recently became a Certified B Corporation, having met rigorous social and environmental standards.
We've come a long way and SEO is now a recognised, crucial piece of Audley's marketing strategy.
Valentin Boulan, SEO & Web Content Manager, Audley Travel
The brief
Over the last five years, we've helped Audley Travel with all facets of their SEO, including international SEO expansion, technical, on-page, content strategy, improving trust signals, and tactical off-page campaigns.
Following COVID-19's impact on the travel industry, the goal was to set the website up to be in the best possible position to take advantage of returning users and search demand once restrictions were eased, and people were able to travel globally again.
This took the shape of improving organic visibility in terms of rankings for a wide range of luxury travel destinations, including top-of-the-funnel searches.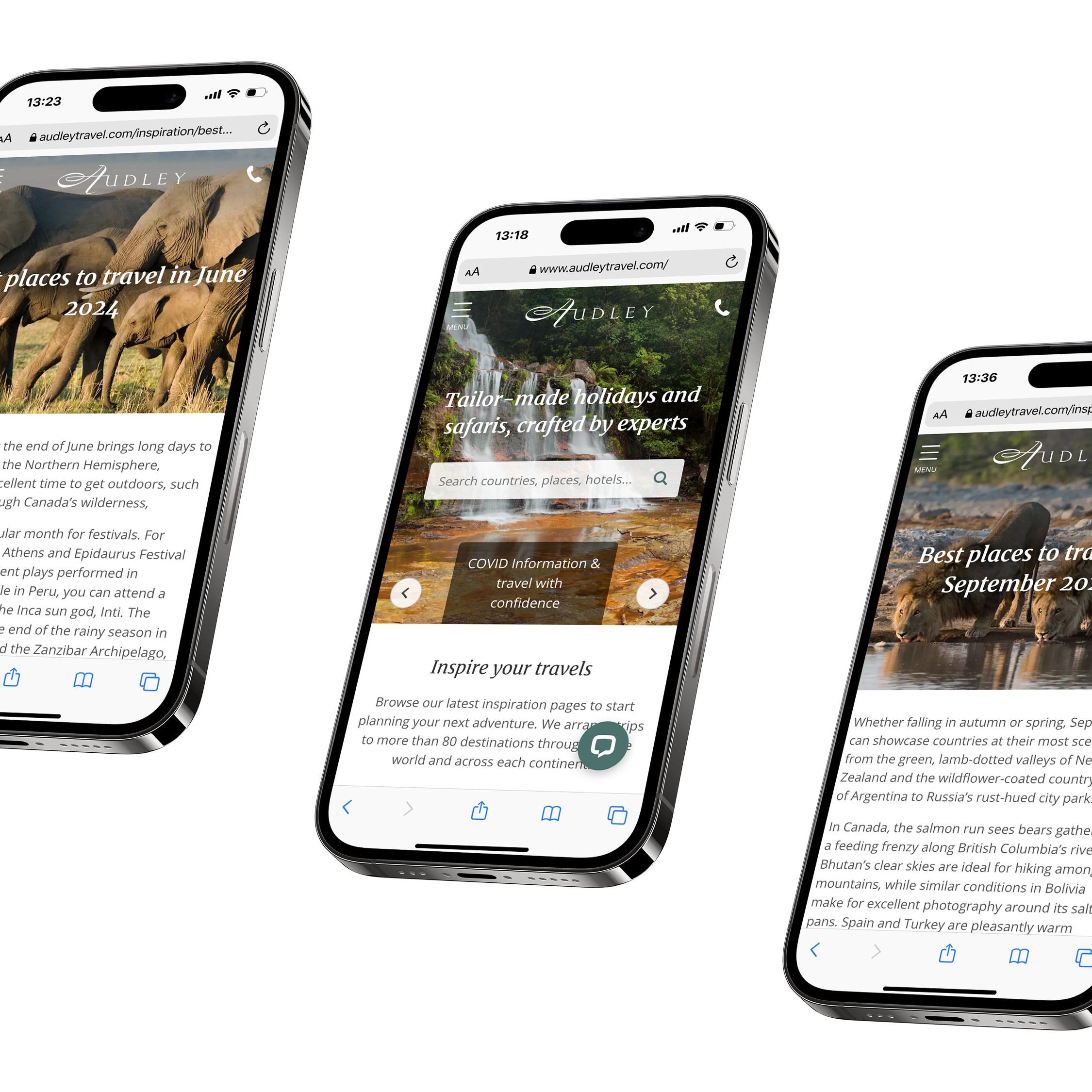 First, we conducted industry analysis to identify gaps in the content funnel that could be created to drive growth. We worked with internal teams to build, test, and deploy new page templates across the site globally, as well as improve existing templates.
We then overlaid key SEO metrics with key business and conversion metrics to create a prioritised list of destinations that would deliver the biggest commercial impact to the business. We audited and improved evergreen destinations that were key to long-term success.

This was supplemented with a content strategy designed at owning more real estate in the SERPS. The aim was to increase long-tail organic traffic for key destination pages by providing answers to users' questions without impacting conversion.
The results
Both the team at Audley Travel and Reddico have been delighted with the results.
Overall site performance:
84% increase in organic traffic for January 2019 (pre-COVID-19) vs. January 2023

43% increase in conversions for January 2019 vs. January 2023

102% increase in first page rankings for UK and US from January 2021 to January 2023*
New content templates:
297% increase in traffic from January 2021 to January 2023

84% increase in first page rankings for UK and US from January 2021 to January 2023*
*Source: Semrush
+84%
Increase in organic traffic
+43%
Increase in conversions
+102%
Increase in UK and US page 1 rankings
We've come a long way and SEO is now a recognised, crucial piece of Audley's marketing strategy. We would not have built these robust foundations and achieved spectacular growth without Reddico's support.
Valentin Boulan, SEO & Web Content Manager, Audley Travel