Guides
Branded Search: Are you using it to its full potential?
For many established brands pursuing organic growth, optimising for non-branded search terms is often the main focus. Yet an often-ignored SEO tactic is assessing various branded search queries and the overall branded search journey for both new and existing customers.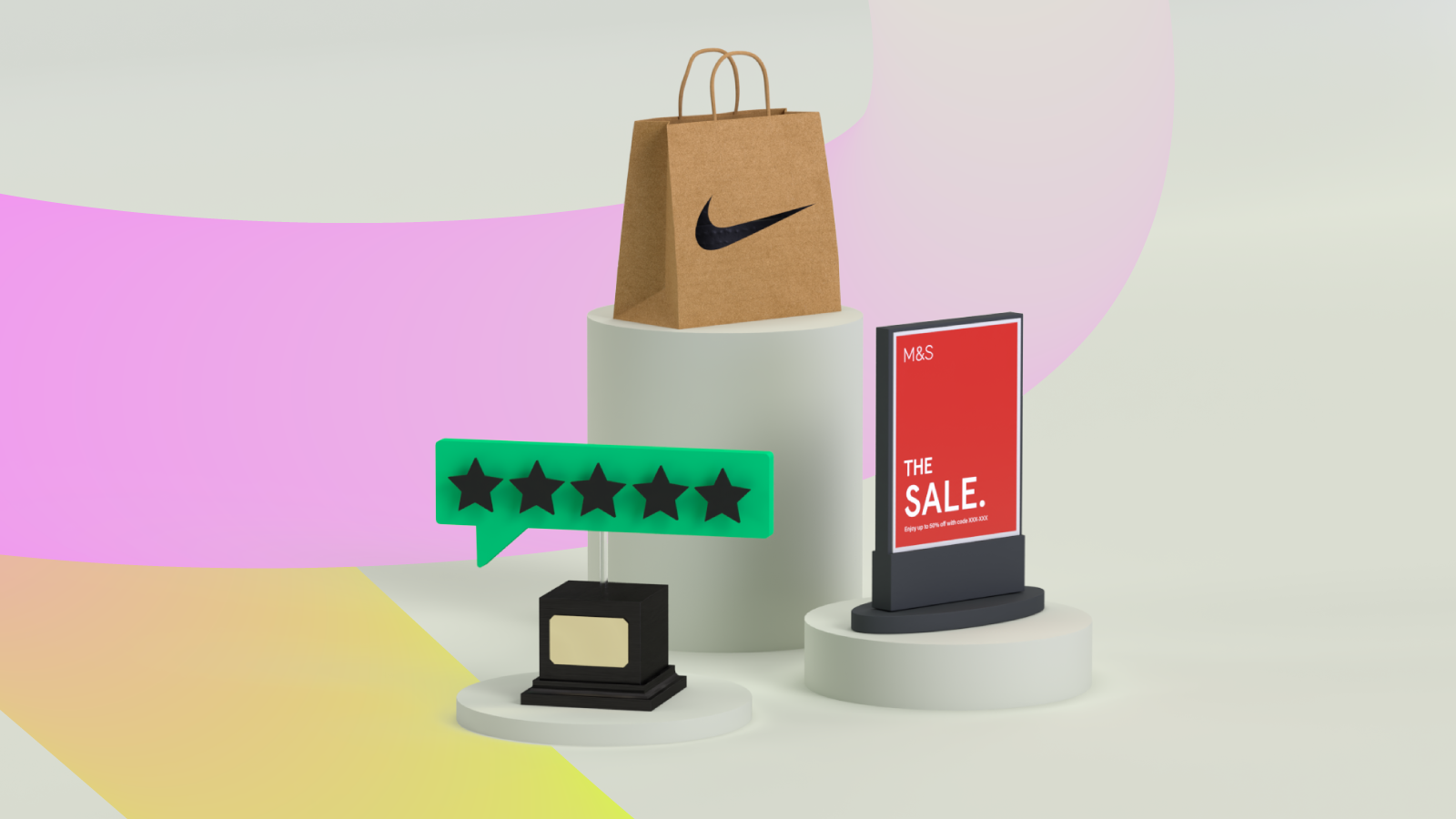 Branded terms offer the potential for higher commercial intent and conversion rates, and are also less competitive to dominate on if you're the brand in question – a win-win situation for SEO strategy.
Think about the last time you looked at search results for queries featuring your brand name or its variants. What are users searching for around your brand name and how is this reflected in the SERPs? Are you doing all you can to capture branded results across local SEO, video, images, Google Knowledge Panel and more?
In this guide, we'll look at ways in which you can optimise and diversify your branded search SEO strategy and make gains regardless of how big a name you are.
What are branded search terms? The full low-down
A common misconception is that branded search terms solely encompass search terms that include your company name or associated brands. In the case of UK supermarket giant Sainsbury's, outside of the main name itself, well-known associated brands such as Nectar, Sainsbury's Local, or Sainsbury's Bank may spring to mind. Sainsbury's is, of course, a massive enterprise and has plenty of subsidiaries such as Argos, clothing brand Tu and, previously, Homebase, that also encompass its branded search ecosystem.
Yet delving further into the main supermarket brand itself, there are plenty of examples of what we would class as branded search terms that relate to their popular product ranges. Think Taste the Difference, Be Good to Yourself, Free From, and Sainsbury's Basics. Slogans from over the years, such as Live Well for Less and Helping Everyone Eat Better, also fall well within the branded search arena and should be optimised for with relevant landing pages too.
Sainsbury's is huge, but this way of thinking can be relevant for smaller brands who have their own product names and lexicon, or slogans and features that offer up certain USPs or solve consumer pain points.
Key people involved in companies also comprise the branded search arena. Founder John James Sainsbury is the obvious one in our above example, as would be current CEO Simon Roberts.
Outside of large enterprises such as Sainsbury's, additional branded search terms could include author names of site content contributors, or people publicly involved in outbound marketing activities. From a Google standpoint, John Mueller, while not a founder of the company, has become an integral household name for Google in its SEO-facing activities.
Why should I be reassessing my branded search strategy?
It should be obvious why branded search is important, and many companies do adhere relatively well to the basics, which can include the following in the SERPs:
Multiple sitelinks

A Google Business Profile listing

Social media links

Branded imagery

A Google Knowledge Graph, with a Wikipedia link for larger entities
This is key as an initial representation of a brand, though many may stop at just this, even though there's so much more opportunity to capitalise on. Here's why branded search keywords are so important:
For some large brands, branded search terms make up some of the largest traffic drivers. It's important to address this part of the user journey.

Users searching for keywords including branded terms show an existing level of high brand awareness and typically have a stronger purchase intent. Think "pet food Amazon" or "skinny jeans ASOS" – users already know where they want to buy from.

Search volumes around branded terms will be big, particularly for large brands. It's important to represent this as best you can in the SERPs to influence your marketing funnels.

If you are the brand in question and there are branded clear signals from your social media, Knowledge Panel and elsewhere, Google will usually rank you well for branded search terms. This is easier than ranking for super competitive, non-branded search terms in your industry.

Branded search terms are an integral part of paid search strategy in terms of SERP reputation management and SERP real estate, and should be considered as such for organic.

There are plenty of brands out there with similar names that can compete on the SERP (think Dove beauty products and Dove chocolate), so it's important to send clear signals to Google about who you are.
How to research branded keywords
The types of branded keyword opportunities available will vary brand to brand, but here's how you can harvest further opportunities.

Use the SERPs as your ally
There are obvious routes to gathering branded data from your existing toolset, and we'll touch on that later in this section. But let's start with the actual SERP is saying in relation to your brand and how this can help drive further branded growth.
What's coming up when you enter your brand name into the search bar? What long-tail queries are coming up in relation to your brand? Search suggestions can be invaluable to your branded search strategy as they represent previous searches around your brand and how frequently they come up. Google's automated search suggestions may also influence customer decisions and sentiments around your brand, so it's important to ensure you've got this covered.
Take a look at the autocomplete searches for the branded term "England National Football Team":
Here, we've got a wide array of related popular, frequent branded searches around the topic of the England team that would be worth optimising for the team brand or the Football Association.
Google's People Also Ask can be a great source to extend your branded search reach, too. A simple search (such as the above) will present you with a selection of question and answer boxes around long-tail search terms related to your brand that Google deems relevant:
Utilising your SEO toolset
There are brilliant third-party SEO tools out there, such as Ahrefs, SEMRush or Moz, that will return plenty of data around branded search terms. Many will also allow you to dig for additional long-tail branded search terms by applying straightforward branded term filters when exploring further opportunities.
However, ensure you don't overlook Google's native tools to get an accurate sense of what types of branded terms and driving traffic to your site, and where improvements can be made. Google Search Console is a brilliant first port of call for this.
Simple filters can be applied to get a view on performance around branded queries by clicking on the "+ New" button at the top of the performance report, toggling the "Queries containing" selector, and entering your brand name:
Don't forget to rinse and repeat this step on branded terms variants (such as products) and on common misspellings around your brand to ensure you've got a full picture. This will then return the data of your choice (clicks, impressions, CTR, average position) with those queries in mind, and how pages on your site associated with these terms are performing in relation to them. You can also disseminate data via country, device, and search appearance.
An advanced tip here would be to use the custom regex feature within Google Search Console to apply specific filters, to capture all the queries you're keen on mining in one fell swoop. Taking the misspelling example, here's a regex command that returns terms containing misspellings of the supermarket brand "Waitrose", including "Watrose" and "Waterose", alongside the correct spelling:
(Wa|Wat|Wate)rose

Take a look at this guide on regex commands for certain search terms to get started with further ideas. Further documentation by Google on using regex within Google Search Console can also be found here
A quick note on misspelling and brand name variants: it may be wise to acquire domain names that are often represented in how users are searching for your brand, or on different top-level domains (.com, co.uk, .org etc).
Buying up these variants will ensure you're protected from imposters who may pose as your company. You can also protect the journeys to your site around these potential misspellings by implementing redirects to your main site.
Cross-department data
A brief final point on gathering additional data on your branded search terms: get in touch with your other marketing channels and find out what they're doing. We previously detailed the benefits of SEO working with other marketing disciplines. It's likely that you can ascertain some fruitful insights on what branded terms are performing best and where improvements can be made from your paid search or paid social teams, for example.
Examples of branded search variants and their uses cases
I recently published actionable examples of some overlooked branded search query variants on Twitter and LinkedIn. Let's go through some of them and how you could start deploying them in your branded SEO strategy now.

[brand] + [discount code]
Watch out for those pesky affiliates taking their last click commission cut. Own your discount code search results. Create a landing page that details current & previous codes. Use it as an opportunity to capture email addresses or message visitors.
[brand] + [reviews]
Review platforms rank for branded review queries. Add a page to your website /reviews and embed platform reviews if required. Using messaging or customer support chat popup can help prevent bad reviews.
[brand] vs [competitor brand]
Always a delicate discussion to be had but creating "vs" pages can help prevent customers going elsewhere or drive new customer acquisition. Providing helpful factual unbiased landing pages will help build trust and transparency.

[brand] + [logo/images]
Create a dedicated landing page for company images. Potentially drive links to image sources. Add a message to journalists if they wish to contact/cite brands.

[brand] + [size chart]
There are affiliates dedicated to this niche. Create a dedicated size area, splitting out categories as shoes, gender, age groups etc. Transparency in sizing = customer's trust.
[brand] + [black friday]
Always left a week before the event. Get this page ranking early. You want journalists finding and linking to this page. The news publishers will be trying to last click your queries on the biggest shopping day of the year. Make this page evergreen.

These posts generated a lot of discussion on the topic and saw others get involved with their suggestions, with a couple more ideas featured below: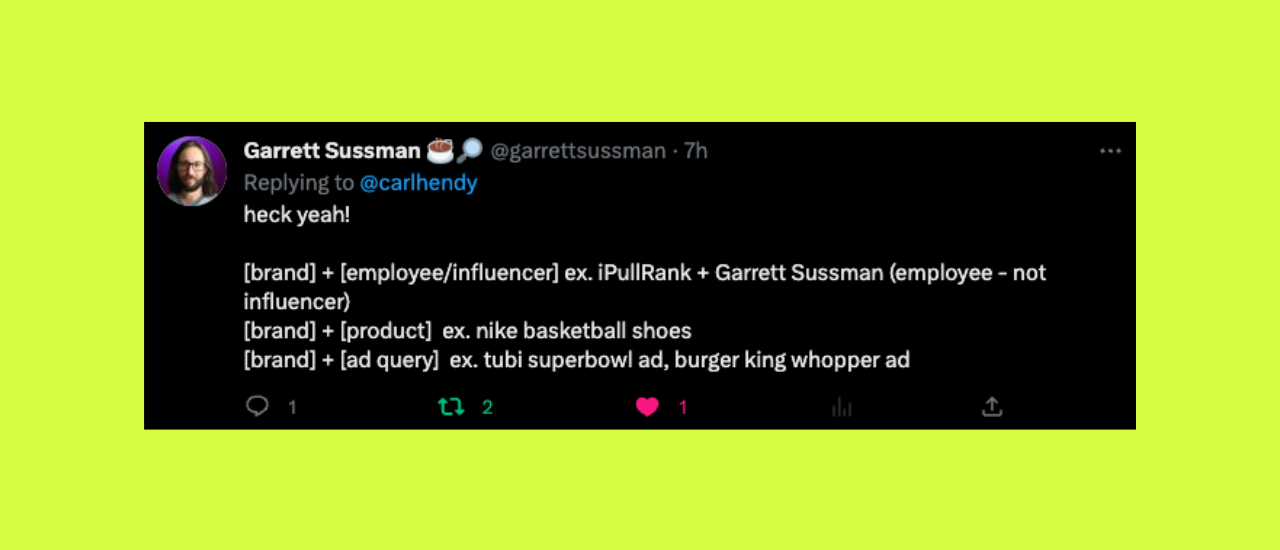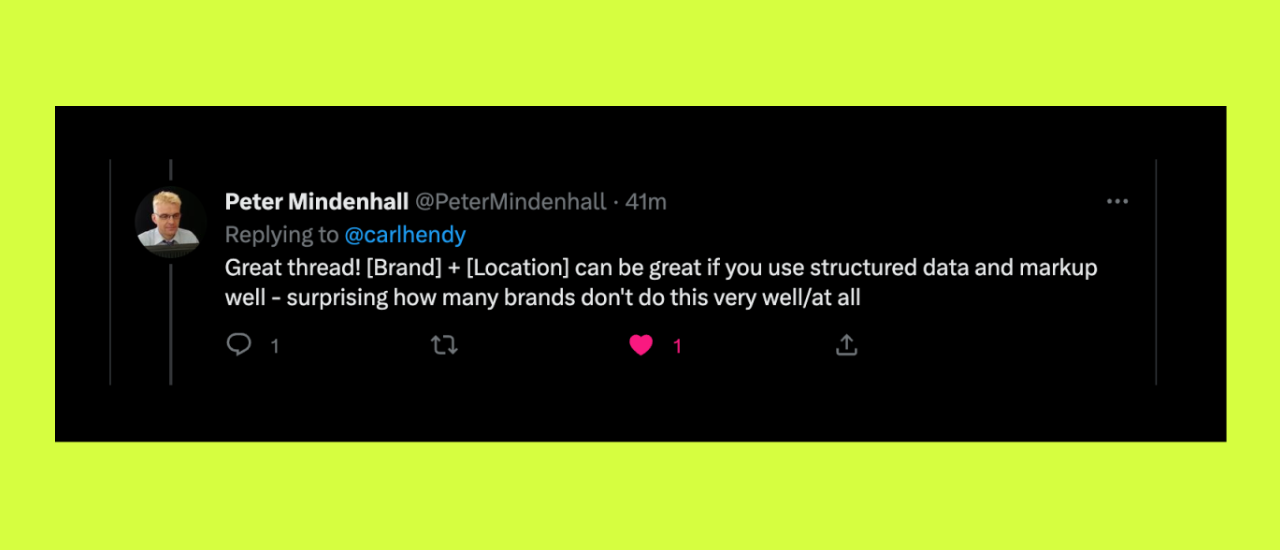 Outside these examples, there are further popular brand query strings to optimise for:
[brand name] + [opening hours]
[brand name] + [address]
[brand name] + [telephone number]
[brand name] + [customer service]
[brand name] + [FAQs]
[brand name] + [return policy]
How to optimise better for branded search queries
In many cases, ensuring you have the correct content, landing pages, and journeys set up to capture the opportunity around some of the above branded keyword opportunities will stand you in good stead. If you're the brand in question and have a strong presence already then there's a good chance you'll rank for these target terms with relative ease.
However, there are areas in which you can take this further. Here are some advanced tips on optimising for branded keywords.
Consider search intent
Search intent matters in modern-day keyword research and content strategy, and this extends to branded keywords. If you've got a selection of modifiers, such as [brand] + [discount code] or [brand] + [competitor brand], then consider the intent behind these terms and sculpt the content accordingly.
Taking the latter example, if a user is searching for a comparison between your brand and a competitor, it's likely they're quite far down the sales funnel and are looking for a few final details to inform their purchase. In this instance, it may not be too wise to simply meet the user with a landing page that simply addresses why your product is superior in every feasible way. Instead, consider highlighting the differences and USPs of your brand in a way that persuades the user through transparency and honesty.
Supplement your brand journeys with additional content
Along with well-optimised landing pages that meet the user intent and cater well to your target branded keywords, there is more you can do in establishing your overall brand authority elsewhere on your site.
Incorporating branded content into your regular blog post schedule is a good way to enhance this. Whether you're announcing a Black Friday campaign, revealing a new product line, have industry case studies, or even have news on activities such as charity work, your blog is a great place to further consolidate brand authority.
If you're a big brand with various brand assets, a long history, a mission statement, and related events and news, then consider curating a wider knowledge base or brand hub as part of your website infrastructure. This can be a space where you feature information around brand FAQs, help centres, and even career information. Take a look at EA's news section or Uber's Newsroom as great examples of this.
Off-page brand efforts
As part of improving your overall branded SERPs, areas outside your website can also play a vital role. Aside from having a branded YouTube channel to enhance video content appearing in SERPs for branded terms, what are some of the important third-party industry sites you need coverage on?
We covered some of this in our SERP reputation management guide, though typical sites that appear below your own for branded search terms are industry review platforms, company information platforms (such as Crunchbase), and social media profile links. Have you curated a healthy looking Trustpilot profile? What about business listings on Yell or Yelp? Is your Glassdoor up to scratch? All of these contribute to your branded search authority and, more importantly, how you're perceived by consumers when they search for you.
Enhancing Knowledge Panels and Google My Business listings
Bigger brands will often have fully fleshed-out knowledge panels featuring Wikipedia links, social media profile links, and key company information. Take a look at the Knowledge Panel for Trustpilot: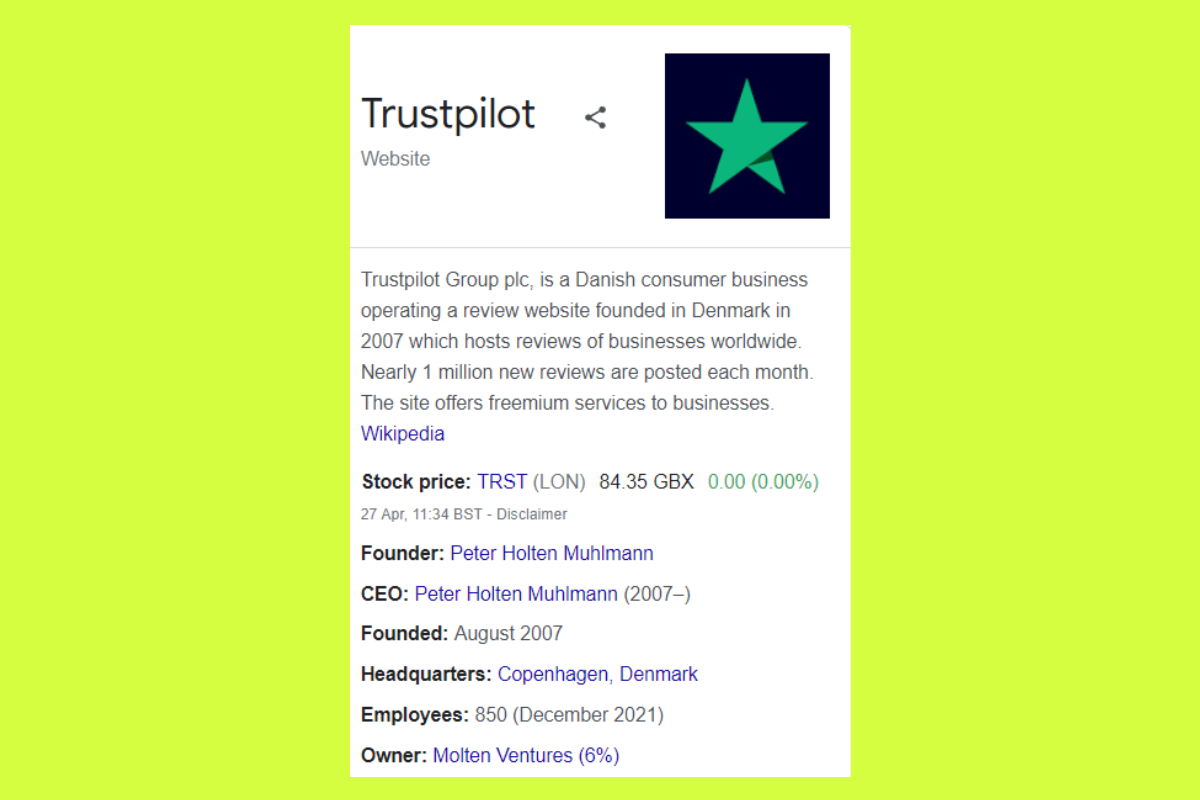 If you're the brand in question, you will have the authority to enhance and update these to make sure they're as thorough as possible. Google has some great guidelines on doing this. Similarly, if you're a smaller, local operation or have regional locations outside of your HQ, setting up and maintaining Google Business Profile listings will enhance your branded keyword SERP experience too.
Covering all your bases
There's a lot to consider when it comes to ensuring the branded search experience for your users is as thorough and far-reaching as you can make it. It may seem an overwhelming venture alongside your ongoing efforts, and some of the areas we've detailed here will vary in terms of priority depending on your industry and what your competitors are doing.
However, the key thing is to follow your branded keyword research, know what your customers (existing and potential) are searching for, and have the journeys to keep them up to scratch and on track with everything you're doing.