Guides
Mastering Google Algorithm Updates
Google Core Algorithm updates can be scary affairs. Alongside the big and noticeably disruptive updates, Google says that changes to its vast and complex algorithm occur multiple times throughout each day, keeping SEOs perpetually on their feet.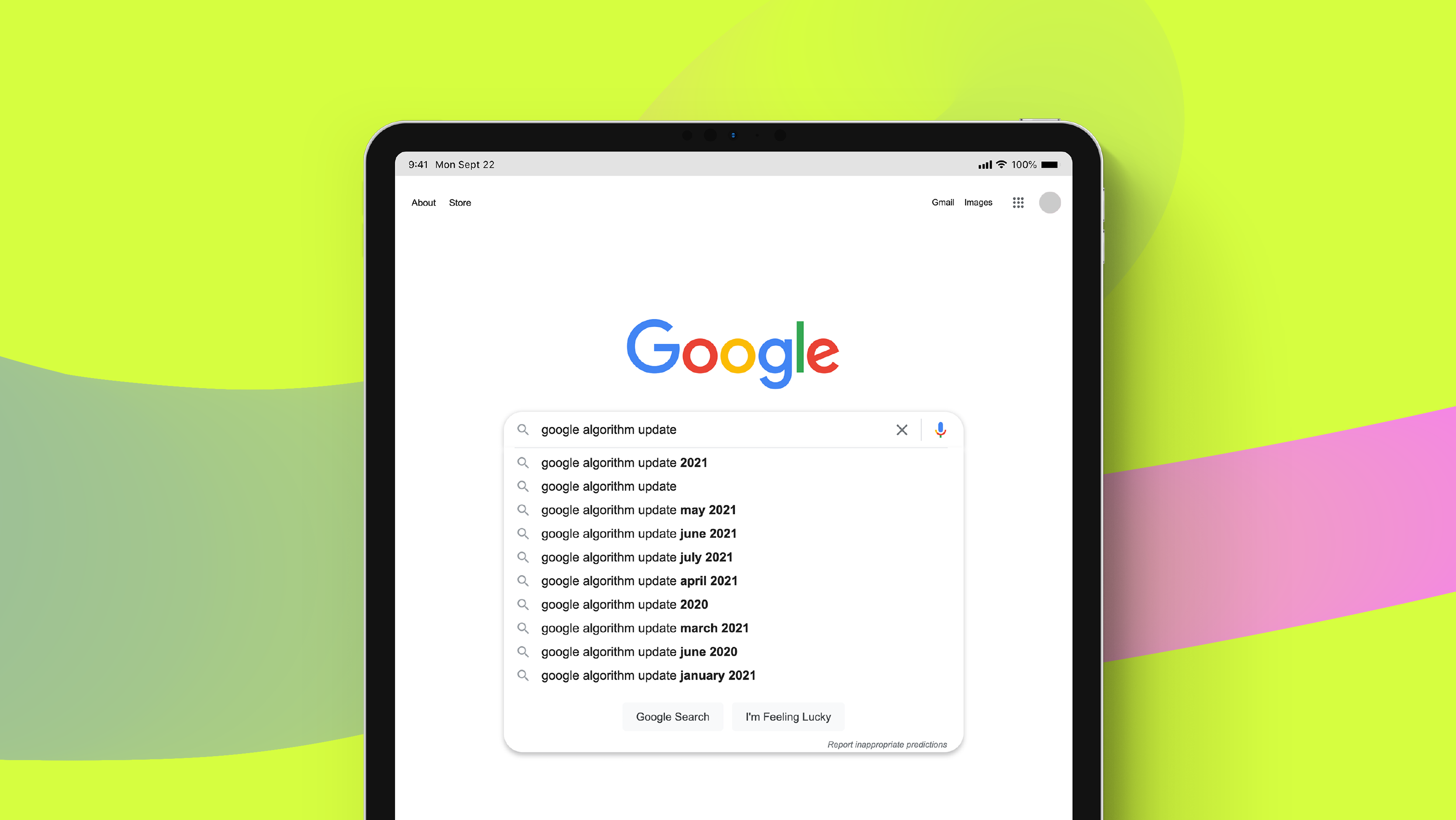 These days, we tend to get a fair warning of at least a few weeks regarding the big ones, also known as "Core Updates", via the Google Search Liaison Twitter account or other reliable sources. We now know that these typically arrive on a loosely regular basis: twice a year, typically in the winter and summer. The last two Core Updates were in December 2020 and June/July 2021 respectively.
Despite the fair warnings; an increasingly communicative Google search team, offering help in the form of ongoing discussion and webmaster guidelines; and a highly active and informative SEO community offering thoughts and advice on Core Update preparations, we can still be taken by surprise.
Even if the SEO team has done the best they can to adhere to best practices and keep abreast of their competitors, with technical SEO prowess and killer content, you can still see surprising results, in the form of downward trajectories in visibility scores and rankings. This can be a frustrating and stressful situation, especially if you have done your due diligence in your SEO programme over time and in the run-up to the update.
Try not to panic. There may be false negatives on display (along with the positives!) and the drops may need to be taken with a pinch of salt. Major algorithm updates can also present clear and actionable opportunities for growth that may not have been as conspicuous as before. Research from competitors' rises and falls over the course of algorithm updates also offer sources of opportunity for growth.
SEO as a product can even benefit from an algo hit: has that site-wide page speed issue you've been nagging on about for months finally caught up with the website and is costing the business conversions? Now is the time to bring it to the forefront and push the envelope on implementation.
Let's address how we can identify whether we've been hit by an algorithm update.
How to identify whether you've been hit by a core update
At the time of writing, we've just been through a bumper summer of Core Updates, with one occurring in June and one hitting in July (although they were billed as one overarching update). We've also seen an updated link spam algorithm go live shortly after.
There have been some assumptions in the industry as to some key trends and verticals that saw bumps or declines following these. The juxtaposition in timing of the two updates, as well as what were some clear u-turns in ranking disruption for many sites, teaches us that we need to treat apparent major fluctuation with caution.
Wait until the dust settles before you jump to conclusions. Don't jump the gun too soon if you've noticed a sudden downward trend.
In the run-up to and immediately after the algorithm update, there are plenty of tools in the market that allow us to quickly get an overview of any visibility deltas over a given period. While traffic changes on Google Analytics may not immediately manifest themselves after an algo hit, visibility scores, or indeed projected organic traffic overviews on other third party tools, are a great first point of call for initial identification.
For example, SEMRush, SEOMonitor and Searchmetrics all do this very well. For this guide we'll look at Ahrefs' "Organic Traffic" overview graph:
While we're going back in time slightly to illustrate this exercise, the above screenshot shows a clear drop in visibility around the time of the May 2020 Core Update. For context, this was a rough algorithm update for many and disruption was widespread.
While the dramatic dip and traffic is noteworthy (and, in this case, the site in question did suffer a huge hit), seeing similar dips shortly after an algorithm update requires us to remain focused and dig a bit deeper. Remember that it can take a few weeks for updates to be completely rolled out and the dust to settle.
The first port of call is sense-checking across your wider toolset. This is highly dependent on your own SEO tool arsenal, though as mentioned SEMRush, Sistrix and Searchmetrics all offer this in some manner. Remember to split these visibility data scores over mobile and desktop to see if the drop is universal across all devices.
Keep in mind that there are plenty of reasons as to why search traffic or ranking visibility can drop at any given time. There are always margins of error and anomalies that can occur, such as tracking and reporting issues, site downtime, or potential crawling and indexing issues. Have a breeze through this checklist and make sure you cover your bases alongside your overall algorithm investigations. While it may be rare and strangely coincidental that one of these occurred at the exact point of an algorithm update, it's always worth investigating.
Digging deeper
Does it look like you may have been affected by an algorithm update? It's time to return to our familiar SEO tools and run some deeper analysis.
While Google Core Updates are broad in their nature, they typically tend to follow certain trends and focus on certain quality metrics on any given site, meaning that impacts may not always be seen on a site-wide basis. Of late, there has been a lot of focus on content quality metrics through the lens of EAT, with recent updates punishing sites with content that has low quality, authority, or contextual relevance. A tennis eCommerce site that wrote a guide on how to learn the guitar, purely for SEO purposes, may see its rankings fall foul of recent updates on a domain relevancy and authority basis, for example.
The point we're getting at here is that we need to home in on the areas of the site that have taken a hit and what the trends are. This is the crucial next step in assessing if or how we've been hit and what we can eventually do to fix things.
Returning to our toolset (Ahrefs again, in this case), there are easy ways we can drill down relatively quickly. Clicking through to the "Organic Keywords" section of the tool, we can get a view of all the keywords we rank for. Compare the current date view with a previous date before the algorithm hit and we can get a master view of ranking fluctuations over these times. Check off "Declined" and "Lost" on the filter option, then we can look at exporting the data to Excel and pivoting accordingly.
The above shows some sample keywords Wikipedia saw drops on following the recent June Core Update.
Once you have this data for your site in Excel, prioritise the keywords demarcated "Lost" or "Declined" in order of search volume, and start mapping them out by content type according to the keyword grouping nomenclature on your site. This is easier if you already have campaigns set up in keyword ranking-specialised suites, such as Advanced Web Ranking, where you can follow the same steps and get a quick view on which content buckets or keyword groups have seen the biggest hits.
Once we've identified some trends in how the algorithm update has impacted our keyword rankings, the next step is to validate this in associated traffic drops. Keep in mind that declines in rankings or visibility scores that come a day or two after algo updates may take more time to manifest themselves in tangible traffic impact, so it's worth waiting a little while longer to validate this. Another thing to keep in mind is the nature of the keywords which have dropped.
Ask yourself as you wade through your data:
Do they carry with them high commercial importance to the site and its overall goals?

Are they irrelevant or somewhat superfluous keywords that we didn't really care if we ranked for anyway?

What is the associated traffic value of these keywords?

Are the keywords drops exclusively in markets that we don't really have a footprint or customer base in? (Remember to carry out the analysis across countries as you go along!)

Assuming we've seen a clear trend in a drop of important purchase-related intent keywords, for example, it's time to head to GA and assess the tangible damage.
Digging even deeper
Assuming you're working from Universal Analytics, head into "Acquisiton>Channels>Organic" and set your date range to the same period before and after the algo update, as per your keyword dataset. Once you've got your master view of URLs, it's time to drill down further into core metrics by searching according to what's dropped in your keyword ranking research.
If there are clear trends in declines across certain folders of your site, carry out your URL search within GA by looking up certain subfolders. If it's more nuanced, it's time to deploy some additional secondary dimensions and advanced searches by keyword. Make use of the regex functionality within GA to narrow down your search further.
You'll likely have to carry this out multiple times, though it will allow you to take a view on which URLs have seen declines not only in traffic, but conversions and other important eCommerce metrics. GA allows you to easily toggle by pages that have seen the biggest drop in certain segments, and you'll do well to export the data to Excel and play around with it more from there.
An additional tip: aside from rankings and traffic, it can also be wise to assess any crawling and indexation issues that may have arisen during the algorithm update. Check out Google Search Console and the crawl error report to identify any URLs that may have been ignored by Googlebot following the update, and take steps to improve the crawlability of these URLs, be it through on-page coding and other technical SEO optimisations, or site architecture fixes.
We should now have enough to work within regards to areas of the site that have been hit by a Google algorithm update. So, what next? What do we need to do to prepare the recommended next steps for our product and development teams? How do we manage the narrative so that other stakeholders in the business who are just seeing numbers go down don't fly off the handle? Let's take a look at communication first.
Communication, communication, communication
The last thing you want following negative impact from a Google Core Update is to receive an email from your boss or a colleague outside the SEO team, asking why traffic is down before you've even found out yourself. As with a lot of areas of SEO, part of your job is controlling the narrative and being a voice of authority.
While a lot of what happens during and after algo updates may, despite our best efforts, be out of our control, keeping your teammates or clients abreast of the situation way in advance and throughout the course of the episode is something you can control.
These days, the SEO community isn't at a loss when it comes to access to news, analysis and changes in how SEO works. The Google Search Liaison Twitter account will routinely announce when Core Updates are coming, and you can keep an eye on publications like Search Engine Journal for updates on SERP disruption, and how they could affect certain industries. You can also follow SEO influencers on Twitter and keep your ear to the ground. Better still, tools like SEMRush have a sensor which measures volatility in search results across various industries. It can be a good indicator as to whether an update has hit unannounced.
As soon as you catch news of a potential upcoming update, pre-empt and negate any possible future fallout by forwarding the news around the company. Keep people in the loop and make sure the date of the upcoming algo change is in everyone's diaries. Put aside some time on the day of or the day after the update to carry out the above research and be clear and repetitive in your communication – there's no such thing as being overzealous in these situations!
If the news is bad on the day, use it as an opportunity to reiterate the need for focus on SEO tasks you've previously flagged that have fallen by the wayside. Take steps to throw in some competitor research into your analysis to see who has benefitted or lost out on the algorithm update, and what else you look to tweak and experiment with based on who's seen their rankings improve. If you're in the legal, medical or financial sectors, for example, and you've seen some drops down to issues surrounding EAT, take a look at who from your competitor list may have also suffered and take steps to improve.
Remember to present the data in an easily digestible format so that non-SEOs can understand where the issues lie. Keep on driving the narrative to highlight the importance of SEO and keep a keen eye on the next update. Always move the narrative towards an opportunity where you can.
How to recover and improve from a negative algorithm hit
Now, the million-dollar question: what happens next? Everyone understands there's been a downturn following the last Core Update and you have the ear of the team and implementation resource at your disposal to recover and move forward. No pressure, right?
Firstly, it's important to identify whether the algorithm hit will actually make a tangible, ROI-focused impact on your site. You may have lost rankings, for example, on keywords that offered little in quality traffic or putting users on the path of conversion. Visibility drops caused by algorithm updates are daunting, but what's worse is panicking and jumping the gun on resources and strategy.
To help with this, and to ascertain whether the best strategy is in fact to simply do nothing, we've referenced a highly useful flowchart made by Aleyda Solis on Twitter in the wake of the recent June 2021 Core Update: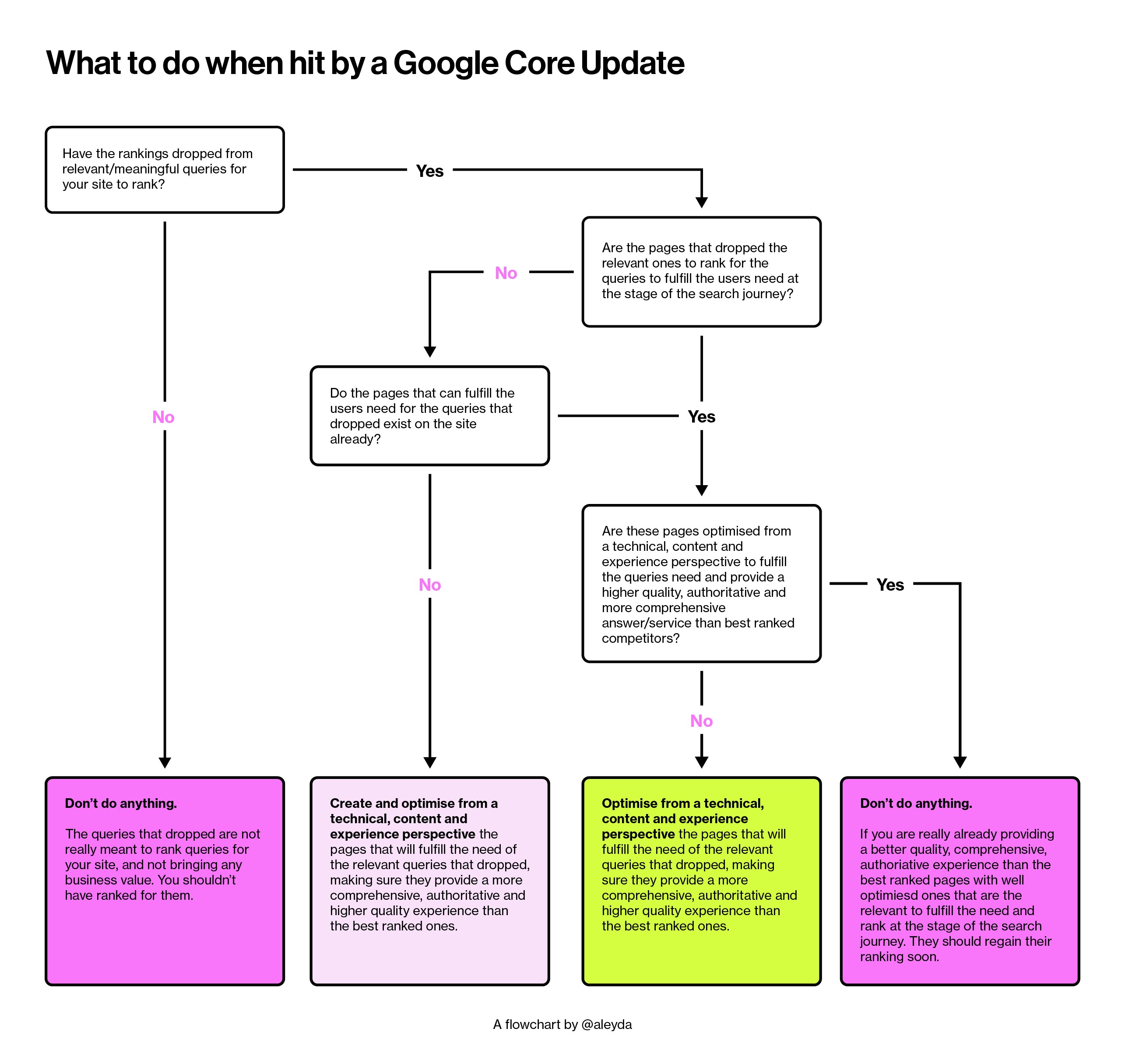 As you can see, it's all about doing further research and taking things with a pinch of salt. Now, assuming we have indeed arrived at a point where action is needed to be taken to align and recover from the algorithm update, let's move on further into actions stations.
Reaffirming with Google's webmaster guidelines
This may be somewhat of a blindingly obvious one, but the in-depth webmaster guidelines that Google continues to curate and update is a great sense-checking resource to go back to every so often. It can be very easy to get lost in the cut and thrust of modern-day agency or in-house SEO life, not least the constant noise and buzz of opinion that seeps out from SEO Twitter on a daily basis.
Thumb through the various guideline sections and see if something rings any bells in terms of the area of your site that took a hit. Key areas of SEO that have seen algorithm hits of late have been content and quality-led, and page experience elements such as mobile-friendliness and general user-friendliness (see: site speed). There is a lot of documentation on this, and it may be worth heading over to Google Search Console to see if anything else has been brewing in your reports that supplements any hunches you might have.
Consolidating your suspicions
While Core Updates are indeed far-reaching, trends can be isolated from within them and we can often home in on what type of "punishment" we've been dealt with, so to speak. With Google's Webmaster Guidelines in mind, identify whether we've been hit for poor quality or outdated content, or whether there are a host of spammy links going to our site via previous and now-outdated SEO ventures.
If you suspect a link-based hit based on the backlink profiles of the pages that have taken rankings hits, run some deep analysis on your wider backlink profile using a backlink auditor. Tools like SEMRush have easy ways to identify toxic backlinks, which you can consider for potential disavowing using the disavow tool in Google Search Console. While the disavow tool isn't as prevalent as it once was, given Google is getting better at not giving weight to toxic backlinks, it's worth exploring as a last resort if you do find backlinks that give you nightmares. In most cases, diversifying your backlink profile with well-thought-out, organic link building through quality content marketing efforts is the best way to approach this.
If you've faced a content-based hit (more common these days), identify pages that have taken rankings hits, as detailed in the flowchart above. Prioritise these pages by historic organic traffic, user conversion rate and as much commercial-focused data as you can attribute to them.
Following this, work your way down and look to identify issue trends within your selection of URLs that may relate to thin content, outdated content, or content that appears to lack authority in the eyes of Google (see EAT). Annotate these URLs with as much information as possible, including the data surrounding the ranking drops, improvements needed on the page from a content and SEO point of view, and resource requirements needed to make the changes to move the needle back in your favour. Make the venture as collaborative as possible to ensure you're getting as many eyes on the affected pages as possible.
To reiterate: don't panic
Google algorithm updates can be daunting affairs, particularly given the speed at which they've been coming at us throughout 2021 so far. That said, through the means of properly measured and pre-empted communication, followed by thorough and considered research and a necessary plan of action, as an SEO you can use them to great advantage to push the SEO agenda further.
In addition, it's okay to take algorithm updates with a massive pinch of salt and do little, so long as you're confident your site aligns with best practices or has an improvement roadmap and you communicate this properly. In light of the flurry of updates we've experienced over recent weeks, where Google themselves have said that some SERP fluctuations caused by one may indeed be undone by another, it's best to wait out until the dust has properly settled before moving forward.
It can be very easy to fall into the Twitter furore and apparent disruption being shown by numerous third party SEO tools. But the last thing you want to do is be held responsible for taking charge of implementing reactionary changes that end up being costly. Hit by what appears to be a result in suspected duplicate content? Don't respond by blocking half your site in the robots.txt file. Reckon inherent site speed issues across the site have finally reared their head and had an impact? Don't crash and burn your eCommerce business by hastily removing JavaScript components that cause your add to basket functionality to stop working.
In essence, common sense and diligent research rules.