Guides
SEO processes to automate as a business
It's been a very eventful few months in the evolution of AI, especially in relation to search, SEO, and the wider digital marketing industry. Log on to Twitter or LinkedIn and you'll see no shortage of hot takes on how ChatGPT is going to disrupt all manner of workflows, or how Google Bard is going to change SEO forever (though if you want an in-depth analysis on Bard and its impact on SEO, read the article from Reddico Managing Director Nick Redding).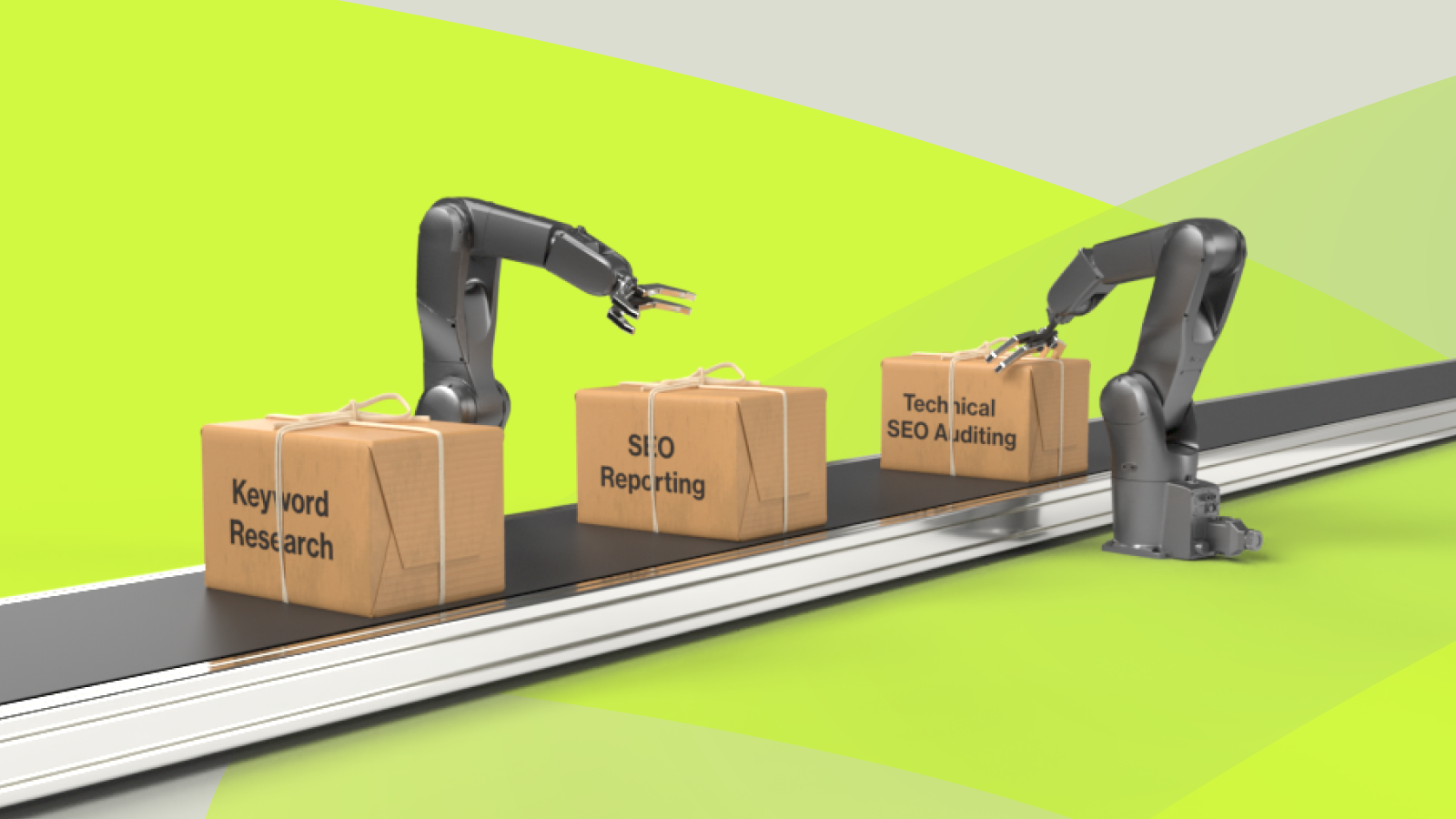 Every day we're seeing new announcements and feature enhancements, and it's true that we're living in exciting, unprecedented times when it comes to developments in AI.
This inevitably begs two questions: how can I benefit from this as a business? Are there processes, particularly from an SEO standpoint, that I can look to automate with ChatGPT, Bard or general AI? The short answer is yes, albeit with some key caveats, and we'd like to cover some of these for you in this guide.
AI aside, we'll also touch on other existing tools and techniques that can help you automate your SEO workflows and enhance your productivity.
What areas of SEO can we look to automate as a business?
Before we begin, it's important to establish a core caveat around AI and automation.
There are plenty of smart people owning the AI evolution conversation by providing chat prompts to automate tasks or harvest data points, and the results can often be mind blowing.
While there are plenty of areas which AI (or other automation tools) can assist you with, remember that regardless of how smart these tools may appear, they are still tools and will need a human touch.
Looking at technical SEO, for example, we know that running a website through an auditor tool and sending off the results to a stakeholder won't cut it. The tool won't interpret areas such as CMS restrictions, developer resources, or the areas of a website that are a commercial focus. The same applies to even the most targeted prompt for ChatGPT or Bard. The output, whether it's a keyword idea pool or a digital PR outreach strategy, will always require expert refinement from a human.
There are, of course, specific SEO workflows for which AI or automation tools shouldn't be relied on at all, and we'll delve into those later. With the above in mind, however, let's look at some key areas in which we can utilise AI or other means of automation.
Keyword research
Keyword research encompasses a lot of areas, and can be a time consuming task for businesses undertaking SEO. Whether it's competitor analysis, keyword tagging and clustering, rank tracking or even deeper dives using alternate keyword research methods, there can be a lot to consider.
If we're starting a keyword research campaign from the offset, this is where AI chatbots can come in handy in pooling ideas. Prompting ChatGPT with queries such as "list some of the core topics, keywords and entities around the topic of interior design", or even "give me a list of popular keywords related to the term 'interior design'", may give you a good leg up in gathering initial search terms:
When it comes to harvesting crucial keyword data from the above, plenty of modern-day keyword research tools such as Ahrefs and Keyword Insights provide brilliant automated keyword analysis to pool your keywords together under clusters, topics, and sub-topics, and arrange them in a way that is easily digestible.
A simple upload of a number of stem keywords into such tools will often result in hundreds of semantically relevant terms for your team to explore and build content strategies from. These will be accompanied with all the necessary data on competitiveness, search volume, and search intent, among other important data points.
Outside of AI, programming languages such as Python can be a great aid in clustering keywords and returning all our desired data on search volumes, rank, intent, and URL data in lightning-quick time when using the right query. We covered more on Python and similar tools in an earlier post, so be sure to read more on that particular topic.
While professional insight will need to be undertaken in order to tailor the output to the requirements of your business, a lot of the above will cut out the heavy lifting of keyword research on Excel or Google Sheets (the latter of which has plenty of automation opportunities for keyword research itself).

On-page SEO elements
Another common, time-consuming SEO activity is on-page optimisation, whether it's providing optimised page titles or meta descriptions or other HTML improvements in the form of Schema markup.
Smart automation techniques can help improve your productivity, particularly if you're dealing with thousands of URLs that need on-page SEO improvements.
Popular SEO tools such as SEMRush have features such as AI-generated page title generators which will provide suggested topics and page titles based on a root keyword:
Taking this further, we can refer back to ChatGPT to generate page titles with the right prompts to ensure the output features our desired keywords and formatting.
If you're looking to scale this up, you can explore ChatGTP API and link it to Google Sheets, where you can upload a list of the URLs you're working on and tailor prompts accordingly to optimise your on-page elements at scale.
Python can also be used, with the right scripting, to help extract and produce on-page elements, such as page titles and meta descriptions at scale, with plenty of ways in which you can sync the tool up to Google Sheets for ease of use.
SEO reporting
Compiling and tailoring SEO reports at the end of each month or business quarter to deliver to your team or stakeholders can be a daunting and time-consuming task. Thankfully, recent years have seen some incredible innovations in the field of automated SEO reporting that can lift the burden massively.
With the dawn of platforms such as Looker Studio (formerly Google Data Studio), gone are the days when SEO teams had to extract and manipulate data from various third-party sources to feed into manually composed PowerPoint or PDF files.
Every business will have their own tech stack when it comes to reporting on business insights from an SEO perspective, whether it's analytics or keyword ranking, and will likely have a portfolio of software where the data is populated in different places. Thankfully, platforms such as Looker Studio (and alternatives such as Tableau and PowerBI) can harness the APIs of most of these platforms to form a central repository where all the key metrics are stored and reported back on a rolling automated basis.
If you're looking to build out an automated dashboard with the intention of it being freely shared and bookmarked by your stakeholders, then make sure you gather the right data and are representing it in a way that matters to the business.
When compiling an automated reporting dashboard, think about areas such as:
What analytics metrics do we want to see?

What conversion data needs to be represented?

Do we need reports on content performance across different areas of the site?

What's the best way to visualise keyword rankings?

Does the business need to keep an eye on technical SEO considerations in this report?
All of the above (and much more) can be represented in an automated reporting dashboard. You can use the build process as an opportunity to re-establish what matters when it comes to key SEO reporting metrics by answering the questions above.
There are plenty of templates out there, and the initial build may take time. Once they're up and running there will be little need for further input, unless you want additional insights later on.
Referring back to our theme of human insight, there will always be a requirement for professional analysis on what's shown in these reports, whether it's identifying traffic decline trends or spotting content gap opportunities. Make sure you're still owning the conversation in what's being reported.
Technical SEO auditing
Again, any SEO activity aided by automation, including technical SEO, will require the eye of an expert to interpret and repurpose effectively. However, you can use methods of automation to help you complete technical auditing.
Enterprise businesses with huge URL inventories will require ongoing technical SEO assessment, as will any environment, say an ecommerce site, where there are regular updates to content and web pages as stock comes and goes.
Enterprise SEO suites such as Lumar (formerly Deepcrawl), Botify and seoClarity offer scheduled crawls and log file analysis on a daily or weekly basis for large sites, where you can jump into dashboards and assess technical issues as they may crop up. Other tools, such as Sitebulb and Ahrefs, also offer site audit scheduling where you can have reports delivered to your inbox when required.
While in most circumstances there isn't a need to perform weekly technical SEO audits, this can take a lot of the stress off manually crawling and auditing your site on a regular basis and allow you a top-level view of overall performance.
Given the fact that most websites are heavily nuanced, however, you may want to consider setting up a bespoke automated crawl that touches on areas of the website you may want to give particular attention to at any given time. This is where we can again draw in the likes of Looker Studio to help us tailor our technical SEO auditing and reporting.
Screaming Frog is a tool that allows you connect to Looker Studio and pull in all manner of available metrics within their tool as you see fit, with the freedom to visualise it your taste within the Looker Studio environment:
Take a look at their walkthrough on how to get this set up.
What areas of SEO will always need an experienced consultant's input?
We hope the answer to this question remains "all areas of SEO".
Yes, you can leverage AI to help with pooling some keyword ideas and arranging them into clusters and intent categories. Formulas within Google Sheets can be used to help you create rules to write title tags at scale in seconds.
But while the output may be passable, the results will likely still be missing that cutting edge that sets you apart from your competitors, and this applies whether you're putting together a robust content strategy, or identifying technical SEO opportunities that could unlock the path to improved organic visibility within the context of a particular business.
Indeed, while Google have said that AI generated content can be used, this is superseded by the recent revelations following the Helpful Content Update and the additional importance of E-EAT when producing high-quality content from an authoritative, trusted source. Content that is solely generated by AI or other means of automation will only get you so far.
Overarchingly, AI output for SEO, at least in its current iteration, isn't able to consider nuances or requirements native to businesses at a particular time, whether that's down to available resources, budget, implementation feasibility, or even politics within an organisation, that may be vital in understanding how to get things moving.
Even the most perfect chatbot prompt that may result in what looks like a far-reaching, all-encompassing content strategy or technical SEO checklist for your website will still be missing that expert insight.
Are there any areas where automation can't be used for SEO?
While there are clear benefits from AI and automation in some SEO workflows, there are some areas of the discipline that should not rely on AI or automation.
SEO branding and messaging
Cultivating a brand identity through SEO efforts requires deep understanding of the industry you're in, as well as a crystal-clear viewpoint of what your brand stands for, what its USPs are, and what your company culture may be.
If you're starting a new brand from scratch and are relying on AI to define your brand voice instead of employing a creative, human-led approach that identifies core messaging based on sentiment analysis, it won't get you very far.
Local SEO
While pooling keyword data on "[service] near me" or "[service] [location]" can be sped up through use of AI or automation techniques, a lot of local SEO strategy revolves around having a deep understanding of the geographical and cultural features (among other things) of any given region.
While ChatGPT may give you a straightforward listicle of "hidden gems in New York", it lacks the key requirement of having not actually been to New York and therefore will likely miss out real hidden gems known by a local or travel enthusiast that can give your listicle a cutting edge.
SEO training and consulting
Experience is priceless. While any of us, including chatbots, can surf the web and gather as much info on any topic under the sun when it comes to SEO, this won't account for in the field expertise. If you're undertaking a site migration, for example, checklists are readily available via SEO guide articles or via AI prompts. This won't consider brand or site-specific nuances or things that could pop up on the day of the migration. Only having in the field experience can teach you things like this, and subsequently your ability to consult and train others on it accordingly.
Stakeholder management and communication
This applies to almost every area of SEO that we've covered in this article. The ability to manage expectations, answer questions, communicate the value of SEO, troubleshoot, and keep stakeholders informed on how the industry is moving simply can't be done by AI or automation techniques.
A lot of what separates a good SEO agency or consultant from an average one is knowing how to cut through the noise, and communicate what matters to a business at that particular time in the context of SEO deliverables. AI seems a way off being able to touch that any time soon.
Key takeaways and final thoughts
We're experiencing unprecedented and exciting times in the development of AI and automation and how this applies to SEO workflows.
Cutting through the noise on social media, it's important to remember that while there are some incredible (and perhaps even scary) developments, AI won't be able to replicate the human experience and professional insight that can make or break an SEO campaign.
As we've detailed throughout, top businesses and marketers will utilise the recent explosion of AI and automation developments to speed up their productivity and workflows, and get ahead of their competitors.
As Google shifts into its own AI arena following its recent I/O conference, it will be important to monitor how search results along AI-generated answers provided by Bard evolve, and how AI-generated content becomes interpreted by Google over the coming years.
For now, it's still important to stick to SEO strategies that provide insightful, unique and authoritative information for the end user and your target consumer base. AI can aid you in this mission, though a human touch will still be the differentiator.