Direct Line Group's goal has always been to put the customer first. This began with car insurance, cutting out the middleman, the forms and the jargon – revolutionary changes at the time. Now one of the UK's leading insurers, they also provide home, pet, travel, life, van, landlord and business insurance for millions of customers.
Simply the best agency I came across – I've worked for some and with many others.
Martyna Sroka, Direct Line for Business
The brief
Attracting new policyholders is especially tough in the insurance sector. Many competitors are vying directly for attention, including powerful price comparison websites and competitors with large budgets for paid advertising. This makes achieving strong organic search rankings extra important for Direct Line. We partner with them to help across a range of product lines, including life, pet and business insurance.
Following on from our success in 2019 for the term "business insurance", in which we were able to increase rankings from 10th to 1st and reduce PPC spend by £150,000, one of the key areas Direct Line for Business wanted to focus on growing in 2020 was public liability insurance. By improving organic performance, they also hoped to reduce their spend on PPC here and reinvest in other areas.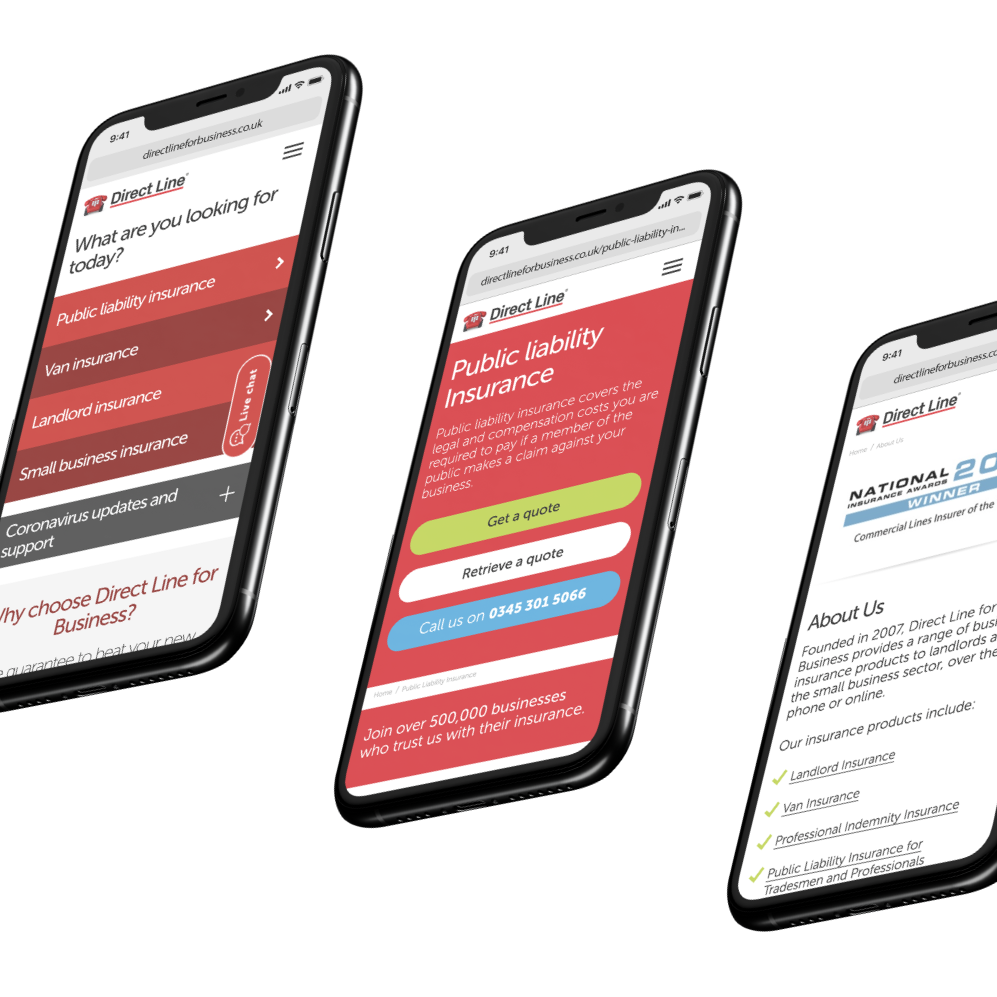 We implemented a series of optimisations on the public liability page.
First, we increased the topic coverage on the public liability insurance product page by answering key informational questions to match user intent. We also tested the use of click-to-expand containers and the positioning of priority content on the page in order to make structural improvements and improve relevancy signals.
Cannibalisation issues were resolved where multiple pages were competing to rank for the same terms and negatively impacting the performance of the main product page. We created a custom schema markup for the page using financial product schema. And finally, we executed an internal linking review to optimise anchor text signals pointing to the public liability page from the home page and other related pages.
We also looked at site-wide changes to improve the overall quality and trust signals.
Backlink optimisation was carried out to redirect home page links to more relevant internal pages in order to redistribute link value. We also utilised other Direct Line Group websites and content to increase signals to core product pages on the Direct Line for Business website.
We audited the supporting content for product pages and blogs to improve, consolidate, and delete content where applicable. By doing this, we improved the overall quality threshold of content for the site and ensured all product pages were optimised for the key terms users search for.
We also reviewed the site against the quality raters' guidelines to identify key trust signals that could be improved. Finally, we optimised each product for featured snippets, adding content and reformatting existing answers on the page to acquire the answer boxes.
The results
Combined, the optimisations we made increased Direct Line's organic ranking performance for public liability insurance. For July 2020 we were able to realise increases in ranking, traffic and sales.*
This was driven by achieving ranking improvements for the term "public liability insurance", which moved up from 10th (second page) to 4th place, as well as ranking improvements for key related terms. Our work continues to be ranked in the top three positions and make an even bigger impact on Direct Line's business.
*July 2019 – July 2020.
Simply the best agency I came across – I've worked for some and with many others. A very experienced and professional team going above and beyond and focusing on the right things. Highly recommended for anyone who struggles with their SEO.

Martyna Sroka, Direct Line for Business