BlackRock is the world's largest asset manager, with $7.4 trillion in assets under management. BlackRock guides individuals, financial professionals and institutions in building better financial futures.
The Reddico team has always been very responsive and goes beyond the typical scope.
Jennifer Xiques, Global SEO Lead, BlackRock
The brief
BlackRock wanted to increase their organic traffic globally and enhance visibility of their expert investment thought leadership, ensuring that it reached relevant private, professional and institutional investors – with a single partner becoming accountable for the ongoing SEO strategy.
The biggest change was shifting how the business saw SEO, away from a siloed channel to one that needs to be integrated across new initiatives from the very start.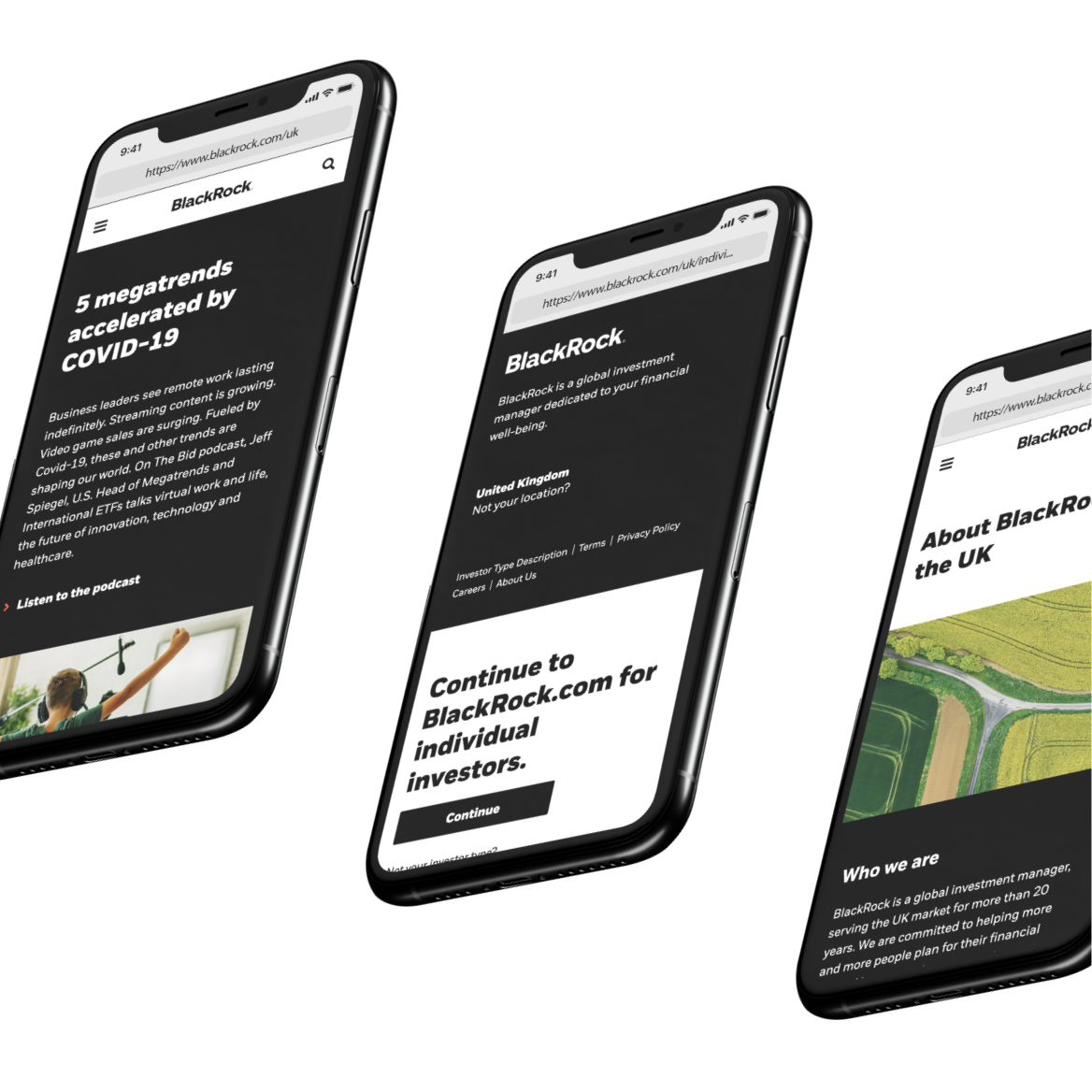 We built two work streams to deliver a short-term and long-term impact on SEO within the business. The first was focused on quick wins that had few internal dependencies to help us get buy-in for the bigger changes. The second focused on conversations with key stakeholders to showcase the business value of the larger technical recommendations and how they linked to wider company goals.
The immediate priority was to fix global visibility for all country home pages, so we addressed how Google crawled the site and the relationships between the different countries and languages.
We also gained an understanding of legacy platforms and migrations, third-party assets and planned changes – identifying all major technical issues across the site, and aligning our recommendations with internal development roadmaps and wider company objectives.
Proactive monitoring of the site was implemented, using our proprietary technology to flag any issues from development releases across all country sites.
Finally, we supported new initiatives to ensure that SEO was part of the conversation from the outset, helping BlackRock to maximise new traffic opportunities.
The results
At Reddico, we enjoy working as an extension of a client's team and we get pretty excited to share the data for campaigns. This is the case year after year. As we share with clients, SEO is a long-term investment. But the results continue to speak for themselves. To date we have grown BlackRock's organic traffic by a massive 256%.*
The BlackRock SEO team also now has wider visibility across the company to ensure that SEO opportunities for new projects, such as sustainable investing, gain visibility and traction from the outset.
*May 2017 – May 2020
Working with our company is very demanding and there are many levels of approval to go through, for work to be implemented. The Reddico team has always been very responsive and goes beyond the typical scope of any project, providing us all angles of a technical solution and detailed recommendations for content optimisations.

Jennifer Xiques, Global SEO Lead, BlackRock