Energy Helpline began life back in 2002, and has always focused on putting consumers first. Their mission is to ensure that energy switching is swift, simple and absolutely hassle-free.
We have been really impressed with Reddico from the start. They are communicative, proactive and always keen to collaborate.
James Pickard, Head of Content, Energy Helpline.
The brief
Energy Helpline operates in the highly competitive home services comparison and switching market. While they had a strong link profile, they were struggling for visibility of non-branded terms due to technical and content issues, so they asked us to help.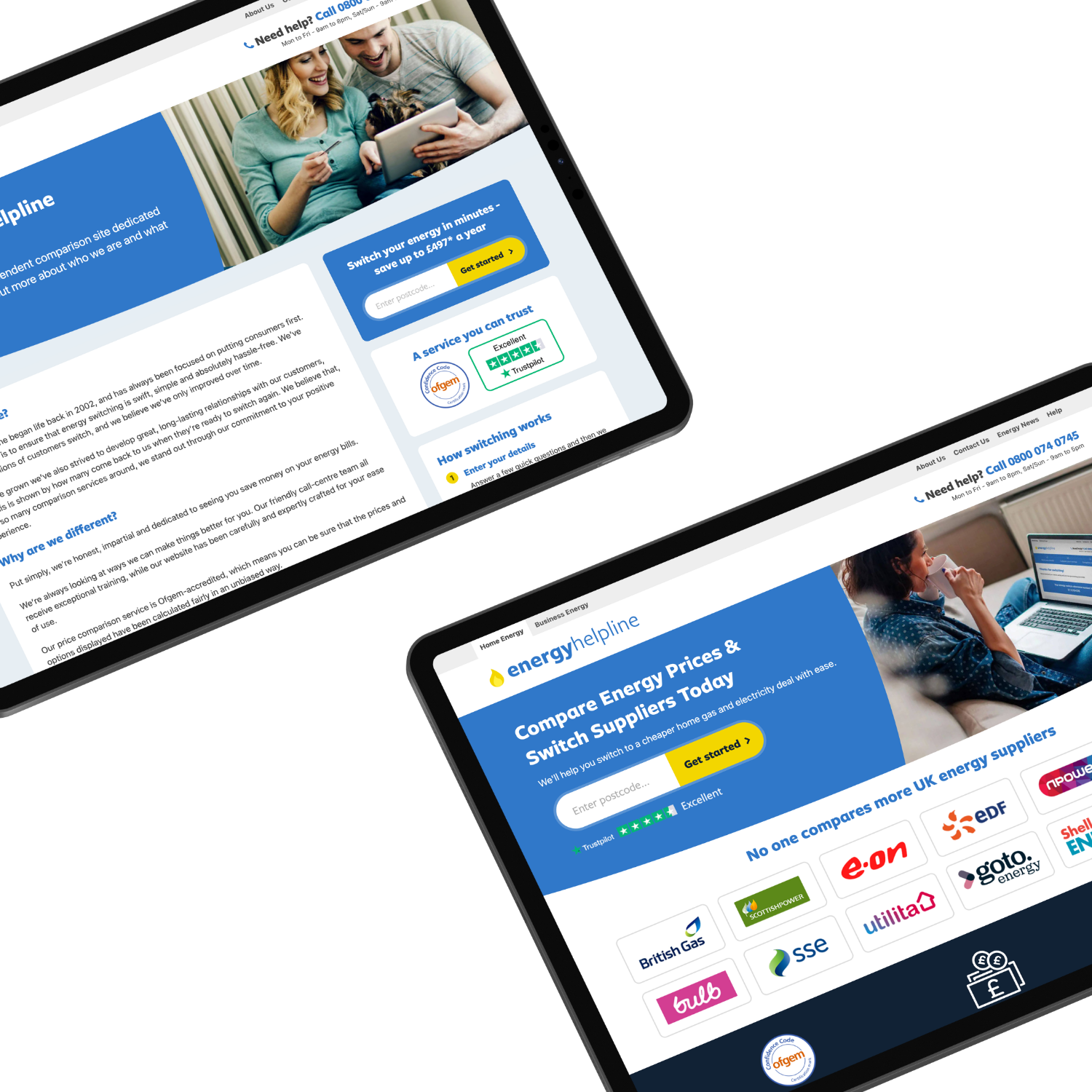 In close partnership with the client's team, we worked methodically to address technical, commercial and informational content issues.
Technical
Duplicate versions of pages were removed from the index and robots.txt was cleared down to avoid blocking pages with good links. Internal pages were rebuilt to fully render server side, where they were previously rendered content client side using Javascript and URLs were all remapped from the old to the new structure, with re-crawling pushed through the XML sitemap.
Many other small technical changes were implemented, including page speed improvements, a clean-up of development site URLs from index and switching reliance on canonical for handling duplicate content to noindex or 301 where possible.
The technical changes alone didn't make traffic or rankings fly, but gave us the signals we needed, to know that Google was "seeing things more clearly", helping to stabilise rankings for important terms.
Commercial Content
Within two weeks of a full intent matching and competitor content review, core web pages were updated with completely new content, designs and formatting to better meet intent and improve user experience. New internal pages were also produced to serve different intent.
After reviewing and monitoring the performance of the initial changes, we pushed a test to see how we could better separate the targeting of certain high volume sets of keywords. One set of keywords needed to get the user straight into the core toolset of the site and one set of keywords had a slightly more research focused intent (Google was serving a mixture of page types).
The second stage of our content improvements was to de-optimise the core page for some variations and switch focus of these to a new internal page linked to from the core page.
Informational Content
The site already had a lot of great content developed by the Energy Helpline team, but it had been published over a long period of time without specific SEO based research. Internal linking in the informational content section was poor and there were CSS rendering issues with the templates (heavy Javascript blocking CSS from reliably rendering properly).
We carried out full informational keyword research, reviewed intent and competition for each term/content piece. We provided SEO training to the client's content team, who then embarked upon a six month content creation project, developing pieces that were industry relevant and focused on users at different stages of the purchase cycle.

The results
Content changes on commercial pages saw the biggest impact on rankings. 191 competitive terms with strong search volumes moved into page 1 positions, with an overall increase of 311 rankings on the first page, including 16 top 3 positions.
The new informational content now being published is ranking well quickly and making up a good portion of site traffic. Multiple new pieces fluctuate for a week or two, then settle in top 3 ranked positions.
While some of the content doesn't support huge terms, each post targets a combined search volume in the thousands. It all adds up - with non-branded organic traffic up by 976%.
+976%
Increase in organic non-brand traffic
+311
Additional page 1 rankings
We have been really impressed with Reddico from the start. They are communicative, proactive and always keen to collaborate. Recommendations in terms of technical improvements and content creation have proved vital to our significant gains in organic traffic, and their personable approach really resonates with our own work ethic.
James Pickard, Head of Content, Energy Helpline