Guides
Old SEO content: Cull, consolidate or repurpose?
If your website has accrued hundreds, potentially thousands of content assets over time, it can be overwhelming and difficult to know where to look when you want to optimise your content.
A common approach is to look solely in a forward direction, that being the pursuit of fresh new content ventures informed by keyword research, in order to capture potential new opportunities and remain up to date.
However, you may be neglecting the potential of your existing content and its ability to improve organic visibility. In this context, we often hear overused terms like "quick wins" or "low-hanging fruit" in regard to sprucing up existing content for SEO benefits.
Done correctly, these tactics can be very efficient, particularly when looking at the effort versus potential reward ratio. However, beyond simply updating and repurposing old content, are there potential SEO gains to be made from consolidating or even culling old content altogether? Let's take a look at some of the scenarios where you may want to consider looking at these different approaches.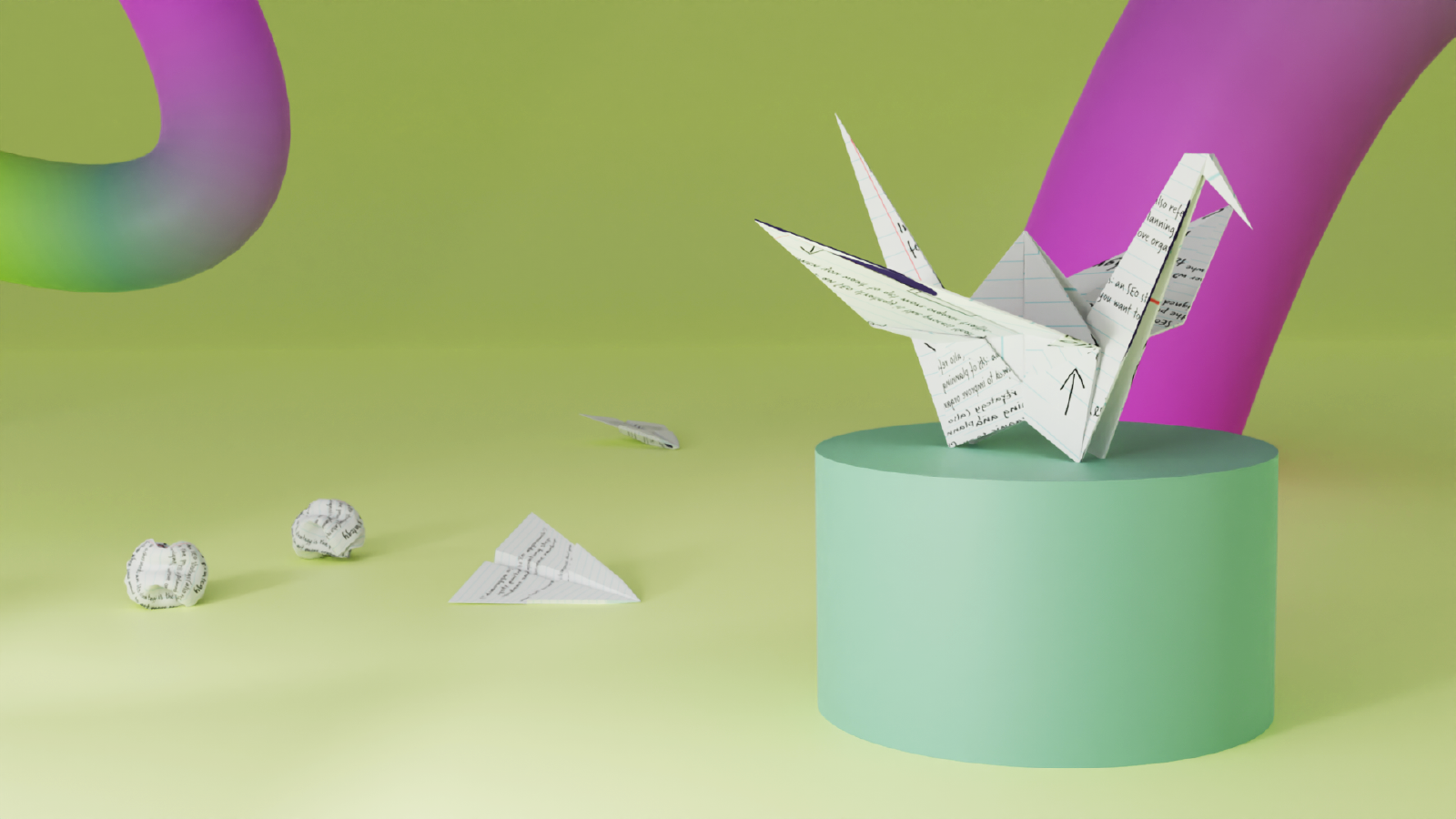 The importance of managing old content for SEO and user experience
Firstly, it's important to establish why, as a brand, it's important to routinely assess your existing content offering. Of course, there should always be a forward-looking content strategy that's focused on delivering new, in-depth, quality content that positions your brand at the forefront of content topics related to its product offering and industry overall.
Alongside this, however, it's important to keep one eye on your older content assets for several reasons. Firstly, from a branding perspective, there may need to be some consideration as to whether certain older content assets stand you in good light and don't appear irrelevant or out of date.
Content with mentions of years typically fall into this bucket, with period-specific articles with titles such as "best places to visit in Spain in 2022" being obvious ones. Blog posts that may have performed well off the back of a certain trend or zeitgeist, but have struggled since due to a decline in topical relevance, may also fall into this category. Forum owners may also want to consider managing older user-generated posts or inactive threads from a long time ago as a means to appear fresh in their content activity.
The notion of maintaining relevant, quality content from a branding perspective also plays into the various signals associated with Google E-EAT, that being ensuring that content maintains good levels of experience, expertise, authoritativeness, and trustworthiness. These guidelines are a core modern factor in how Google assesses content. It's important to keep this in mind when revisiting old content, whether it's with the intention to repurpose, consolidate, or kill.
Google highlights a number of key aspects to help publishers ascertain whether their content falls into the parameters of E-EAT. These should be adhered to when assessing old content:
Does the content provide original information, reporting, research, or analysis?

Does the content provide insightful analysis or interesting information that is beyond the obvious?

If the content draws on other sources, does it avoid simply copying or rewriting those sources, and instead provide substantial additional value and originality?

Does the main heading or page title avoid exaggerating or being shocking in nature?

Is this the sort of page you'd want to bookmark, share with a friend, or recommend?

Does the content provide substantial value when compared to other pages in search results?

Is the content produced well, or does it appear sloppy or hastily produced?
Of course, not all your content will tick all of these boxes and draw in vast amounts of organic traffic, rank for a selection of crucial keywords, and be shared widely across the web. More functional content, such as company information or privacy policy pages, will remain relevant from a branding and user experience point of view, for example.
If we're dealing with a portfolio of hundreds or perhaps thousands of old content pages, however, it can be tricky to know exactly what the best steps are in terms of how to manage them from a branding, UX, and SEO perspective.
In some cases, there may even be strong arguments to remove some of the old content altogether, and this is what we're going to address first.
Culling old content
Firstly, it's important to start this with a big caveat: removing swathes of old content comes with big risks. Even though it may not be immediately obvious, some of your older, lower-performing content may form vital parts of the user journey. They may be bookmarked by users, or serve as entry points into your website via external websites or other third-party platforms such as social media.
In fact, Google has previously, and on more than one occasion, advised against deleting or pruning old pages for SEO (or other) purposes, often pointing to the argument that all content is useful in some way to someone somewhere. This is even if it is old, out of date, or simply thin.
However, there have been plenty of case studies published to suggest that when done with the utmost care, removing content with a view to optimising performance for the user and for search engines has reaped rewards. HubSpot and its efforts in removing thousands of old blog pages is one example of this.

If your website has thousands of legacy URLs that are underperforming, then arguments for removing them include prioritising crawl budget to your more important pages, as well as potential site architecture optimisation, among other things.
If you're dealing with lots of legacy content and are facing a rebrand, a site migration, or are simply looking to assess ways in which to enhance organic performance, then culling may be an option.

What metrics should I consider when assessing pruning old content?
From the offset, it's vital to ascertain a stringent set of metrics or barometers to help you decide what types of content fall into the "low quality" category and can thus be considered for pruning. These won't always be absolute and will need input from various team members in order to reach a final decision, but here's a list of guideline metrics to consider.
Page views/visits/clicks
Consider getting your team to pull these metrics from analytics platforms such as GA or Google Search Console across your content offering for an agreed period, perhaps one year. Based on what you're seeing, establish a certain number of thresholds across these metrics that may determine candidacy for deletion. This could be anything less than 50 visits over the past year, for example.
Engagement/conversions
Another key data layer from your analytics tools in this process is user-centric, end-of-funnel-based metrics. Just because one page isn't a big organic traffic driver doesn't mean it's a crucial part of the buyer journey. Run as much analysis as you can to pull in data around engagement, goal completion, or conversions, and how they can be attributed (directly and indirectly) to the pages you are analysing.
Keyword rankings
In the same dataset, map out all associated existing keyword rankings to your content, adding this data layer on top of analytics metrics. This can be grabbed from most third-party keyword ranking tools. Again, go back a good amount of time (perhaps a year) and assess if there were any keyword rankings that were recently lost that could be regained by a sprucing up of content. If certain pages have zero organic keyword rankings and this has been the case for a long time, then this could be another signal for potential pruning.
Links
Assess whether your low-performing content is part of a wider linking journey and consider what might happen if it was deleted. Does the content have backlinks from an authoritative site? Does it form an important part of your site's internal linking journey? Would removing it impact this? If answers to both questions are a resounding no, then this could be another sign for removal.
Server log file data
Get your development and SEO teams working together here to find out how the pages you're assessing are being treated by search engine crawlers. Are they getting no traffic? Do they have no keyword ranking authority? Despite being a clear part of your site infrastructure, are they being totally ignored by Googlebot? This may be a further indication of low-quality content, particularly if Google is choosing not to index such pages and also ignore them in their crawling patterns for a certain amount of time.
On the flipside, however, log file analysis may provide vital insights as to how you can improve the site structure and user journeys of your existing content and improve its discoverability in that regard.
All of these metrics need to be considered together, not in isolation. Outside of the raw data, across the business you will need to agree on whether or not the content considered for deletion is relevant to your target audience, forms part of a wider business journey, or has any historical significance at all.
What are the best practices for pruning old content?
If you've reached a decision in terms of a selection of pages to remove, then there are several ways to handle this.
A simple method may be to simply delete them altogether so the user (and search engines) are served 404s when they visit such pages. This will reduce crawling of these URLs and will see them eventually drop out of the index.
To avoid confusing journeys and a sudden spike in 404s across your site, however, it may be worth implementing 301 redirect journeys, so a user is brought back to a relevant area of the site and stays engaged if they do indeed stumble across deleted content. If, for example, an outdated, deleted page named "The Best Ways to Save Money: January 2013 Edition" is found by a search engine or user, then consider mapping out redirects to a topically relevant alternative so journeys are maintained.
In some cases, there may be arguments to keep old content live on the site but not have it appear on search results or allowed to be discoverable by search engines, which contributes towards the crawl budget consideration. This can be a common approach for businesses with lots of user-generated content (such as forum sites), where the user base may be angered if swathes of content they've contributed to is suddenly removed.
This is where the use of noindex rulings can be applied. Referring back to our metrics, if a page or forum thread falls into the category of declared thresholds for deletion, then steps can be taken to apply robots directives to ensure that the content remains live on the site but is inaccessible to search engines.
Consolidating old content
Outside of sheer removal or pruning of content, another method to consider (and one that carries fewer degrees of risk) is the consolidation of old content into newer content. This can also relate to the merging of pages that may cover topically similar areas of content through the means of redirection or otherwise.
Similar benefits can be achieved here in terms of crawl budget optimisation, as well as serving users and search engines with one master version of a blog post or content piece instead of scattered individual pages.
Keyword research and search intent discovery will help your team understand whether they need to provide one master page or content hub on a topic or individual "subpages" targeting specific terms. This practice can also be used to freshen up existing content and give it a new purpose.
Aside from topically similar content that could be performing better, you might have instances of potential duplication or cannibalisation that need consolidating into one page, with one or more URLs where content is lifted from redirected into one master page.
Consolidation and the potential for merging several "weaker" pages into one is something that Google's John Mueller even encouraged in a webmaster hangout a few years ago.

What types of pages should I consider consolidating into one?
It's worth following similar steps as in the previous section to help you identify potential candidates for content merging, deciding on a set of performance thresholds across various key metrics.
Aside from this, there are a number of additional reasons why you may want to consider consolidating content.
Articles covering the same topic
Topics on certain keywords will need to be broken down by clusters and search intent analysis to decide whether or not there is a requirement for individual articles on certain specific topics. However, if there are clear and obvious articles tackling the same topics with only slightly different content features and one is clearly performing much better than the other, then you can consider merging them.
Wrong version of content ranking
Alluding back to our cannibalisation point, there may be instances where Google is ranking the "wrong page" around a certain keyword, or is getting confused in ranking two similar pages that have different purposes. For example, you may have a blog page ranking for a commercial search term and the actual product page, where you want to send users who search for this keyword, isn't visible. This is where you may want to consider consolidating or lifting and shifting content from one page to another to ensure the right intent is met.
Low-performing orphaned content
When your team are running crawls assessing content consolidation opportunities, they may come across instances of content that may have been forgotten about due to it not sitting within the site's main architecture. Such pages that aren't linked to are known as "orphaned content". If the content is of low quality or is similar to another blog post, then you can consider utilising content on these "hidden" pages to deploy on a better-performing variant.
What are the best practices for consolidating content?
Aside from simply redirecting one content variant into a "master" version, a common practice is to assess opportunities to "lift and shift" elements of content from one lesser-performing page to another.
For example, if you're dealing with two blogs on the topic of "Travelling Tips in Southern Spain" then there may be certain details, pointers or content features on the lesser-performing variant that could be transferred to its superior version. Once you've identified examples such as this, then be sure to 301 redirect the unwanted page into the other.
If there are certain edge cases for keeping both versions of the content live, then your SEO team can make use of canonicalization or signal to Google that one version of the page should be deemed as the master.
Repurposing old content
Finally, outside of pruning old and bad-performing content or taking a consolidating approach, a lot can be achieved by simply enhancing poor-performing content with a fresh lick of paint. Done well with the correct data behind it, this can be a great example of low-effort, high-reward SEO work and it carries little risk if managed carefully.
If, for example, you have an evergreen piece of content that has historically delivered a good amount of traffic but has perhaps dropped out of top-ranking positions following a Google algorithm update. Instead of creating a fresh page, deploying necessary enhancements can help resolve this.
This is where fresh keyword research and competitor analysis (based on what's performing well in the SERP) can be used to make such legacy content not only relevant again for users, but for search engines.
Google is well known to reward fresh content and republishing, so having your team take a look at what's performing well in the SERP on your target keyword set and adjusting your content so it outmatches your competitors is worth doing. It may also be a chance for you and your team to bring your legacy content in general up to scratch with Google's recent developments in E-EAT and Helpful Content metrics.
Outside of this, a quick activity you can do to assess potential candidates for content repurposing and enhancement is to run some analysis on pages on your site that rank well, but could be ranking better. (Say, for example, on the second page of the search results and beyond.) A quick spruce-up in terms of content and additional signals, such as on-page SEO and internal linking journeys, can go a long way in a short time.

Keeping on top of content performance
We've detailed some steps your team could take to improve your existing content assets alongside your efforts to create new content. While it may not always be prudent to go down the route of culling or consolidation, if you're dealing with a large content inventory and these practices haven't been considered before, then it may be worth exploring.
Regardless, your team should always assess ways in which you can improve the performance of your existing content assets. Large brands in particular may turn a blind eye to their legacy content without knowing some of the low-effort, high-reward opportunities that may be within easy reach. With that in mind, it pays to always analyse and test as you go.
About the author
Based in Somerset, Senior SEO Consultant Tom Slaiter brings a wealth of SEO experience to Reddico, having worked with clients that include Sainsbury's Tu clothing, Argos, PwC and various Capita businesses. Training is a big interest for Tom and he has created and delivered various SEO training programmes, helping develop the next generation of talent.