Guides
Google's Search Generative Experience and the future of eCommerce SEO
After a whirlwind latter end of 2022 and first half of 2023 with the explosion of ChatGPT and AI integration in search, things have, dare we say, calmed down a little. While AI in digital continues to develop, becoming a useful productivity partner to SEO among other things, we now know that in the search arena, we appear to be heading towards a particular trajectory in the form of Google's upcoming Search Generative Experience (SGE).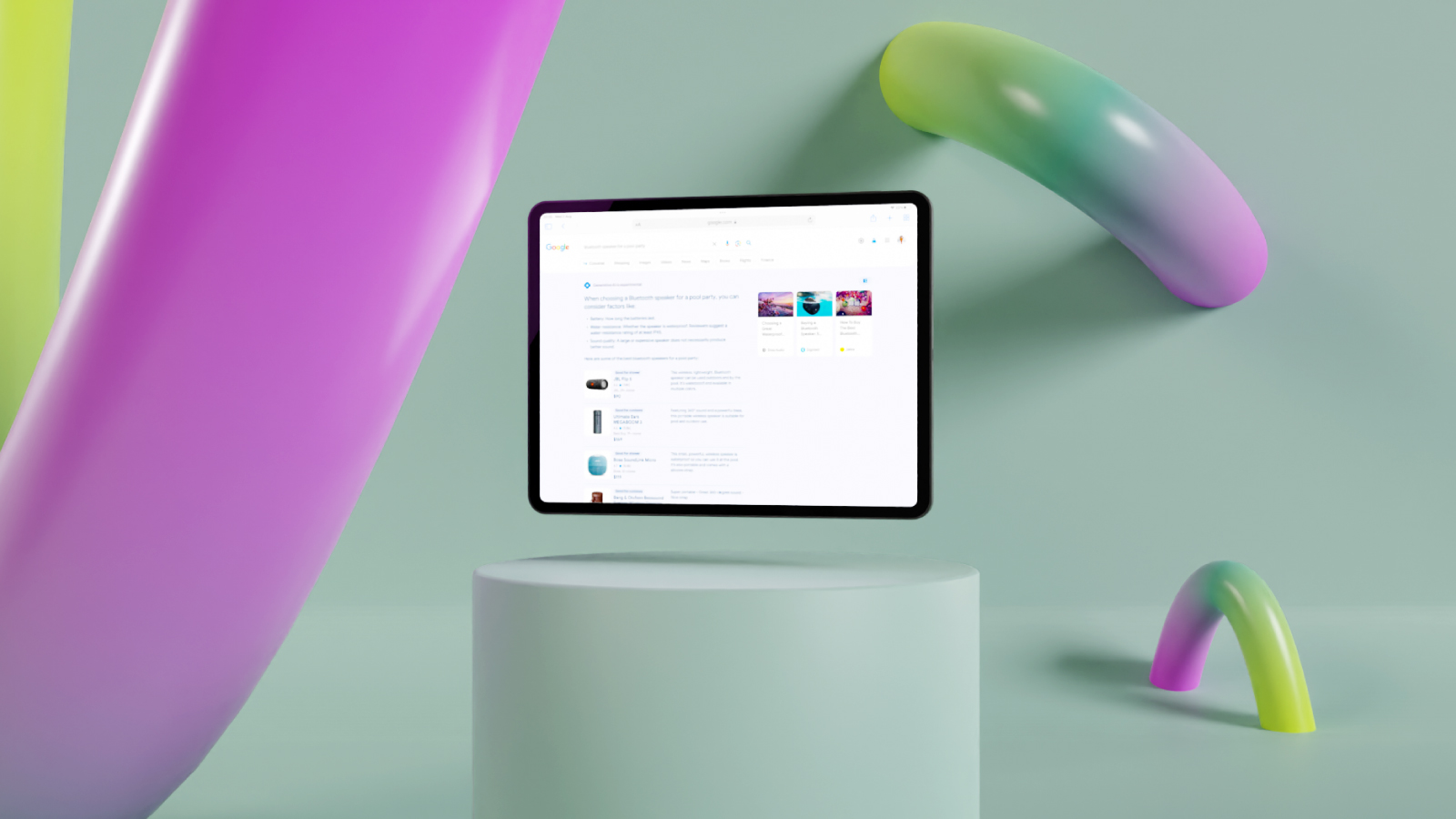 A lot has been discussed across the industry around what this means for the future of SEO and how the industry must adapt. The first thing to note is that AI-generated snippets will likely take up a large chunk of the fold on SERPs moving forward.
Here, we'll explore what Google's upcoming SGE could mean for large eCommerce and enterprise brands and their SEO efforts moving forward.
What's the latest on Google's SGE?
A quick recap. After a preview during Google I/O 2023, Google then rolled out the new SGE to users on their Search Labs waitlist.
As we've seen from Google during their I/O announcement, traditional search engine results will be accompanied with the integration of AI-generated results. As shown in the image below, AI-generated answers will be accompanied with source and reference links, and the user can then continue the conversation by asking another question:
Image: Google
There has been a lot of talk about what this means for SEO in a macro sense over the past weeks, so we won't spend much more time on this here. However, following its Search Labs access, recent roundups from various thought leaders in the SEO industry have alluded to its slightly repetitive and simplistic answers and somewhat clunky user experience, with the need for users to explore further using traditional organic results very much still there for now. If you want to look at our own take on this, then be sure to give this article on Google SGE from Nick Redding a read.
Despite the product being rolled out to users on the Search Labs waitlist on an experimental basis, Google have yet (at the time of writing) provided a specific date as to when the new SGE will be rolled out to users globally. However, with the new search product occupying a fair amount of the dialogue space both on the Google and wider search industry side, we can perhaps safely assume that it will be rolled out within 12 months or sooner. It's still being worked on, though we may perhaps even see it fully launched in some form by the end of the year.
Regardless of the current accuracy or usefulness of the AI-generated answers and whether the product provides a good useful experience or not, there are still bound to be crucial ramifications and considerations for eCommerce brands when it does land. Let's take a look at this in more detail.
A look at Google SGE results for eCommerce brands
What does Google SGE look like when a user is searching for product and commercial terms, and how is this new era of SERP going to change things? Here's what a search looks like for the term "Bluetooth speaker for a pool party":
As we can see, the familiar product carousel of sponsored ads is listed above the fold, with the AI-generated response then pulling in details on up-to-date descriptions, reviews, ratings and prices. This is built on Google's Shopping Graph. Users then have the option to click on 'show more' to further their AI-generated search, with traditional search results (mainly listicles for this query) shown below. A search for this exact term on Google in its current guise renders the same sponsored ads carousel, with the listicles and review roundup articles below this.
An important aspect of these featured products is that even though they appear to be PLPs (product listing pages), clicking on one of these in the AI-generated environment will then direct the user to a Knowledge Panel result on the right-hand side instead of a link to a particular product.
Here's a quick look at a traditional [brand] + [product] search query (in this case "Nike sneakers") detailing this experience:
Image: Aleyda Solis via Twitter
There is a lot going on here, and one recurring feedback point from the search industry is that there is a risk of sheer information overload.
Regardless, a large chunk of the fold is again occupied by the AI-generated carousel result (detailing "on-trend styles" and "classic styles" in relation to this query) where Knowledge Panel results are generated with links to third-party sellers. It's only below this, where the traditional organic results lie, that we see the actual relevant branded Nike category page displaying.
Such Knowledge Panel results will typically list third-party online stores that also sell the product in question (such as Currys, Argos and Amazon in the example of Bluetooth speakers). The nature of Knowledge Panel results is that PDPs (product detail pages) will be displayed over PLPs.
Despite the user being presented with a PLP-like experience in the AI-generated result, third-party sites presented in the Knowledge Panel journey may mean a drop off of traffic to the brand-owned PLP pages in question (such as JBL, Bose, Sony etc).
Looking at both the incorporation of detailed product info in the AI-generated search result and what's likely to perform well the subsequent Knowledge Panel journey, there are a few key considerations for eCommerce brands:
Optimisation of product pages will be key to ensure that you're competing as best you can alongside third-party store listings



Comprehensive Schema markup across individual PLPs will gain you an advantage. Consider the representation of reviews, pricing, descriptions and ratings in the AI search snippet



Given the Knowledge Panel journey into more PDP-centric territory, optimisation of PDPs will have to be a core focus for brands not wanting to seed traffic to third-party retailers



AI-generated search results are accompanied with Merchant Center feeds, so take steps to ensure you've signed up to this and are managing your listings accordingly
How does this look on mobile?
Looking at an example long tail query enquiring about a specific iPhone model, the result shows an AI-generated detail snippet. This is followed by results detailing stores where the product can be purchased:
As you can see, above the fold is dominated by the AI-generated result. Scrolling down then presents the user with more details on the product (such as price and reviews) and they are then presented with retailers selling the product before traditional organic results (going to the actual brand in question) are displayed.
While the result will of course vary depending on the query, brands will again need to consider ways in which they display as much rich information (via Schema markup) as possible while competing with third-party retailers on product description pages.
The use of AI in search for eCommerce
Firstly, it's worth acknowledging Google's response to site owners and content creators amid all of this. Despite the vast changes to the SERP and the mass array of AI-generated information particularly around commercial search terms, Google has reiterated that human-generated content with unique insight and expertise still has huge value. This can be seen in its recent guidelines on AI content, for example.
This is where content metrics such as E-EAT and recent updates like the Helpful Content Update are likely to play an integral part to brand success moving into the immediate AI search future. Google will still rely on content creators continuing to produce authoritative, original and expert-led content to inform its AI ventures, and thankfully it does appear that link and resource attribution will feature in the SGE SERP.
Looking at the earlier example above, it's interesting to note that among the carousel features of suggested products around the term "Bluetooth speakers for a pool party" there are tags alongside the results detailing certain product functions or suitability, such as "good for shower" or "good for outdoors".
Such data is likely being pulled in from reviews marked up using Schema, or perhaps from text in the product description pages of the relevant brand in question. Either way, it's likely that topical authority and E-EAT metrics are playing a major role in producing these AI-generated search results.
For eCommerce brands, the importance of well-written PDPs and accompanying guide content around the products (such as why a certain speaker is good for outdoor use) to bolster topical authority and overall E-EAT score will likely play a major role in Google's SGE product in the near future.
Think about the use of AI prompt behaviour in your search strategy
There is a lot of debate around how user search behaviour has evolved over the years, with more specific long-tail queries arguably making up a lot of modern-day searches. This has no doubt informed the rapid evolution of AI in search, with Bard or ChatGPT users quickly learning that the more detailed and specific the prompt, the better the answer.
Moving away from short-tail keywords will no doubt accentuate further as users become accustomed to using AI chatbots as part of their search experience, and eCommerce owners should consider this as well.
Alongside your existing content strategy and keyword research efforts, it's important to consider these user search developments. This can be done by researching more targeted, specific long-tail queries around your brand and its products at various stages of the sales funnel.
We have documented some alternate keyword research methods in a recent post, though a good place to start in harvesting specific long-tail queries could be Reddit or Quora threads relevant to your brand. You can also look at ways in which certain AI chatbot prompts garner certain answers to questions around your products and think about ways to incorporate this into your search strategy.
To what extent will eCommerce SEO be impacted by Google SGE?
While the immediate impression of the SGE SERP from an eCommerce SEO may indicate a reduction in organic clicks to individual product URLs, it's unclear how far-reaching this SERP experience will be for eCommerce brands as a whole.
While it's clear that SGE and AI-generated queries are suited for more informational search intent (think "how do I teach my dog to sit" or "what are the best beaches in Majorca"), SGE may not account for all eCommerce queries in the immediate future.
This is likely because it will be resource heavy to keep on top of aspects such as product availability, pricing and features on an ongoing basis. Secondarily, Google will still need to maintain its revenue from eCommerce keywords, and these will need to be prominent in search engine results.
What should I be doing to prepare?
While there are still a lot of unknowns when it comes to SGE from an eCommerce perspective, there are some relatively clear indicators as to the direction of search in general. We've outlined a few of these already in this article, though here are few areas to consider in summary:
Get your E-EAT signals in order. With a lot of the SERP looking to be dominated by AI answers, ensuring that you're cutting through with comprehensive, original and helpful content around your product will be key. AI results will not always satisfy the user, particularly when they're looking to answer a specific pain point, so make sure you're there where it matters.

Review your structured data. As we've seen, a lot of data on product-related AI results in the SGE environment is being populated with rich data generated from Schema markup. Make sure you're covering this on an ongoing basis, and that all your descriptions, prices, reviews and availability are kept up to date. This will no doubt aid your conversion rates within the SGE environment.

Build on your brand presence. Sitting nicely along E-EAT signals, making sure your identity and presence as a brand is strong, unique and prevalent will help you stand out alongside the new AI future. AI-generated answers, while useful, tend to be generalist, so make sure you have a consistent voice and space alongside your unique content.

Optimise your existing inventories. This includes PLPs and perhaps more importantly, based on the findings from the current SGE journey, your PDPs. From what we can see, it's likely that you'll be competing against third-party retailers a lot more on branded searches in the future. While many eCommerce brands will have affiliate deals with such retailers that generate a large amount of revenue, ensuring branded journeys to your website proper are protected will be paramount.