About Reddico
Introduction to Reddico
Reddico was founded in 2012 by Luke Redding, and like all great companies it began life in a spare bedroom. Focusing predominantly on SEO in the early days, we later built out content marketing and technology departments to complement our core service.
Our first 'official' office was a windowless room for just two people in Kings Hill (followed by a three person space shortly after). We later co-shared a larger office at the Maidstone Studios.
From 2014/15 Reddico began to grow quickly. With the team doubling in size, it was time to find a place of our own to settle – ending up at the lovely Moat Farm Oast near Tonbridge, Kent (surrounded by an apple orchard).
However, in a rapidly evolving world (and following the COVID-19 pandemic), we became a remote-first agency in 2020. This gives us the opportunity to hire the best people across the whole of the UK – and around the world. Our policies also support the team to travel or relocate abroad permanently.
We now have 40 members in the team, dotted all across the UK, Europe, and the wider world.
From our humble beginnings, we've earned a range of accolades for our growth, client work, and culture – all of which we're extremely proud of. They include:
Best Small SEO Agency in Europe (European Search Awards in 2020).

Best Large SEO Agency in Europe (European Search Awards in 2022).

Best Use of Search – B2C SEO (UK Search Awards).

Most Effective Use of Organic Search (Drum Awards).

4th Best Place to Work in the UK 2020 (Great Place to Work® UK).

Featuring on Deloitte's Fast 50 and the Financial Times' 1000.
In November 2021, Reddico joined the Sideshow Group.
Our culture
As a business, we've always tried to make Reddico a great place to work. However, in the past we were guilty of confusing engagement and happiness with 'fun'.
We enjoyed company-wide nights out, held regular events, went on annual trips (including Budapest and Barcelona), and had an office complete with beer fridge, table tennis and games console.
These are all great perks and nice-to-haves. But they don't make a company's culture – which we were about to realise.
It was at the backend of 2017 that we started to reevaluate our culture, and what it stood for. After running the eNPS survey, we discovered 4 detractors from a team of 12. Not what we were expecting.
This led us down the path of critically analysing the business, and how supportive the framework was for the team. By researching innovative businesses, speaking to a range of companies, and reading books around the principles of putting people first, we began to compile a 6,000-word manifesto.
Spearheaded by Reddico's owners, this manifesto outlined six core areas we wanted to change going forward – from having the ultimate flexible working policy, to removing middle management.
A new position was created in the business to drive this manifesto forward, and over a 9-month period we watched Reddico slowly change for the better.
Although the Reddico manifesto was the guiding star in our initial approach, we've continued to roll out new initiatives, whilst tweaking and amending other areas of the business. It's resulted in us developing a self-organising way of working that puts complete trust, freedom and responsibility into the team.
Our approach and ways of working are documented throughout this handbook.
Purpose & values
Our purpose and values help to shape all the decisions we make across the business, both internally and externally.
Our purpose:
To make a real and meaningful impact on the lives of our team, our clients, and the community in which we live.
Our values:
We start with trust: We have the mindset of believing the best in people, and that our team will do the right thing. We communicate, we collaborate, we do what we say, and we give each other the hard, honest feedback.

We support & inspire each other: We're a team. We support each other and ask for help when we need it. We share our knowledge, inspire, and put others before ourselves.

We take on responsibility: We don't shirk responsibility, but take ownership and deliver amazing results. We're responsible for managing ourselves and our growth. We hold ourselves accountable, and learn from mistakes.
Our mission:
To be the first choice SEO agency for enterprise brands. A globally respected team, delivering standout results, building premium technology and exceptional client relationships.
We'll achieve this by:
Attracting, developing and retaining the industry's best talent.

Developing our brand positioning to become synonymous with enterprise SEO.

Build a business structure that supports a global presence.



Our people-first approach will pave the way throughout growth, with a focus on:
Being able to deliver and support the highest quality training.

Working with exciting brands.

Having global opportunities and being able to hire a diverse team.

Building comprehensive career progression tracks.

Supporting a first-class company culture, with a highly supportive team.

Using business as a force for good.
Committees:
To support our commitment of being a force for good, we have two committees in place, led by members of the team.
Community committee: Focussed on how we can make a positive impact on charitable causes, whether that's through donations, volunteering or pro bono work.

Eco committee: Supporting Reddico's net zero carbon ambitions, whilst educating the team on sustainable living, and donating to causes that support environmental friendliness.
Organisational structure
Our organisational structure has been created as a hybrid of different models and concepts. In many businesses, the typical approach to an organisation is hierarchical. This is often pictured and represented as a pyramid.
The way we work is very different to the standard approach. Collaboration and self-management are key themes, and as such we needed a structure that reflected this.
Departments are referred to as circles, which feed into the core business functions. Representatives from each circle help relay information across the company, ensuring complete transparency.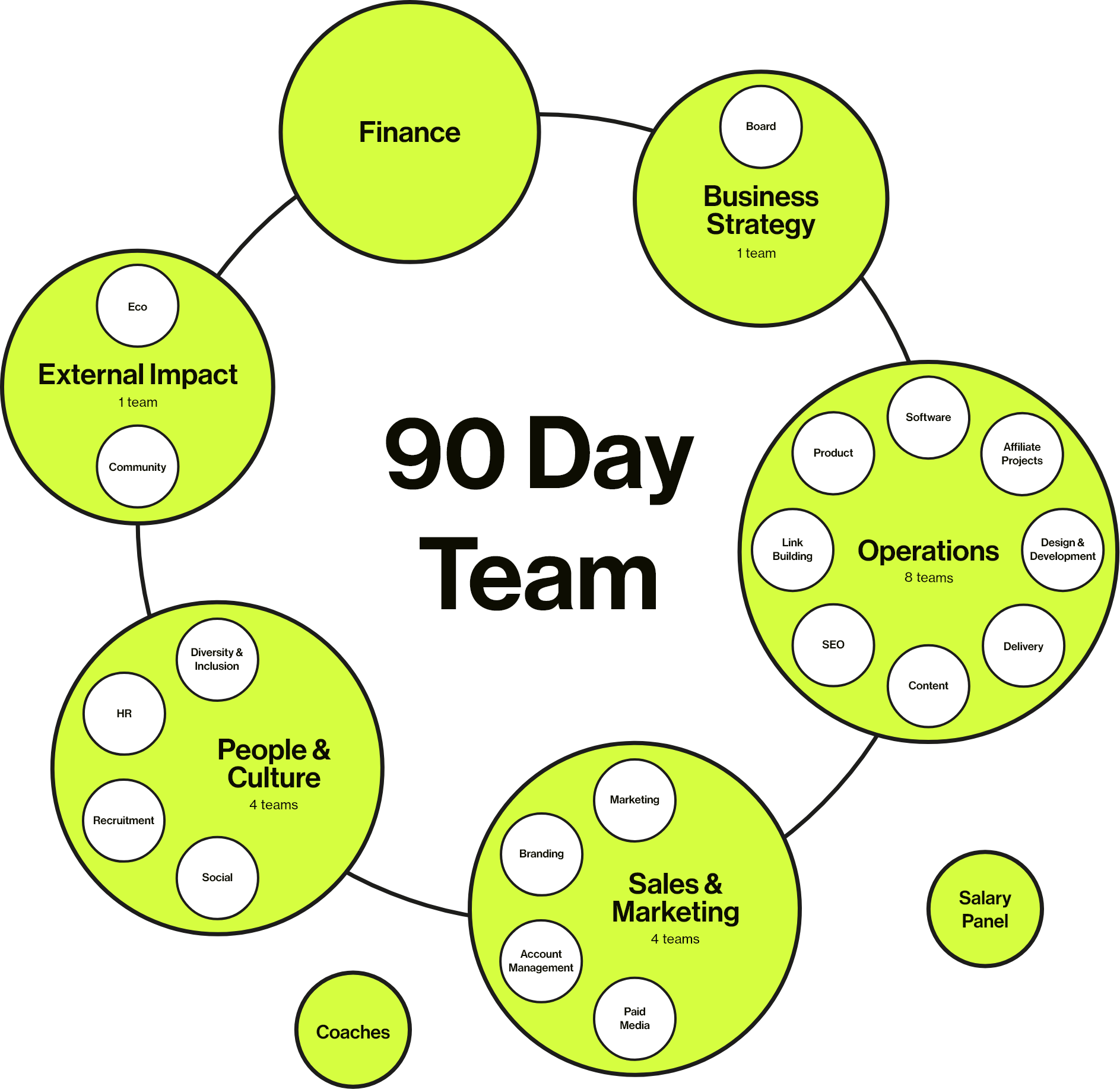 B Corp and our wider impact
Our cultural shift and the emphasis we put on becoming a values-led organisation, paved the way for us to become certified as a B Corp. The B Corp movement is epitomised by companies acting as a force for good, with thousands of businesses around the world signing up to the project and changing their behaviours to become socially responsible.
During the B Corp assessment, there are four main areas considered:
The governance of an organisation

Workers (and the policies and practices you have in place to be a people-centred organisation).

The organisation's environmental credentials.

The impact and consideration on the business' wider community.
Reddico became a certified B Corp in 2022, scoring 91.3. Recertification takes place every three years, and as a business we're committed to continuing to improve this score – becoming an even bigger force for good.
We've also connected with other local B Corp organisations, and have set-up a Kent based meet-up for leaders to come together and share what they're doing to drive change.
We're also keen to monitor the progress (and keep a documented history) of our impact on these core areas, and as such create annual impact reports. These demonstrate the data and practices behind what we're trying to achieve as a business.
Useful Links
The following are useful links for the Reddico team:
Team logins, tools, and information
Business Operations information

90 day meeting sheet: Document used to cover key business alerts and issues impacting the current 90-days in the company.

90 day onsite agenda: Quarterly meeting for 90-day representatives (Finance, Operations, Sales & Marketing, People) to reflect on the previous three months and plan ahead.

Laptop asset list: Internal record of which team members are using laptops leased from Hardsoft, and our own assets.

Lead responsibilities masterlist: Document outlining the role and responsibilities for a lead in the Operations team.

Operations meeting sheet: Document used to cover key alerts and issues affecting the Operations team each week (SEO, Delivery, Content, Design, and Development).

Quarterly department strategy meeting agenda: Department leads meet each quarter to provide updates against goals set out at the start of the financial year (and quarter).

Reddico Strategy (Phase 2): Progress report on our annual plans and progress.

WFH spends: Document outlining the team spends using the work from home budget. Automatically updated from Spendesk.