Working at Reddico
Self-management
Reddico operates in a self-managed way, where you're given the freedom to dictate how you work, progress your career, carry out training, and deal with decisions and issues that will come up as part of your work.
Many of the processes and policies associated with this way of working are documented in this handbook, helping to provide you with more information about how things work in practice.
Self-management puts you in control, which has a lot of benefits – you're an adult, so you work in a way that's right for you.
However, there are also challenges to this model – and it's not right for everyone. Things can get really tough. You need to be more organised, transparent, and honest. You need to feel comfortable taking on full responsibility and being held to account.
The way you work is built around making a positive impact on your team, your clients, your work, and Reddico in general. And some of the expectations include:
Being held to account by your team.

Carrying out regular 360 reviews & feedback.

Setting your own targets.

Making decisions that impact the company's future.

Feeding back and building a better Reddico.

Resolving conflicts yourself.
If this isn't right for you, that's okay.

Annual leave
There is no cap on the number of annual leave days you can take each year. It's an 'unlimited' number, which you have full responsibility for deciding.
All annual leave days can be booked in PeopleHR, and you don't need permission. But of course, you should speak to your team and ensure there's cover for you – for long-term leave over two weeks, you should use the Advice Process.
We ask that everyone takes a minimum of 20 days' annual leave each year (excluding bank holidays).
If you decide to leave Reddico in the future, holiday accruement will be against 20 days. If you go on either maternity or paternity leave, there is also a separate policy (detailed in the relevant section).
Sick leave
We trust people to be honest and open with us – if you're unwell, take the time you need to return to work refreshed and raring to go. If you're sick and unable to work, please contact HR to ensure these days can be logged into our HR system (for responsibility purposes). We also ask that you let your immediate team know, so they can plan cover accordingly.
In general, sick leave can be defined as short or long-term.
Short-term sick leave
Short-term sickness is any period up to four consecutive weeks. During this period we won't ask for a medical certificate, but may check-in occasionally to see how things are going, and if there's anything we can support you with. You'll be paid in full for any period of sickness up to 13 weeks.
Long-term sick leave
For any period of absence that exceeds four weeks, this is classified as long-term sickness. We may ask for a doctor's medical certificate.
Unfortunately the worst can happen and leave you unable to work for a number of months (and potentially years). To plan for this, we have taken out Income Protection Insurance. This safeguards you against any long-term leave, and after 13-weeks, you'll be paid 75% of your basic annual salary for up to two years. During this time you'll need to comply with any specific requests from our insurers, and terms & conditions will apply. We can share all useful information with you at the time.
Throughout any period of long-term absence, we will continue to have regular check-ins with you. This will help us to keep in touch during a difficult time, and ensure we're able to fully support your return to work.
During any period of long term absence, we may need to hire someone on a temporary or permanent contract to help cover your role and responsibilities.
Remote working
You are able to choose where you work. Whilst we have a head office in Tonbridge, Kent, we now have team members located all over the southeast of England and the wider world.
That means you can choose if you'd like to work in the office, or work from home (or anywhere else). This can fluctuate as much as you'd like.
Working abroad
You may also decide to relocate during your time at Reddico – either to another part of the country, or by travelling abroad on a temporary or permanent basis.
We want to support team members moving abroad where possible, but it is ultimately your responsibility to work out the logistical challenges this presents – particularly if you want to reside in a different country for more than six months.
If you want to work abroad in some capacity, the first step is to get approval from your team (detailing how this won't have a negative impact on your role. You can do this by completing the application form.
A separate agreement will be signed, detailing the expectations from both parties.
If approved, you will then need to coordinate with HR to discuss your immediate plans and put together a roadmap of actions.
Due to the complexity of working abroad on a permanent basis, there is only so much support and resource Reddico can provide. This is mainly due to the tax implications associated with your country of residence.
However, there are multiple options available, which you'll be able to explore and decide on. Ultimately, this is a life choice you have made, and as such, much of the responsibility will be on you to manage.
There will naturally be some benefits that'll no longer apply if you decide to move abroad on any basis, including health insurance, life insurance and (potentially) pension options. This will be discussed with you once you've made your initial intentions known.
Where possible, all other benefits associated with working at Reddico will remain the same.
It's worth noting that there is a difference between Reddico actively hiring in a foreign country (and therefore managing any fees as part of the recruitment and hiring process), and someone from the existing team deciding to move abroad permanently.
Choosing your work hours
There aren't set working hours to your day, giving you the freedom to choose when you're online. We also don't use 'core hours'.
It's only natural that different people may suit different working schedules, with hours of peak productivity changing from one person to the next. The only thing we ask is that you keep your immediate team informed and up to date, so they're aware of when you'll be around.
Equipment
When you start working at Reddico you'll be given a laptop of your choice (Mac or Windows), which remains company property. If you'd like other equipment to help you work more effectively, you can use the work from home budget (detailed in this handbook).
All MacBooks are sourced through authorised distributors, and are refurbished – to support a more sustainable way of running the business.
Conflict resolution
Conflict is a natural part of work, but it's how you deal with it that helps self-organising companies to thrive. With no line manager to do the hard work for you, we encourage the team to give feedback and deal with issues in a one-to-one way.
Of course, this isn't easy, but we carry out in-house training based on Tuff Leadership, to help the team identify ways to have these difficult conversations.
There are three steps to our conflict resolution process, and the following flow chart also provides a useful reference point.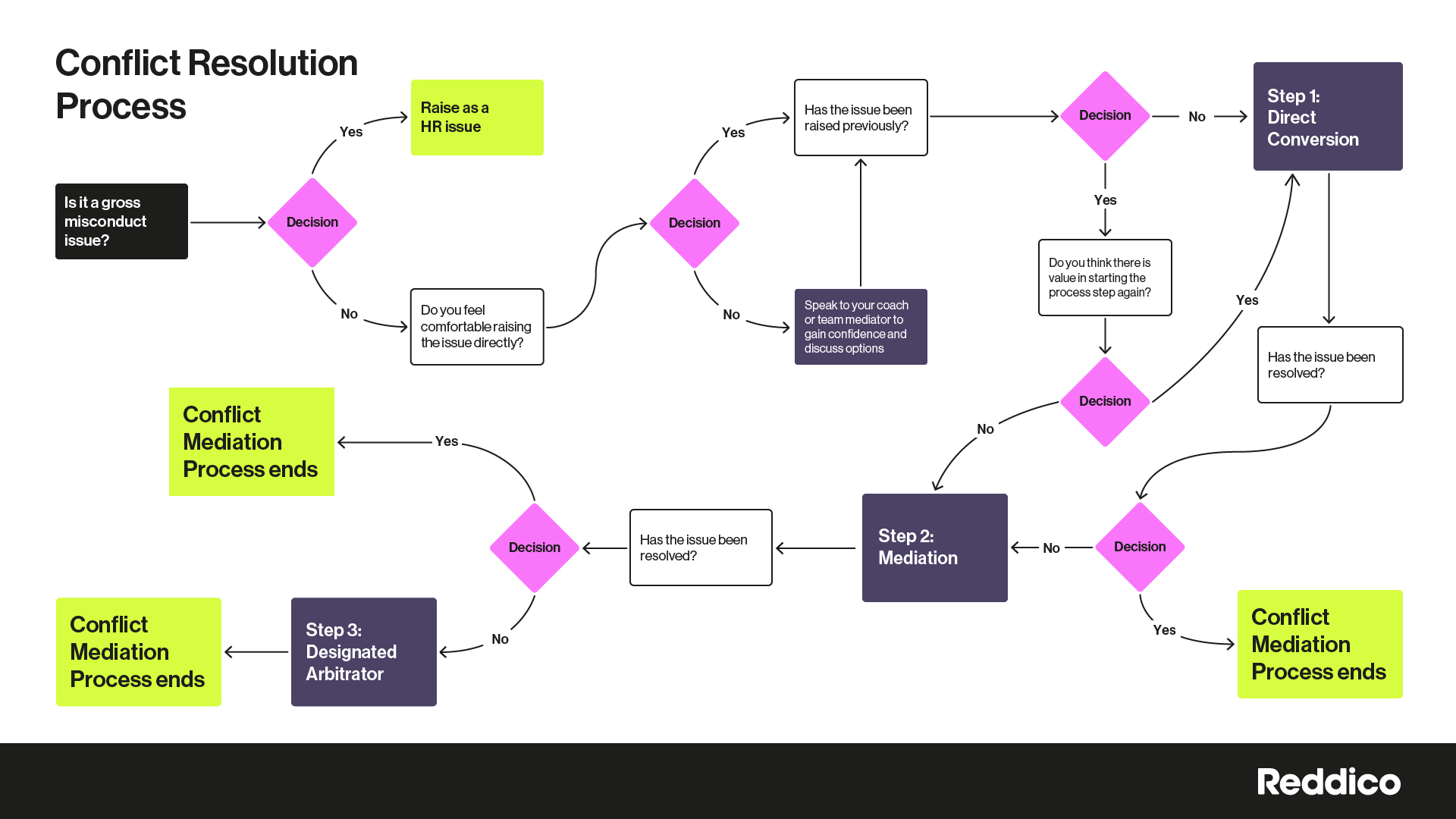 Step 1: Direct conversation
Once you know what you want to talk about, and how you're going to approach the situation, it's important to talk directly to the other person. This conversation is crucial in helping to give an overview of where you're coming from, but it's also an opportunity to listen to the other person as well.
If you need any support in addressing the issue, or how to raise it, you can speak to your coach or team conflict mediator, who may be able to help you identify opportunities for this.
In many cases, having this clear, honest and upfront conversation can help to resolve the issue, and leave you with an action plan going forward.
It's important this first step is taken in resolving the issue – talking directly to the other person helps both parties feel heard and appreciated, paving the way for a resolution.
Following a direct conversation in Step 1, the initial issue has been communicated and both parties should have had the opportunity to talk and listen. If, following this, next steps and a resolution haven't been agreed (or the issue has resurfaced in the future), you may want to escalate to Step 2.
The key to this step is identifying a mediator both parties trust, who can review the situation, hear from both parties and give any thoughts about the issue. It's important to remember, the mediator can't resolve the issue. They're simply there to provide a different perspective on the situation. However, the mediator can help to keep discussions on track and ensure conversations are kept to the facts.
If the two parties are unable to find a mutual mediator, they may each choose a mediator they trust (this could be a coach or team mediator, for example). For clarification, the mediator isn't on someone's 'side' – they're chosen to review the issue and provide unbiased thoughts.
Step 3: Designated arbitrator
In the majority of situations, a direct conversation or mediation session will resolve any issues of conflict. However, if the conversation remains deadlocked, a designated arbitrator is required to join the discussion and hear from all parties. If a resolution is unable to be made, the arbitrator will (as a last resort) make a final decision. Ultimately, all disputes must come to an end. The designated arbitrator would likely be Reddico's Managing Director.

The Advice Process
Reddico's Advice Process hands everyone more responsibility, by removing the need to get approval for decisions. Decision making is in the team member's hands, with the caveat being they need to seek advice from relevant stakeholders – but they don't have to act on this advice.
It's a four-step process that decentralises power into the team, and makes decision making quicker and easier.
This Loom video provides more information and context.
Transparency
One of the original parts of our culture manifesto covered the importance of radical transparency at Reddico. We wanted to open things up, prevent secrets, and create psychological business owners out of the team.
Some of things that have changed over the years to accommodate this include:
Monthly and quarterly financial reports, covering things such as revenue, profit, overheads, and cost of sales.

Sharing all notes from department meetings with the wider team.

An all-agency meeting each Friday to share information across the company.

Opening up the client NPS scores and comments.

Being open about the good and bad results, including the business impact from the Covid-19 pandemic and how we would adapt.

360 team reviews that can be viewed by everyone.

Team spending, such as on work from home equipment, expenses and training.
This level of transparency ensures people's decisions are always in the best interest of their team, clients and the company in general.
Team happiness
The happiness and engagement of our team is really important, and what drives all the decisions we make from a people and culture standpoint. We measure this in a few different ways. They include:
A quarterly eNPS survey. Using our in-house tool, this survey asks the question: On a scale of 1-10, how likely would you be to recommend Reddico to a friend? Scores are separated into detractors, passives, and promoters – and over the last two years we've achieved a world-class score (above 70) each quarter.

Temperature checks. We run regular surveys in the team, asking for a score of 1-9 for different areas of Reddico's culture. There is also space to write thoughts and suggestions on these. The nine areas include: reward, transparency, recognition, work-life balance, support, values integration, communication, social experience, and cross-department interaction.

Job role happiness %. As part of the coaching quarterly check-ins, coaches ask what % of your role brings happiness. There's also a question on what could bring more joy to your role – and potential actions can come from this.

Regular feedback surveys and questionnaires: As part of having a transparent and collaborative culture, we use plenty of surveys and feedback forms to get the thoughts of the wider team, especially before implementing changes that could impact Reddico in a greater way. This is often in line with the Advice Process.
Expenses
At Reddico, all expenses are transparent and shared within the monthly financial reports sent round to the team.
Everyone is set up with Spendesk, and is able to create a virtual card for one-off or ongoing payments. The team manage their own payments through Spendesk, and upload receipts straight to this system.
Spendesk can be used for things such as:
Booking training events, including conferences and courses

Buying items with the working from home budget

Paying for travel expenses (for instance, for training or when visiting a client)

Booking team events
All payments up to £500 can be used without seeking advice, however, for all payments over £500 you'll need to use the Advice Process, including the finance team in this. Remember, you should spend this money as you would your own – whether that's researching the best options, speaking to others about their experiences, or considering the impact of your purchase.
The below tables show what spends are pre-approved and what you would need to use the Advice Process for.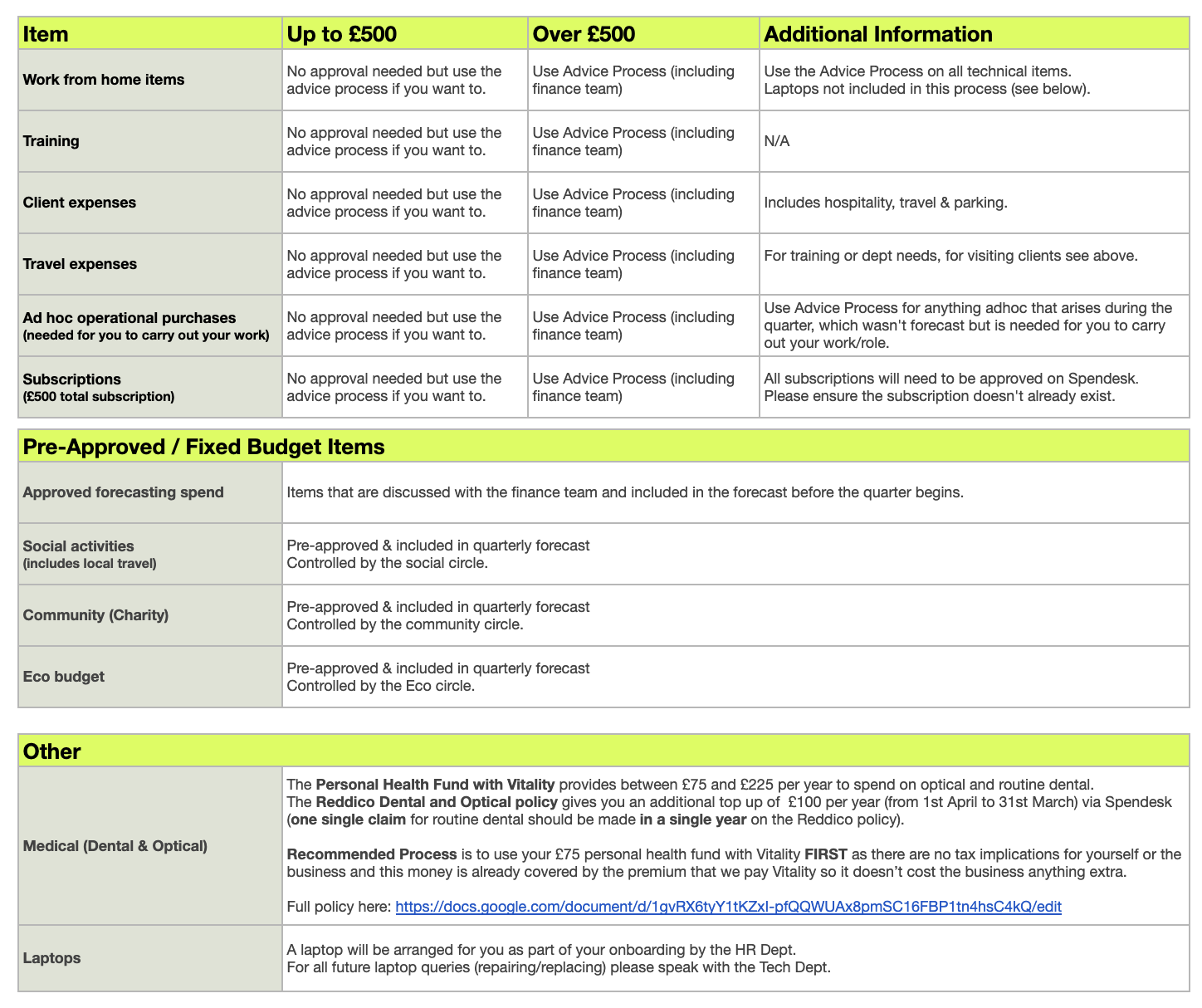 It's important to remember expenses are to be used only for work-related reasons. If you're unsure, simply ask.
If you're unable to use Spendesk (for instance, paying for petrol), keep your receipt and upload it to Spendesk as a reimbursement request, rather than a spend request. You will then be reimbursed.