Team Benefits
Mental health support
We understand just how important the mental health of our team is, and the challenges many people face on a daily basis.
That's why we've teamed up with The Core Collective to offer ongoing mental health support. The team can book a session with a psychological therapist and talk about whatever's on their mind. These sessions remain strictly confidential.
The Core Collective isn't just a service for those with a diagnosed mental health condition. If you're looking for coaching support, someone to talk to about how you're feeling, or want to reflect on what's going on in your life right now, they will be able to support you.
More information about The Core Collective can be found here: https://www.corecollective.uk/
There is also a Zoom recording of our introduction to The Core Collective, as well as introductory slides. You can find these on your onboarding Trello board, or by speaking to HR.
The following answers some of the most common questions you will have:

How does the Core Collective work?
You're able to book a session online, with the dedicated booking link. You can manage sessions yourself, with Reddico billed at the end of each month.
Do I need to be based in the UK to benefit?
No. A great benefit of the Core Collective is that you can use this service regardless of where in the world you're based.
Does Core Collective cover pre-existing conditions?
Yes, one of the big benefits of the Core Collective is it will cover new and pre-existing mental health conditions.
Is it just a virtual service?
Yes it is. You may be able to book face-to-face mental health appointments through our private medical insurance.
Are sessions anonymous?
All sessions are anonymous.
Is any information shared with Reddico?
Core Collective's aim is to support individuals, whilst helping to drive improvements in us as an agency, when it comes to health and wellbeing. As such, they might share 'themes' that they might see across the board. For instance, if workplace burnout was a subject a number of people were talking about, we would be able to work with Core Collective to tackle that as a wider issue, which would help us to get better at how we support the whole team. Individual names, or identifiable comments, would not be mentioned.
Can I get an emergency appointment?
In general, mental health services don't work on an emergency basis. If you need emergency support, or you believe someone is in danger, it's imperative to call 999.
There are other support services available too if you need to speak to someone urgently, including the Samaritans:https://www.samaritans.org/
Annual retreat
Each year we take the team on holiday for a long weekend. It's not mandatory, but it's a fantastic opportunity to bond with your colleagues outside of work, whilst enjoying some amazing experiences.
In the past we've visited Budapest, Barcelona, Oslo, Lisbon, and we've also skied on the Austrian slopes. It's an all-expenses-paid trip, and a chance for the whole company to celebrate our joint success.
Reddicons
Our quarterly Reddicons are a time to bring the whole company together, reflect on the previous three months, and look ahead to what the future holds. We spend the morning presenting and discussing the past and future of Reddico, including:
Reflecting on our personal and professional achievements.

Reviewing the financial performance of the business.

Sharing a strategic update on where Reddico is heading.

Department reflections on the big wins and challenges.

Recognising the people who have made a significant impact.
This is all part of Reddico's transparent nature, and gives everyone in the team a clear view of where we currently stand.
The afternoon session is about bringing our remote team together with a virtual activity.
Charity, fundraising & volunteering
In recent years we've taken a much stronger approach to supporting causes in our local area, setting up a community team and donating 0.5% of revenue to charitable organisations every year.
Our community team orchestrates our efforts, liaises with key contacts, and helps to set up lasting relationships with various charities (of their choosing) throughout the year. As well as setting out annual goals, we also provide ad hoc support (such as helping individual families in need).
A large part of our community work also includes fundraising, and there are events scheduled each year to help us provide even more support to the community (including the popular Christmas quiz).
Our quarterly team impact award winners can also donate money to a charity of their choice, whilst at Christmas we donate to local causes and issues in the local area of our clients.
As a company we're keen to ensure there is support in other ways outside of donations and volunteer work, which includes offering the free use of our company facilities to host community events for charities and local causes we work with.
Pension
Reddico is part of the workplace pension scheme, which is managed through Smart Pension. We contribute 5% each month (and you contribute a further 5%), with full details available on the government's website. You can also choose to increase your personal contribution.
You also have the opportunity to switch your pension, giving you more control over what companies and ethical practices you are investing in with your pension.
The following details how you can do this:
Log in to Smart Pension.

Click 'Funds' at the top of the page.

Choose 'Manage your investments'.

Select the 'Do-it-yourself' option.

From here, you can choose which investment funds you wish to split your contribution into at a more granular level. Some of these highlight environmental/ethical sustainability as the defining trait of the portfolio.
Cycle to Work Scheme
We're enrolled in the UK's Cycle to Work scheme, which is managed through perkpal. We'll pay the upfront cost of a bike (up to £2,000), which you'll then pay back as part of a salary sacrifice scheme – saving up to 29% on the purchase.
Working from home budget
In the changing world of work, and as a remote-first agency, we know a lot of people will work from home throughout their career at Reddico. To make sure people can work comfortably and at their best away from the office, we have a working from home 'budget'.
There is no fixed amount, and the team can buy what they need to continue doing a great job. This can be anything from a desk and chair, to laptop stands, a keyboard, or even a better webcam. You'll be able to use Spendesk to make payments, and upload receipts straight to the platform.
Just remember to treat it like your own money, and don't just spend it because it's there. Any products you purchase will remain a company asset. If you leave the company, you'd be expected to return them, unless otherwise agreed.
Following DSE guidelines
Reddico has a duty of care to the team, to ensure people are setup to work remotely in a safe and sustainable way. This is why we provide a 'work from home' budget, for the team to be able to buy equipment that'll improve their working environment.
However, for some equipment, you'll need to make sure it is DSE approved. We conduct workstation assessments with the team to discuss and improve on your current setup.
DSE standards need to be met for desks, chairs, and support items such as a foot rest.
You can purchase pre-approved items from this guide, without further approval. However, if you would like to purchase something that isn't on the list, please contact HR. Please note, this rule only includes categories listed on the sheet.
Other tips to help you
Make sure to compare prices to get a better deal. For instance, a magic mouse may be £60 on Amazon, but £20 on eBay.

Use the advice process for technical items. If you're not sure on the right product, seek expert help from someone who would have more knowledge.

Speak to others who've ordered similar products to find out if they'd recommend the purchase.

If you already have something in the office, please feel free to take this home rather than doubling up.

Do the right thing. We trust you to know what's acceptable from a cost perspective.
For transparency purposes, all purchases with this budget can be viewed here.
Private health insurance
Our team is covered with private health insurance through Vitality. Full details on your coverage, and more information about the plan, is available with your Vitality login. You can register here, if you haven't already.
Moratorium
Before starting your cover, you will not need to answer any health questions on your application form. Instead, each claim is assessed on the information provided by you and, if necessary, a GP (or other medical practitioner) when you claim.
Vitality apply a straightforward criteria when assessing your claim The Moratorium Clause. Vitality don't pay claims for the treatment of any medical condition or related condition which, in the five years before your cover started:
you have received medical treatment for, or

had symptoms of, or

asked advice on, or

to the best of your knowledge and belief, were aware existed.
This is called a 'pre-existing' medical condition. However, subject to the plan terms and conditions, a pre-existing medical condition can become eligible for cover providing you have not:
consulted anyone (e.g. a GP, dental practitioner, optician or therapist, or anyone acting in such a capacity) for medical treatment or advice (including check-ups), or

taken medication (including prescription or over-the-counter drugs, medicines, or injections)
for that pre-existing medical condition or any related condition for two continuous years after your cover start date.
What this means in practice
Your cover for medical conditions can be broken down into three categories:
Medical conditions that are covered from the first day of your insurance – these are conditions that occur for the first time after your cover start date.

Pre-existing medical conditions that become eligible for cover after at least two years continuous insurance on the plan. Vitality will cover them if you have not received any treatment, advice or medication for that condition for a continuous period of two years after your cover start date.

Pre-existing medical conditions that Vitality permanently exclude from your cover. Vitality exclude these because you will need regular or periodic treatment, advice or medication and you will never be able to remain free of this help for any continuous two year period. Vitality have provided some examples of how the moratorium clause works in the "How your plan works in practice" on pages 50 to 52 of your full terms and conditions.
What's included
The PMI includes things such as:
Hospital fees

Consultants' fees

Diagnostic tests

MRI, CT and PET scans
Additional benefits include video consultations with a Vitality GP and 24 hour telephone access through the Vitality GP helpline. We also have advanced cancer cover, therapy such as osteopathy and chiropractic, and even the opportunity to have a personal health fund.
There is also enhanced mental health cover, providing support for Cognitive Behavioural Therapy (CBT), counselling and more. You can seek CBT or counselling for any mental health problem through the Talking Therapies network.
Should you need hospital treatment, you are now covered for up to 28 days of in-patient care, plus 28 days of day-patient care. Plus, 56 days after the hospital treatment ends, these benefit allowances are fully restored, meaning you can access multiple episodes of care during the plan year.
To access the Care Hub:
Log into Member Zone. Go to the 'Health' tab and choose 'Care Hub'.

Or log into the Vitality Member app. Scroll to your Health plan and choose 'Make a claim'.
You'll need to register on Member Zone first, if you haven't already. You'll need your membership number which can be found in your welcome email.
There is also a separate optical, dental and hearing cover with the policy, detailed below:
Optical: Contributes towards the cost of sight tests, and a new (ONE) pair of prescription glasses, or a year's supply or prescription contact lenses.

Dental: Helps to cover the cost of preventatives care such as check-ups and hygienists fees, and major treatments like fillings, crowns and dentures.

Hearing: contributes towards the costs of hearing tests and new prescription hearing aids.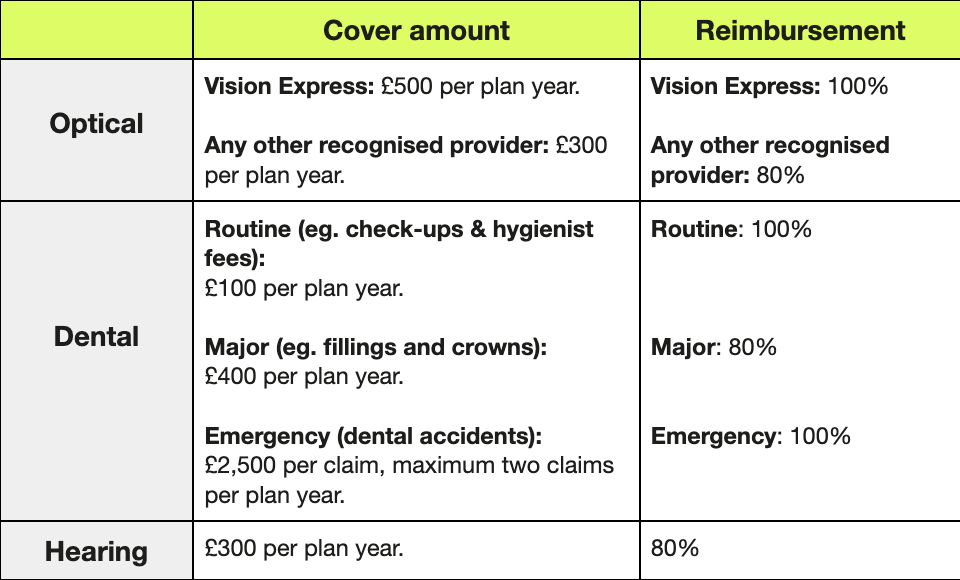 Private health insurance is on an opt-in basis, as it's viewed as a benefit in kind. This means there is a small amount of extra tax to pay (averaging at less than £5 a month, though make sure to check your personal expense).

Please read the full terms and conditions of our policy here to be fully aware of what can be included in any claim.
Making a dental, optical or audiology claim
How can I claim back for dental care?
To complete your claim you will need your itemised invoice & receipt.

Complete this form

Once complete, email your form alongside your invoice & receipt to dental@vitality.co.uk

For further details and requirements for Dental claims, login to your vitality member area

Scroll down and select "Dental, optical & audiological health benefit"

How can I claim back for Optical?
After your appointment, please send your prescription, itemised invoice & receipt to optical@vitality.co.uk

Please make sure you have read requirements in your member area and have checked what you can claim back in the full terms & conditions above.
How can I claim back for Audiology?
Send your hearing aid prescription, itemised invoice & receipt to Audiological@vitality.co.uk

Please make sure you have read requirements in your member area and have checked what you can claim back in the full terms & conditions above.
Life insurance
When joining Reddico, you will be automatically enrolled in a group life insurance policy. This policy is held with YuLife.
If the worst was to happen to you whilst at Reddico, a £100,000 lump sum would be paid out to your next of kin to help support them financially. Our group life insurance policy should be seen as an addition to, not a replacement for, any individual life insurance policy that you hold. Everyone's personal circumstances and financial requirements are different, and an individual life insurance policy will take these into account. If you are looking to set up a will, YuLife also provides the facility to create a single or joint will through Farewill.
Financial support
At Reddico, we want to be able to support you during any periods of financial difficulty or hardship. As such, our financial support options include:
Mid-month pay: If receiving your pay early would help, we will arrange an advance for the middle of the month.

Interest-free loan: We also offer an interest-free loan of up to £1,500, which can be paid back in future payslips. The length of the payback will be discussed with you to determine a repayment plan that works.
If you find yourself in a difficult situation financially and need support then please reach out to discuss your options. We'd rather you spoke to us before turning to other forms of short-term credit, which often only make the situation worse. We'll do what we can to help you through this difficult period.
You can contact Reddico's Managing Director or HR personnel to discuss these options confidentially.
You can also seek expert financial advice from the debt charity, Step Change.
perkpal
We're signed up to perkpal, which includes the Cycle to Work scheme and offers a range of discounts from hundreds of high street stores and online retailers. You can find out more about perkpal here.
Gifts
At Reddico, we want you to be able to gift small appreciation gestures or pick-me-ups throughout the year. Therefore, you're able to use Spendesk if you would like to do this at any time. Simply make the purchase through Spendesk and tag as 'Gift', uploading a VAT receipt to the system.
All gifts must be less than £50 in value.
There is a shared sheet you can use to add your address, and find a colleague's. This can be accessed in the Knowledge Library on Workplace.
Milestone anniversaries
We're fortunate to have a high team retention rate, but know we can't take this for granted. We work hard to build a culture that people can thrive in – and are also rewarded and recognised for the amazing work they do.
However, we also want to celebrate longevity, recognising the contribution and commitment someone has shown over a number of years at Reddico.
As such, we have a scheme in place to celebrate key anniversary milestones, built around our purpose of making an impact. There are two big milestones in place, at 5 and 10 years. But additionally, smaller milestones between these to build momentum.
3-year anniversary: Experience voucher up to £150.
5-year anniversary: A this point, you have a number of options available to you, and can choose ONE of the following:
– £2,000 to put towards a bucket-list item – something you've always wanted to do. This is a taxable benefit (more details below).
– £2,000 to put into your pension. This is a tax-free benefit.
– A 5-week paid sabbatical.
8-year anniversary: Experience voucher worth up to £300.

10-year anniversary: Similarly to the 5-year anniversary, you'll be able to choose ONE of the following options.
– £4,000 to put towards a bucket-list item – something you've always wanted to do. This is a taxable benefit (more details below).
– £4,000 to put into your pension. This is a tax-free benefit.
– A 10-week paid sabbatical.
On top of the individual cost, Reddico will pay 13.8% National Insurance on the benefit.
There are also tax implications for you to consider, as detailed below. Additional tax will be taken in the month following your financial benefit, so it's important to consider your personal situation before taking the reward.

If you decide to take a paid sabbatical:
You are responsible for planning your handover and cover, with the company's support as required. This handover should cover your project and non-project commitments.

For advance planning of sabbaticals you should get in principle, approval from your team before you make any commitments/arrangements (e.g. travel bookings).

A sabbatical should be taken within the 12 months following your anniversary.
For all financial benefits:
As there is a tax consideration, you need to ensure your situation can support a one-month increase.

Be aware of any situation where your tax band could change as a result (considering the quarterly profit share into this as well).
Electric vehicle scheme
At Reddico we're committed to being a company that's good for the planet, and as such, are continuously looking at sustainable opportunities.
Electric vehicles are an excellent alternative to reduce fuel emissions, and travel in an eco-friendly way. That's why we've teamed up with Octopus on their EV scheme – and you have the chance to save up to 40% on the hire of an electric vehicle.
You can hire an electric car on a 2, 3 or 4 year agreement, and will sign a Vehicle Hire Schedule with Octopus. The cost of the hire is taken out before you pay tax on your monthly earnings (salary sacrifice scheme). Therefore, you save 20% or 40% by paying less tax each month.
From Reddico's perspective, the only criteria is that you've passed your probationary period.
However, there are a number of things to be aware of, including early termination fees if you were to leave the scheme. The full details and all information, is available with this Loom video.
A full list of resources are available from Octopus here.
And if you're interested in using the scheme at any time, you can access this link.